Saginaw Diocese Parishioners Call for Bishop Cistone to Resign after Raids
By Michael Kransz
MLive
March 28, 2018

http://www.mlive.com/news/saginaw/index.ssf/2018/03/some_parishioners_call_for_bis.html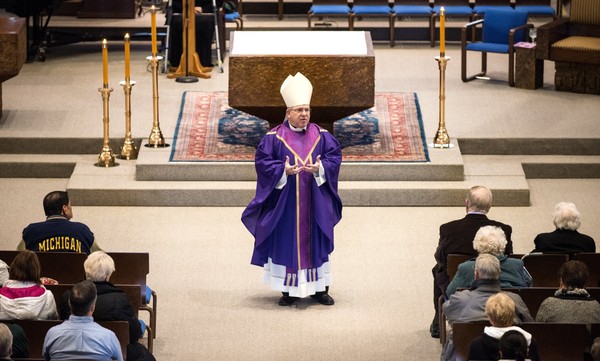 The Most Rev. Joseph R. Cistone, Bishop of Saginaw, delivers the homily during the noon Ash Wednesday Mass at the Cathedral of Mary of the Assumption, 615 Hoyt in Saginaw on Feb. 10, 2016.(Jacob Hamilton | MLive.com)



Some Saginaw Diocese parishioners are calling for Saginaw Bishop Joseph R. Cistone to step down after prosecutors say his diocese failed to cooperate in an ongoing sexual abuse investigation.

"He has no credibility," said Mary Ureche, a parishioner at St. Thomas Aquinas Church in Saginaw Township. "The reason he's here is because of the cover-up and shredding of documents in Philadelphia."

Nathan Medina grew up worshiping at Cathedral of Mary of the Assumption in Saginaw. The 34-year-old said, among other options to rebuild trust, the bishop should resign.

"The Diocese of Saginaw needs somebody who can fix this, and I don't think Bishop Cistone can," Medina said.

Ureche and Medina were referencing Cistone's time as a high-ranking member in the Archdiocese of Philadelphia and a grand jury report on sexual abuse and cover-up within that diocese.

Among other findings, the 2005 grand jury report alleges Cistone was given several updates in 1996 on efforts to silence a nun who tried informing parishioners about a priest's past, particularly his "predilection for naked children."

The year before, Cistone wrote a memo to the cardinal stating accusations of sexual abuse against a priest "has the potential of becoming a PR concern," according to the report. That priest soon resigned but later went on to other posts within the church.

In 2012, a lawyer accused Cistone of misleading that grand jury by not acknowledging he witnessed the shredding of documents in 1994 that contained the names of priests suspected of child molestation.

Cistone never faced any criminal charges.

It's those findings and allegations, said Lisa Schoettle of St. Hubert parish in Bad Axe, that "precludes Cistone from any further trust in handling such matters."

"Bishop Cistone should resign his position," she said. "The diocese needs to be more open to allegations of abuse and not minimize legitimate concern."

The bishop's home on Corral Drive in Saginaw Township, the rectory at Cathedral of Mary of the Assumption in Saginaw and the Catholic Diocese of Saginaw offices in Saginaw Township were raided by police on March 22.

The search warrants, which saw the seizing of documents, records and computers, came after prosecutors allege diocese officials failed to fully cooperate in the ongoing investigation into sexual abuse within the Catholic Diocese of Saginaw.

In a statement released a day after the raids, Cistone, who came to Saginaw in 2009, contended the diocese has and will continue to cooperate with the investigation.

The diocese did not return calls for comment for this story.

To date, only one diocese priest, the Rev. Robert DeLand, has been criminally charged. He was arrested Feb. 25 on accusations he sexually assaulted two males -- a 21-year-old and a 17-year-old -- in his Saginaw Township condominium.

Since DeLand's arrest, numerous tips and allegations about further sexual abuse dating back as far as three decades have flooded area police departments, investigators previously said. Among the tips were allegations against other clergymen.

Easter Sunday

In early March, the Saginaw County Prosecutor's Office formed a special investigative team to coordinate and investigate allegations of abuse involving "officials" within the Catholic Diocese of Saginaw.

The investigation ramped up with the raids on diocesan properties just days before Holy Week.

Holy Week concludes with Easter Sunday, which falls this year on April 1.

Come Mass this Sunday, Ureche said she'll be thinking of the ongoing investigation.

"It's on my mind all the time," she said. "It makes me sick."

Medina, too, said the recent events will no doubt cast a shadow over the celebration.

"This puts a pall over Easter," he said. "Holy Week is the pinnacle of the season, and to have this filth going on right under the surface, that really taints Holy Week and the Easter season."

Leslie Duperon, a parishioner of Christ the Good Shepherd in Saginaw, said the news is troubling, but her religious faith remains strong.

"I am disheartened about it, but my faith is not in the human element," Duperon said. "Perhaps these are only allegations. But on the other hand, perhaps this is a house-cleaning event, in which case, it is good that it's occurring."

The investigation was mentioned only briefly at church, Duperon said.

"No one really discusses the matter, that I have noticed," Duperon said. "But it is on my mind, and I wish the whole thing would be over."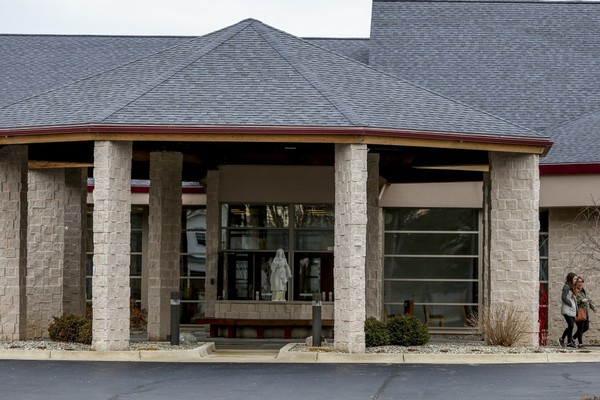 Parishioners exit St. Agnes Catholic Church after Mass in Freeland on Wednesday, March 28, 2018.



Ureche said her faith remains strong, as well, but just less so in the institutions that attempt to govern it.

"It has affected my feelings on organized religion versus what my personal faith is," she said. "I'm more spiritual than religious, because I've just seen so much of this."

Medina drew parallels to the abuse by Larry Nassar and alleged cover-up at Michigan State University, where he went to school after leaving Saginaw in 2004.

"I feel like my entire life up to now has been a lie," Medina said. "You just cannot trust institutions who protect disgusting men."

Both Ureche and Medina called for allowing for priests to marry in the hopes that it brings increased church attendance and curbs some of the sexual abuse of minors.

"You don't want to just blame the rules of clerical celibacy, but you look at our brothers in fellow apostolic faith and they don't have this problem," Medina said. "To see their churches flourish while ours dwindle away, it's very upsetting."

Another diocese priest, the Rev. Ronald J. Dombrowski, was suspended earlier in March by the diocese after they received a report he allegedly sexually assaulted a person when they were a minor. He has not been criminally charged.