Breaking a 50-year Silence on Priest Abuse
By Philip Gambini
Niagara Gazette
March 30, 2018

http://www.niagara-gazette.com/news/local_news/breaking-silence-on-claimed-priest-abuse-in-a-search-for/article_9813237a-33fd-11e8-a638-c3e5ff42c40a.html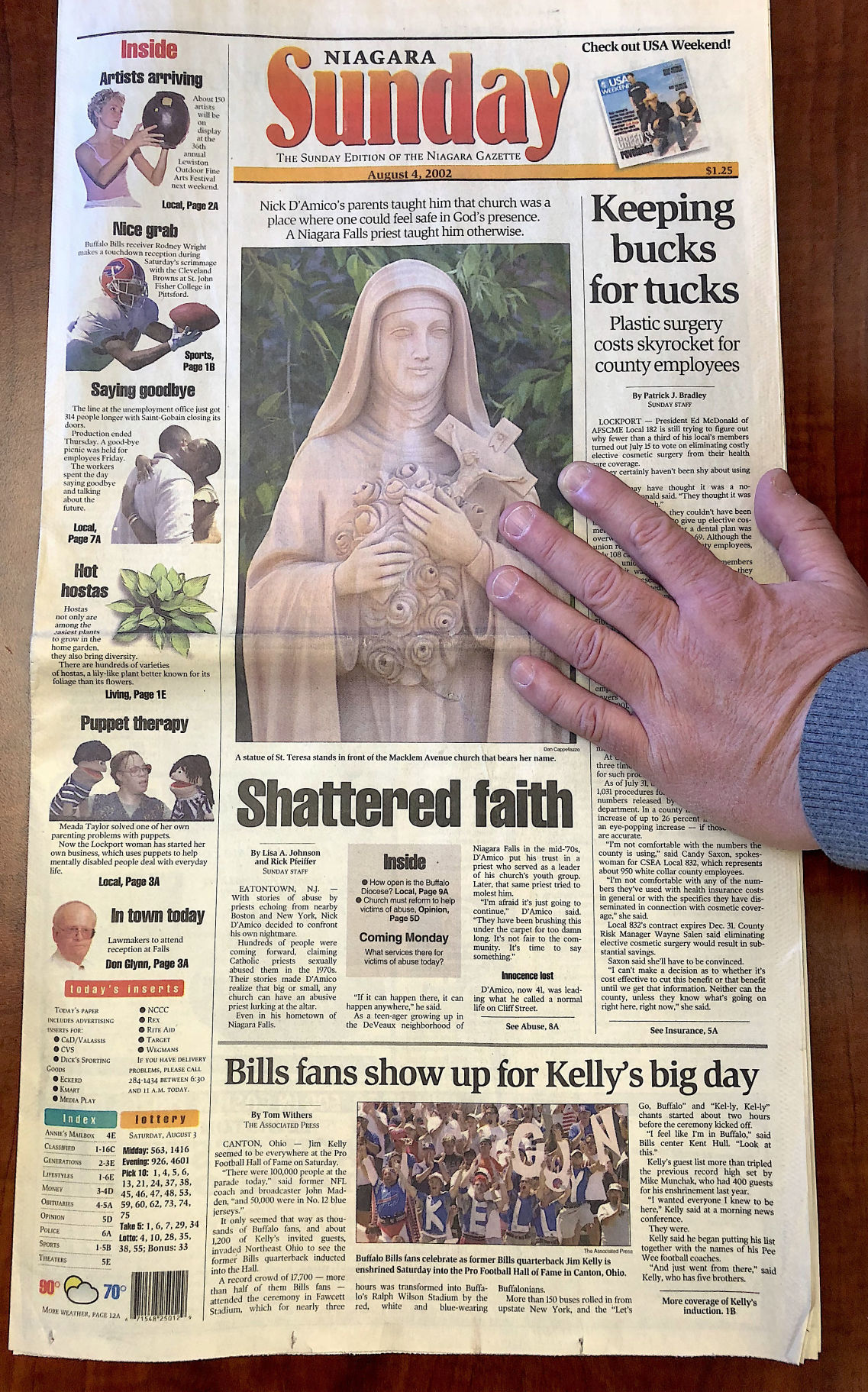 The Aug. 4, 2002 edition of the Niagara Gazette



After five decades of silence since being sexually assaulted at the hands of a well-known Niagara County priest, Mark Lynch will speak his truth this afternoon in the City of Buffalo.

"I have feared for several months the reality that, somewhere along in this healing process, a public statement would be both necessary and healing. I am answering the call from Bishop (Richard J.) Malone to come forward and be counted," Lynch said in a prepared statement shared with the Niagara Gazette on Thursday.

Lynch, 63, will deliver his remarks today in Buffalo on the steps of St. Joseph's Cathedral, 50 Franklin St., at 3 p.m. – a time of religious significance on the Catholic holy day of Good Friday.

"I am making this public statement in the hopes that other victims might be emboldened to come forward," Lynch said.

In his remarks, Lynch said the sexual assault was perpetrated by a clergyman well-known in the Niagara Region, whose name he will disclose at the press conference later today.

The priest, now deceased, was not on a list of 42 known clergy abusers released by the diocese earlier this year, but Lynch said it his "understanding that I was only the first among many of his victims."

Lynch did not detail the nature of the abuse, but said he has only recently fully processed the trauma.

"In December of last year, I began my healing journey. At my age of 63, I am blessed with the maturity and hopefully the time it will take to fully understand the impact of this abuse on my life," Lynch said in his statement.

"For 50 years, I have felt that there must have been something that I did to cause the abuse I suffered," he continued later. "Today, this 63-year-old man speaks to that 13-year-old boy with the assurance that he was an innocent victim."

About three weeks ago, Lynch said he began to send correspondence notifying the diocese's "victims liaison office" of the assault, including in a certified letter, but has yet to hear back.

"For some victims, compensation is an inherent ingredient in their healing process. I am not here today seeking compensation," he said. "I am here today taking one more step in my healing process."

But Lynch has questions for the leadership of the Roman Catholic Diocese of Buffalo, particularly Bishop Richard J. Malone, and the region's Catholic faithful.

"Are you happy with the steps Bishop Malone has taken to handle this crisis in your churches? Are you happy that predator priests who have survived in secret, passed statutes of limitations, are free of criminal liability? These crimes against Catholic children happened in the rectories of your parishes and in the sacristies of your churches," he said.

George Richert, the director of communications for the diocese, responded to the Gazette on Thursday in an email, saying he could not publicly discuss "the current status of any letter that was sent by Mr. Lynch." Richert said the diocese encourages victims to submit abuse claims through its Victim Assistance Coordinator, Jacqueline Joy, whom he described as a "trained trauma counselor."

"This is what we consider to be 'step one' for any victim," Richert said.

Richert said the priest's absence from the list could be for "any number of reasons," but added the diocese stands by a previous explanation as to how the list was constructed, saying it "identifies diocesan priests who were removed from ministry, were retired, or left ministry after allegations of sexual abuse of a minor."

Only deceased priests with more than one allegation of abuse were included in the list, Richert said.

Richert said Malone is "very much in favor of extending the statute of limitations for victims," but opposes the "look back window," which would allow victims a time period to pursue dated legal claims, even decades after the abuse had occurred.

Malone's trip to Albany earlier this month was an annual journey "he makes with all bishops in New York State," Richert said, to discuss range of public policy issues. Malone and others traveled with the New York State Catholic Conference, a lobbying organization representing state Bishops.

In January, conference representatives stated it "strongly opposes" the retroactive window during a joint legislative budget hearing.

The organization said implementing the window "would force institutions to defend alleged conduct decades ago about which they have no knowledge, and in which they had no role, potentially involving employees long retired, dead or infirm, based on information long lost, if it ever existed."

The item was cut out of state budget negotiations on Thursday. Its supporters have vowed to continue their pursuit of the legislation.