Bishop's Ball Fundraiser Canceled Due to Saginaw Diocese Sex Abuse Probe
By Michael Kransz
MLive
April 3, 2018

http://www.mlive.com/news/saginaw/index.ssf/2018/04/bishops_ball_fundraiser_cancel.html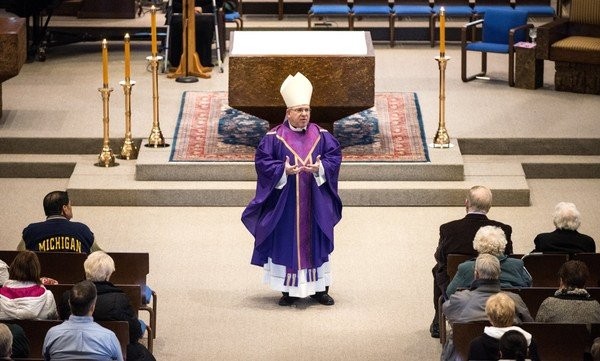 The Most Rev. Joseph R. Cistone, Bishop of Saginaw, delivers the homily during the noon Ash Wednesday Mass at the Cathedral of Mary of the Assumption, 615 Hoyt in Saginaw on Feb. 10, 2016.(Jacob Hamilton | MLive.com)



The Catholic Diocese of Saginaw has canceled the 2018 Bishop's Ball fundraising event due to the ongoing investigation into sexual abuse by priests.

"A celebration during this time would not be in keeping with the heartache felt in the local church community," the diocese said in a statement.

Ticket purchases and event sponsors for the 12th annual Bishop's Ball will be refunded, according to the diocese statement. Dinner tickets for the April 27 event were $100 each.

Those set to receive awards at the event will receive them at a later time.

In addition to canceling the ball, the diocese postponed a one-day youth event scheduled for August 11. No new date for the event, called MYFaith 2018, has been set.

To date, only one diocese priest, the Rev. Robert DeLand, has been criminally charged. He was arrested Feb. 25 on accusations he sexually assaulted two males -- a 21-year-old and a 17-year-old -- in his Saginaw Township condominium.

Another diocese priest, Rev. Ronald J. Dombrowski, was suspended by the diocese in mid-March after they received a report he allegedly sexually assaulted a person when they were a minor. He has not been criminally charged.

Following DeLand's arrest, the Saginaw County Prosecutor's Office formed a special investigative team to coordinate and investigate allegations of abuse involving "officials" within the Catholic Diocese of Saginaw.

The investigation ramped up March 22 with raids on the bishop's home on Corral Drive in Saginaw Township, the rectory at Cathedral of Mary of the Assumption in Saginaw and the Catholic Diocese of Saginaw offices in Saginaw Township.

Prosecutors alleged the diocese failed to fully cooperate in the investigation, prompting them to seek and execute the search warrants.