Providence Hs Sued As Prosecutors Weigh Charges against Former Principal
By Sam Charles
Chicago Sun-Times
April 12, 2018

https://chicago.suntimes.com/news/providence-hs-sued-as-prosecutors-weigh-charges-against-former-principal/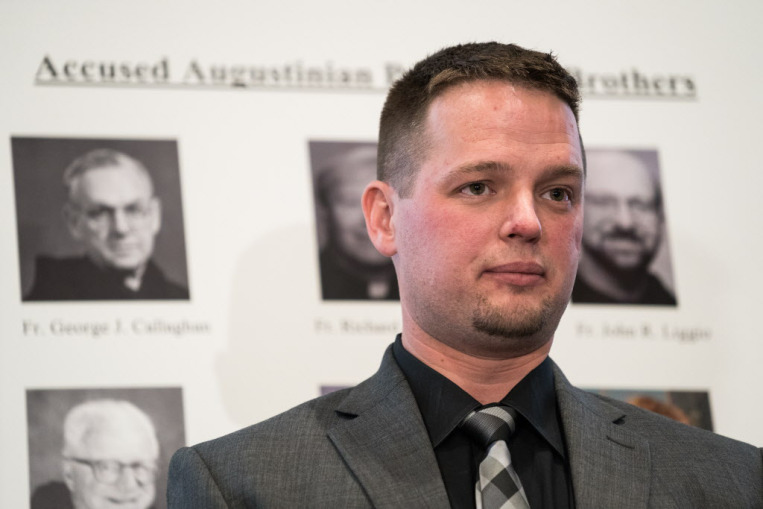 Former Providence Catholic High School student Bob Krankvich appears at a press conference to announce a lawsuit against the Augustinian Order alleging sexual abuse by Augustinian priest and former Providence President Fr. Richard McGrath on April 12, 2018. | Max Herman/For the Sun-Times



A lawsuit was filed Thursday detailing alleged sexual abuse of a student at a southwest suburban Catholic high school by the school's former principal and president, Father Richard McGrath.

The civil litigation comes as the Will County State's Attorney's Office weighs whether or not to bring criminal charges against McGrath for the alleged abuses.

The suit and possible criminal charges both stem from McGrath's alleged abuse of Robert Krankvich, who attended Providence High School in New Lenox for two years in the mid 1990s.

"I've decided to come forward because I've been living in shame and in guilt for my entire adult life," Krankvich said at a press conference Thursday. "I've battled addiction. I've battled suicide. [I've] tried hurting myself many times because I can't deal with the pain and all of the shame and the guilt that comes forward every day when I think about this."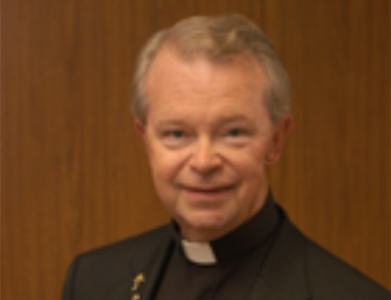 Father Richard McGrath | Screenshot from Catholic Management Services



Victims of sexual abuse by priests typically file lawsuits anonymously, but Krankvich said he's attaching his name to his lawsuit in the hopes that it will encourage other victims to come forward.

The Augustinian Order and Providence High School were named as defendants in the suit that was filed in Cook County.

Krankvich, 38, said Thursday that McGrath threatened him to keep quiet about the abuses.

"It is the Augustinians that placed an offender, Father Richard McGrath — a teacher, a priest, who they made a principal and the president — at Providence High School," one of Krankvich's attorneys, Jeff Anderson, said Thursday. "And in the 1990s, that priest — that teacher, that principal, that president of that school — repeatedly orally and anally raped this child."

Anderson said one of the goals of the suit is to compel the Augustinians to release the names of priests who have engaged in abuse of children.

At Thursday's press conference, Krankvich and his attorneys stood in front of photos of McGrath and other members of the Augustinian Order who, they say, have engaged in the sexual abuse of children. Throughout the press conference, Anderson held up a childhood photo of Krankvich.

McGrath, who is not being sued, was ordained as a priest in the order of the Augustinians in the 1970s, according to Krankvich's suit, and he served at St. Rita High School on Chicago's South Side — another Augustinian Catholic school — before being assigned to Providence in 1986.

Last December, McGrath abruptly retired from Providence amid an investigation into "potentially inappropriate material on his mobile device."

Krankvich's suit says that McGrath was seen looking at child pornography on his phone during a Providence wrestling match. The New Lenox Police Department opened an investigation into the claims, but it was closed in February without criminal charges being filed after McGrath refused to turn his cellphone over to police.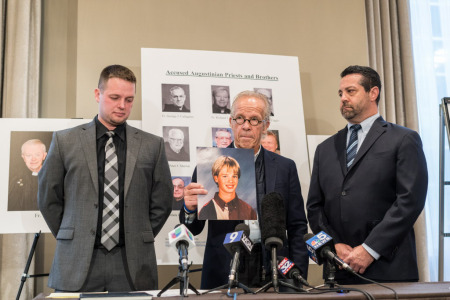 Attorney Jeff Anderson speaks at a press conference, with fellow attorney Marc Pearlman at right, and former Providence Catholic High School student Bob Krankvich at left, who is filing a lawsuit against the Augustinian Order alleging sexual abuse by Augustinian priest and former Providence President Fr. Richard McGrath on April 12, 2018. | Max Herman/For the Sun-Times



New Lenox Police Chief Bob Sterba said Krankvich filed a complaint against McGrath earlier this year. New Lenox police "conducted a lengthy investigation" into those claims, Sterba said, and in March turned over their findings to the Will County State's Attorney's office.

Chuck Pelkie, a spokesman for the state's attorney's office, said prosecutors are currently reviewing the case.

The Order of the Augustinians did not respond to a request for comment Thursday.

Edward Flavin, a spokesman for the Diocese of Joliet, which oversees Providence, issued a statement saying: "Certainly, we are saddened to hear about these recent developments. The Diocese of Joliet and Providence Catholic High School will fully cooperate as the case proceeds. Due to the case being in litigation, we cannot comment further at this time."