Retired Priest's Chatroom Convos about Killing, Raping Kids Were 'role Play,' Attorney Says
By Katy Moeller
Idaho Statesman
April 13, 2018

http://www.idahostatesman.com/news/local/community/boise/article208855704.html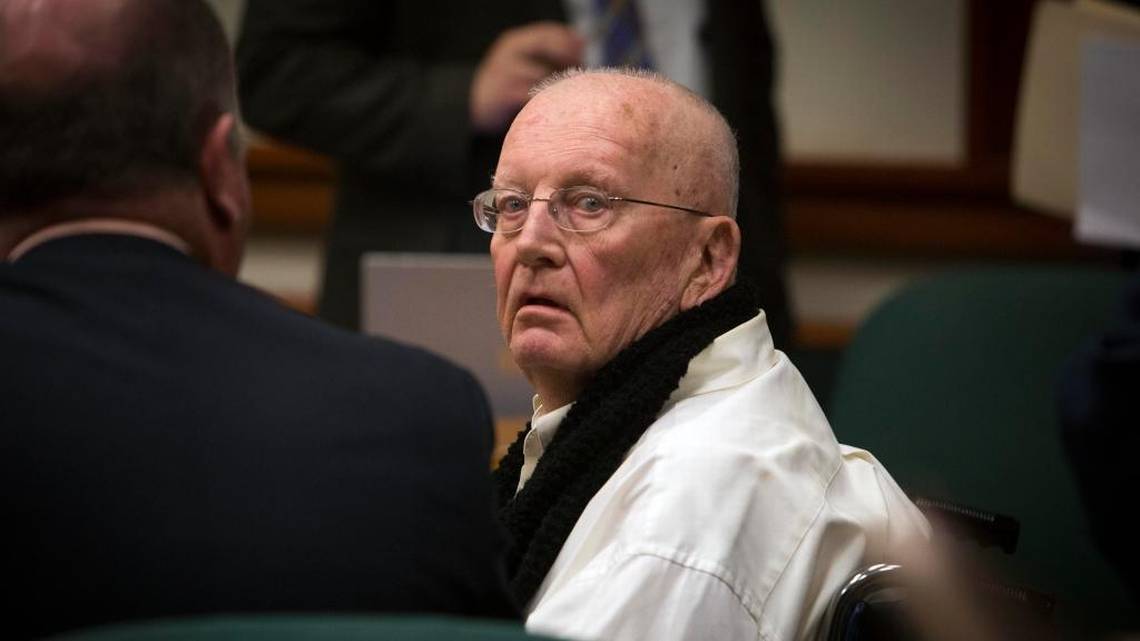 In this March 13 photo, the Rev. W. Thomas Faucher, 72, was at a hearing at the Ada County Courthouse in Boise. After being handcuffed, Faucher was taken from the courtroom in his wheelchair and taken to the Ada County Jail. On Friday morning, he sought a reduction in the $1 million bond. Statesman archive photo



The Rev. William Thomas Faucher, accused of child porn and drug crimes, was role playing with a fellow author in some of the chatroom conversations in which he's alleged to have said he wanted to rape and kill children, his attorney said in court Friday.

"This gentleman Mr. Faucher is talking to lives in Brazil. He initially contacted Father Faucher because he wanted his help writing a book," said Faucher's attorney, Mark Manweiler, at a hearing Friday at the Ada County Courthouse. "They discussed all kinds of fantastic scenarios, like two murder novelists talking — only the issue is child abuse."

Manweiler said there was one conversation in which the other party said he was going to send him some child pornography, and Faucher told him he didn't want it. He said Faucher deleted many files he received without opening them.

The 72-year-old retired priest has been in the Ada County Jail the past four weeks — after his bond was raised to $1 million by Magistrate Judge James Cawthon — and it doesn't look like he'll be getting out anytime soon.

District Court Judge Jason Scott declined on Friday to reduce the $1 million bond.

Manweiler argued that the priest isn't ambulatory — he requires a walker or wheelchair to get around — and poses no "functional" danger to the public.

Judge Scott said not all victims of sex crimes are obtained by force.

"Some are lured by guile," Scott said.

Scott said the evidence from Faucher's devices, specifically his computer and cellphone, "justify Judge Cawthon's conclusion that the defendant simply can't be released safely."

Faucher was arrested on Feb. 2. He is now charged with 24 crimes: 21 counts of felony sexual exploitation of a child, one count of felony possession of a controlled substance (LSD) and two counts of misdemeanor possession of a controlled substance (marijuana and ecstasy).

A trial date was set for Aug. 6. The trial is expected to take four full days.

Manweiler argued Friday, as he did at a previous hearing in March, that the $1 million bond requirement as "way excessive" and a violation of Faucher's constitutional rights to reasonable bail.

Manweiler noted that Catholic priests take a vow of poverty, and the retired priest now lives on Social Security and a modest pension. He said Faucher paid a bail bondsman $20,000 to meet the quarter-million dollar bond originally set after he was arrested in February.

Faucher has resided in a house owned by the Diocese of Boise for about the past 15 years. The diocese provides the retired priest a stipend of $850, and that's the same amount of rent they charge him.

Faucher is appealing his eviction from a house owned by the Diocese of Boise.

The church served him with eviction papers in mid-February, giving him 60 days to get out of the house he's been living in for the past 15 years.

Faucher is a canon lawyer, someone trained in the laws of the Catholic Church. He's appealing his eviction through the Church, Manweiler said in court Friday.

Manweiler said in court that prior to the recent charges being brought against Faucher, the priest had lived a life "beyond reproach." He said Faucher ministered to many thousands of people, and a large number had sent letters recounting his good works.

"The bottom line is he's well-known and well-liked," Manweiler said. He noted that the priest's friends include many top Idaho politicians, including Gov. Butch Otter, Lt. Gov. Brad Little and Boise Mayor David Bieter.

Manweiler described the charges against Faucher as "sensational and salacious." He said there were never any reports of Faucher having inappropriate conduct with children until after the church put out a call in February for anyone abused by the priest to come forward.

Two people have come forward to accuse Faucher of child sexual abuse decades ago. Both have chosen to remain anonymous.

Manweiler told the judge that he views them as "people jumping on the bandwagon who want the Catholic Church to write them a check."

"They should not be given serious consideration by this court. There are no pending cases of any actual contact with children, period," Manweiler said in his concluding his comments. "This case is what it is. It's a serious case. A significant bond is certainly warranted, but not $1 million."

Prosecutors have said they are unsure if they will be able to proceed with charges in those cases. Idaho removed the statute of limitations on most child sex crimes in 2006, but these cases may be too old to prosecute.

Ada County Prosecutor Kassandra Slaven told Scott about the 2,000 images and videos that investigators seized from Faucher's devices. She said the files depict the brutal rape and torture of children, including toddlers and infants.

She described graphic chatroom talks that Faucher is alleged to have engaged in:

"He talks in specific detail about his journey that he has taken down the path to Satan. Those are his words," Slaven said.

She said Faucher encouraged someone he was chatting with to rape and kill a boy, and he expressed an interest in raping and killing children. She said he talked about "his favorite age of a boy being 14." He also discussed poisoning a neighbor's dog, she said.

"At some point he says, and this is a quote from Mr. Faucher: 'Yes, I want to do something truly evil before I die. The thought of killing someone does begin to excite me,'" Slaven said.