Man gives emotional testimony claiming Saginaw priest sexually assaulted him
By Cole Waterman
MLive
April 25, 2018

http://www.mlive.com/news/saginaw/index.ssf/2018/04/man_gives_emotional_testimony.html#incart_river_mobile_index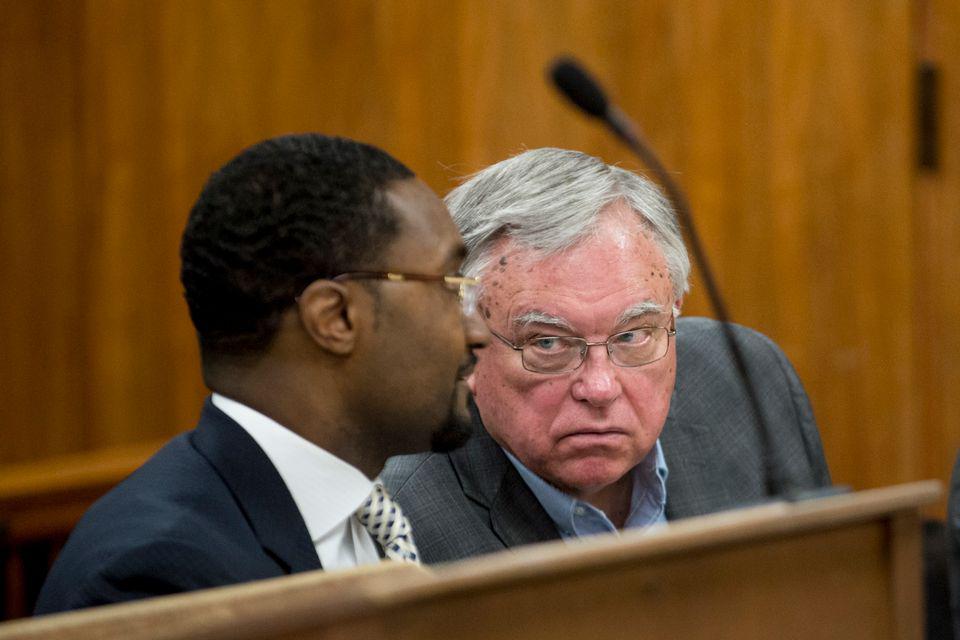 The Rev. Robert J. " Father Bob" Deland, Jr. looks to attorney Alan Crawford during a preliminary examination for Deland before Saginaw County District Judge David D. Hoffman on April 25, 2018. Deland is charged with attempted second degree criminal sexual conduct and one count of gross indecency between males.
Photo by Jacob Hamilton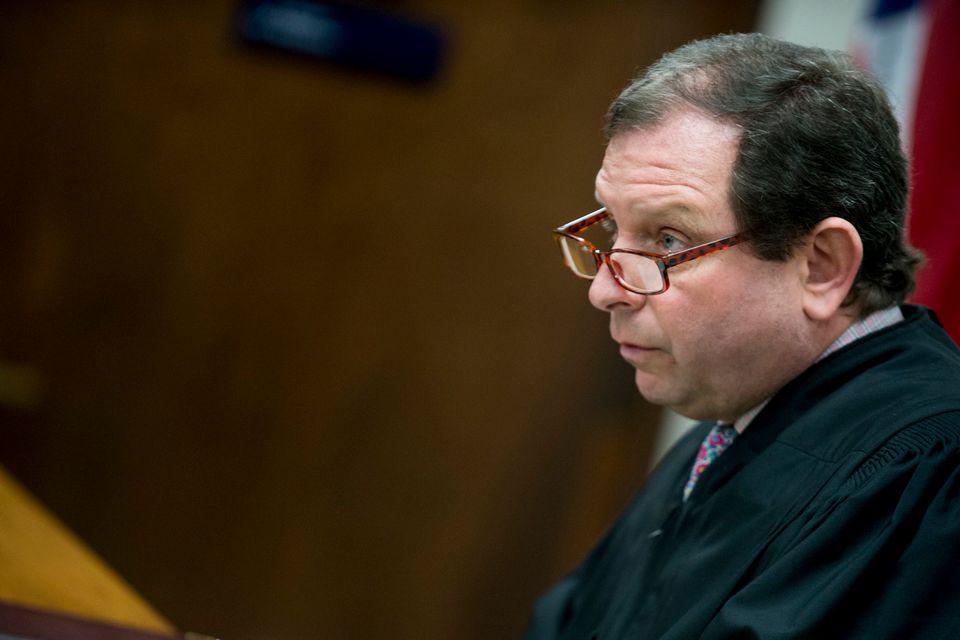 Saginaw County District Judge David D. Hoffman speaks during a preliminary examination for the Rev. Robert J. " Father Bob" Deland, Jr. on April 25, 2018. Deland is charged with attempted second degree criminal sexual conduct and one count of gross indecency between males.
Photo by Jacob Hamilton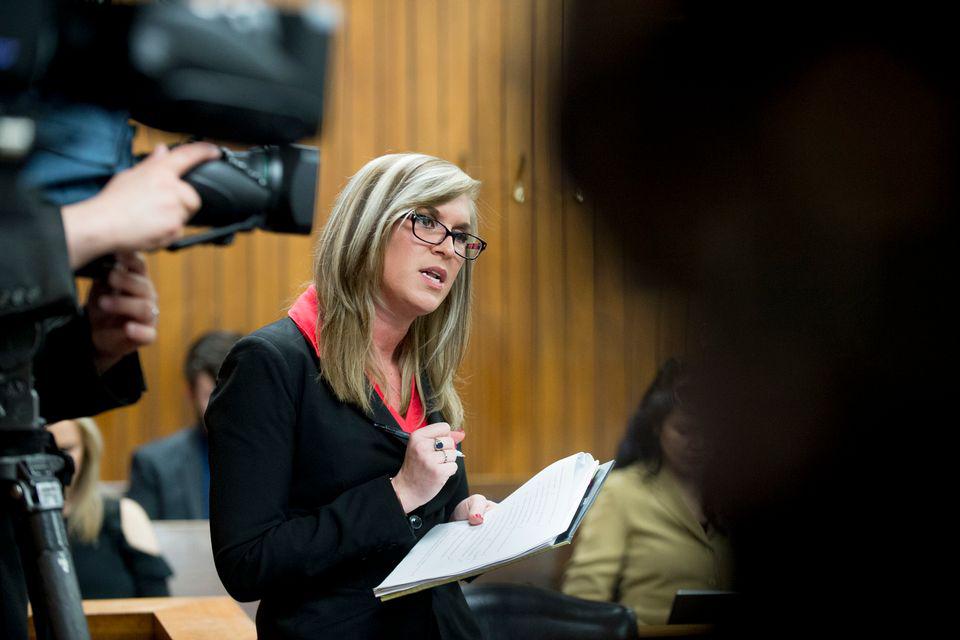 Assistant Prosecutor Melissa Hoover questions a witness during a preliminary examination for the Rev. Robert J. "Father Bob" Deland, Jr. before Saginaw County District Judge David D. Hoffman on April 25, 2018. Deland is charged with attempted second degree criminal sexual conduct and one count of gross indecency between males.
Photo by Jacob Hamilton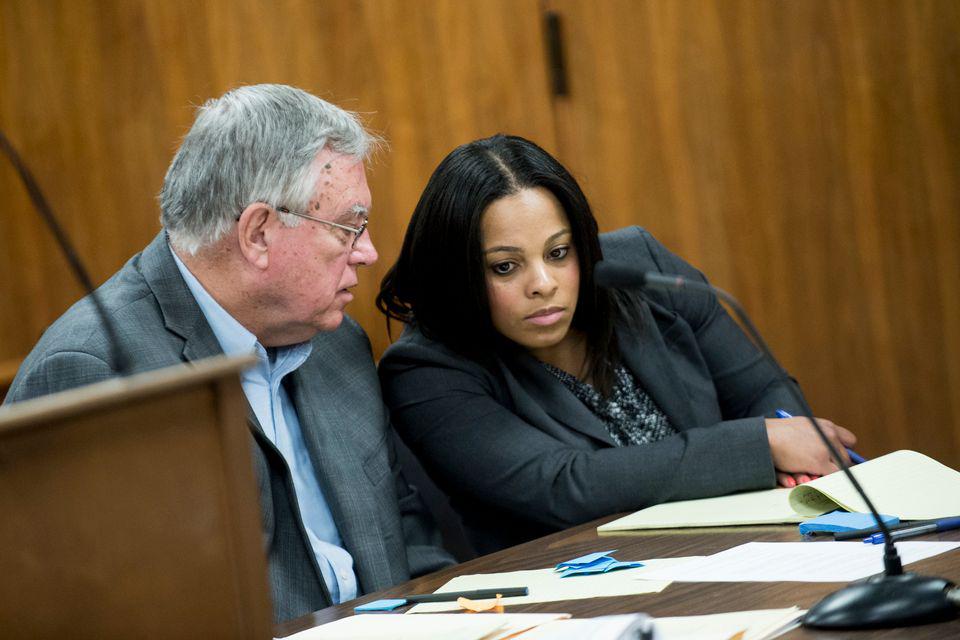 The Rev. Robert J. " Father Bob" Deland, Jr. speaks with Ebony Ellis during a preliminary examination for Deland before Saginaw County District Judge David D. Hoffman on April 25, 2018. Deland is charged with attempted second degree criminal sexual conduct and one count of gross indecency between males.
Photo by Jacob Hamilton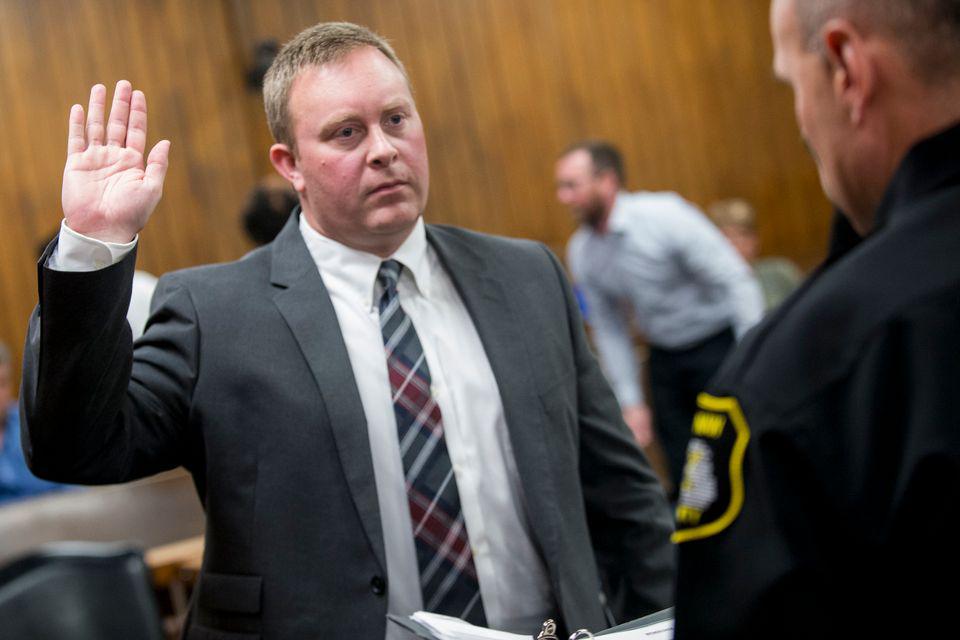 Saginaw Township Police detective Scott Jackson is sworn in as a witness during a preliminary examination for the Rev. Robert J. "Father Bob" Deland, Jr. before Saginaw County District Judge David D. Hoffman on April 25, 2018. Deland is charged with attempted second degree criminal sexual conduct and one count of gross indecency between males.
Photo by Jacob Hamilton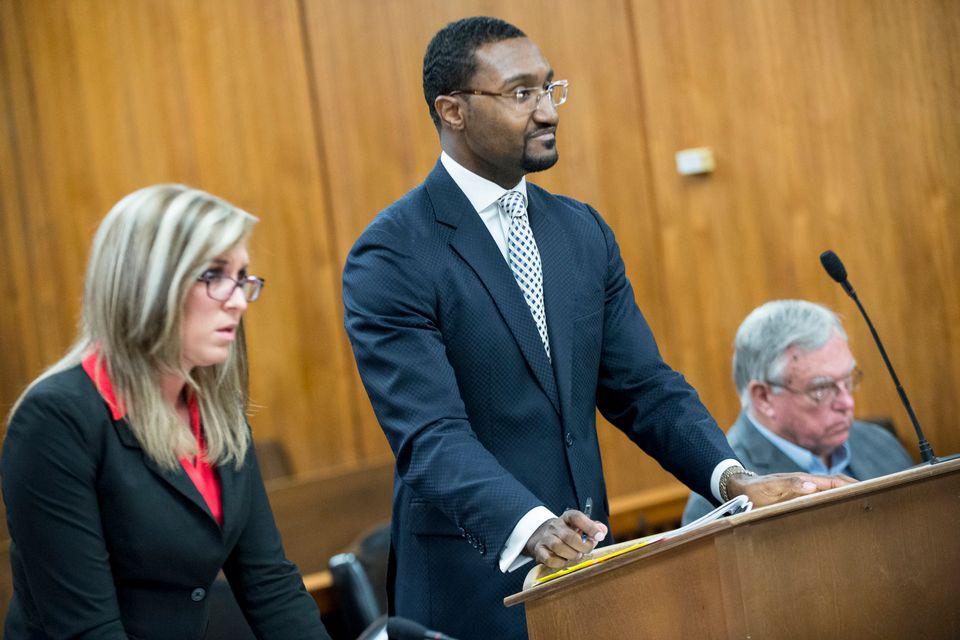 Attorney Alan Crawford gives a statement on behalf of his client, the Rev. Robert J. "Father Bob" Deland, Jr., during a preliminary examination for Deland before Saginaw County District Judge David D. Hoffman on April 25, 2018. Deland is charged with attempted second degree criminal sexual conduct and one count of gross indecency between males.
Photo by Jacob Hamilton
SAGINAW, MI -- When the Rev. Robert J. "Father Bob" DeLand Jr. first appeared in court on sexual assault charges, he asked a judge when he'd find out who his accusers were. Two months later, the 71-year-old Catholic priest heard testimony from two of the three males who say he molested them.
The witnesses testified during two of DeLand's preliminary examinations held the morning of April 25 before Saginaw County District Judge David D. Hoffman.
The first witness, a 22-year-old man, spoke in a soft voice as he answered questions posed to him by Saginaw County Assistant Prosecutor Melissa Hoover.
He said he met DeLand, a priest in the Catholic Diocese of Saginaw, in the summer of 2017, when the priest patronized a Saginaw Township restaurant where the witness worked. DeLand had been at a table with several others.
"He didn't really introduce himself," the witness said. "I was talking to the table a little bit. Someone said something about him being a priest. I just remember him asking me a little bit about myself. I just told him a little bit. He told me he liked to help students going to school and just help them out in any way that he could."
Before DeLand left the restaurant, he "just told me to come to his church and to get to know him," the witness said.
That same day, the man was involved in a traffic crash while running an errand for his employer. Shortly after returning to the restaurant that day, he encountered DeLand, who had also returned, alone this time. DeLand asked the man how he was going to afford fixing his car and the two exchanged phone numbers, the man testified.
The two started meeting and DeLand ended up paying for the man's phone and Consumers Energy bills and took him clothes shopping, he said. He said DeLand served as a role model.
Hoover asked the man how he felt about this arrangement.
"It just made me feel like, grateful that there would be a person out there trying to help," he said.
Hoover then asked the witness how he recalled the night of Aug. 7.
"Blurry," he replied.
That night, the man said he visited DeLand's home at 29 Mallard Cove in Saginaw Township, having been invited.
"We talked and we took some shots of Patron," he said, adding DeLand poured the tequila. "I just remember being on the porch and then everything went black for me."
He said he came to in the living room.
"Bob was there. I didn't feel drunk. I just felt dizzy and not being able to move my body. I remember trying to move my arms and not being able to even nudge or twist. When you drink, you can steadily feel yourself getting more drunk. I didn't feel like this at all. I just remember it going black and not being able to feel my body."
He recalled looking at the floor and seeing DeLand's feet in front of him.
"The first time I faded back in, he had his hands on my shoulders," the man said. "The next thing I know, he grabbed my face and started making out with me."
At this point in his testimony, the witness began choking up and spoke even more softly.
"I didn't know what to feel or what to think," he said, adding he soon "faded out" again.
When he came to a second time, he was standing and looking at the floor again, this time noticing both his and DeLand's pants were around their ankles with no memory of how they got that way. He recalled DeLand trying to take his shirt off and DeLand trying to move his hand toward DeLand's penis, before everything went black again.
"I remember kinda trying to twist my body again and I closed my eyes," he said. "I don't remember what happened after that."
The next thing he remembered, he was standing in DeLand's bathroom, his pants back on, looking at himself in the mirror. He didn't know how much time had elapsed.
"I remember walking into the living room, grabbing my phone, and just trying to run outside," he said. "As soon as I got outside, I called my girlfriend and had her pick me up. As I was calling her, I was running. I just kept running and she picked me up at, like, a party store."
The man and his girlfriend briefly stopped at the restaurant he worked at to see a friend, then the girlfriend took him to a hospital, he said.
In the following days, DeLand would repeatedly call, text, and email the man, and would occasionally show up at his work. He left a birthday card containing $200 on the man's car when it was parked at his work, he said.
"How do you feel this incident has affected you and your life?" Hoover asked.
The man considered this for a few moments before answering.
"It sucks when you can't look at yourself the same way," he replied. "I haven't gone to church since this happened," said the man, who identified himself as a Catholic.
The man eventually went to police. On Aug. 18, he was in a police station interview room when he called DeLand. Hoover played video footage of this interview in the courtroom.
In the footage, the seated man tells DeLand he needs "to talk about what happened that night. I'm not OK inside. I know you took advantage of me. I know you got me drunk on purpose. What did you do to me that night, Bob?"
"Well, OK," DeLand responds on speaker phone. "Here's what I... I don't know what happened. I know we were drinking that tequila and I can remember sitting out on the deck because I was getting a big charge out of you telling me to be quiet and you moved your hand and it was really funny. I don't remember going to bed. I don't remember you leaving. I don't remember what happened. I don't know what I did."
The man begins sobbing and his voice rises.
"You don't deserve to be a priest at all," he says.
"All I can tell you is I wish... I don't know what happened," DeLand replies. "You don't have to believe that and I can't force you to believe that."
The man says he remembers DeLand not having his pants on and calls him a liar.
"You can call me a liar, but I don't remember a thing," DeLand says. "I know you're having a rough time. I'm having a worse time. I'll tell you this much, I believe you when you say if I took advantage of you... I don't remember it, but I believe you. I know another thing -- I 'd never hurt you. I'm just so stupid. I guess, I guess... I don't know. I know I blacked out. I'm glad for this phone call; I've felt so terrible.
"I would never hurt you," DeLand continues. "I believe you because you're such a good person. I just feel awful. I mean, I really feel awful and I know there's nothing I can do to make it up. I just know I would not knowingly do this. I hope that I didn't take advantage of you."
"I don't care how you feel," the man says. "You literally broke me inside."
The man then hangs up on DeLand and sobs with his head on the desk in front of him. A few minutes later, DeLand calls back and reiterates he doesn't recall what happened, but wouldn't knowingly hurt the man.
"I can stand before God and say, 'God, I didn't want to hurt him, but I don't know,'" DeLand says.
"You're no priest," the man replies. "I don't care however hard you work at your job, but you're no priest."
Under cross-examination, Crawford asks the witness if he had court costs associated with a drunken driving conviction and if he had difficulty with employment. The man said he paid his court costs, but that DeLand paid some other bills and talked about paying for his auto insurance and college tuition. He also said DeLand told him he could sleep at his condo whenever he wanted and help himself to whatever food he had there.
"Bob was helping you, by all intents and purposes, correct?" Crawford asked.
"Yes," the man said.
Crawford then asked the man if he recalled telling police he had been the one to pour the tequila shots and that he had consumed five shots, rather than the three he had earlier testified to.
"Next time this happens, I'll count them for you," the man said.
Crawford then referenced hospital reports that indicated the man's blood alcohol content after the incident was 0.257 percent. In Michigan, a person is legally intoxicated when his or her blood alcohol level reaches 0.08 percent. The tests showed the man had marijuana in his system, but no other drugs, Crawford also referenced.
When the man was finished testifying, Hoover called Saginaw Township Police Detective Scott Jackson to the stand. He said he interviewed the man several times.
"When we would discuss the incidents that he's claiming occurred ... he became fairly emotional and would often cry," Jackson said, adding the man was consistent in his emotions.
Jackson also interviewed DeLand.
"I would say he was calm," the detective said. "He acknowledged that (the complainant) was at his house and that they had been drinking tequila, and that at one point (DeLand) had blacked out. He didn't admit that specially that there was any sort of kissing or (the complainant's) allegations of their pants being down. He didn't admit to any of that."
Jackson said he requested testing of the man's urine sample for the presence of date rape drugs, but the test could not be completed because such substances don't remain in a person's system for long.
Questioned by Crawford, Jackson said DeLand told him his whole life was about helping others.
After Jackson testified, Hoover asked Judge Hoffman to bind DeLand over to Circuit Court on charges of attempted second-degree criminal sexual conduct and gross indecency between males. Crawford objected, but the judge ended up binding the charges over to the higher court for trial.
A second preliminary examination then began that related to a different alleged victim involving DeLand.
Contact: cwaterma@mlive.com