The Long Road to Recovery after Sexual Abuse

By Charlie Specht
WKBW
April 26, 2018

https://www.wkbw.com/news/i-team/the-long-road-to-recovery-after-sexual-abuse

David Husted first encountered Father James Spielman in the principal's office of Archbishop Walsh High School in Olean in 1979.

The skinny freshman was in trouble when the young, charismatic priest with the dark mustache walked in.

"He came in the room and he said, 'Hi, what's your name? What's going on?'" Husted recalled. "I told him and he started to befriend me. He asked me to come talk to him after school, and you know, I did. He was a priest, he's a teacher. I thought he was [there] to help me."




But Father James Spielman wasn't there to help Husted. He was there to groom him for years of sexual abuse — and Husted says, a lifetime of pain.

"He was thought of as a God," Husted said. "He was thought of as do no wrong, such a wonderful person. He was so good at what he did, in grooming."

The grooming of Husted, now in his 50s and living in Texas, started in his Olean home, where the charismatic priest was a regular dinner guest. It continued, Husted said, at a cabin in Scio he nicknamed "The Hill," and also on a mission trip to Hawaii — a trip that would prove fateful to all involved.

The priest fondled Husted while swimming in the ocean and encouraged the boys to join him in a "masturbation contest" back at the a hotel room after he plied them with alcohol, Husted said. After the boys passed out, Husted said Spielman woke him from his sleep and beckoned him to his room.

"He took me right into the bathroom and forced me to give him oral copulation," Husted said.

Those abuses — and a lawsuit filed by Husted — are what led the Diocese of Buffalo in 2016 to pay Husted a $1.5 million settlement.

The diocese was on the hook for the payments because Spielman took Husted and other students on a trip to Hawaii in the 1980s, where Husted said he was abused. Hawaii — unlike New York — re-opened its statute of limitations on child sex crimes a few years ago, which allowed Husted to sue. A diocesan spokesman said "the bulk" of the payments came from the diocese's third-party insurance carrier, but he would not give a breakdown of the figures.

"It was not about the money, it never was," Husted said. "It was about them, the diocese, finally taking responsibility. I was asked, 'What would you rather have, this priest to rot in jail for the rest of his life or a million dollars?' I said, 'I want this priest to rot in jail for the rest of his life.' That won't ever happen, but I told myself I would never give up trying to get justice."

Husted's fight for justice is often interrupted by flashbacks of the past.

Like the time his mother, when he was in college, took him to dinner at the Glen Iris Inn in Letchworth State Park. Husted became physically ill because while driving on the rural roads of Allegany County, his mind wandered to the time he said Spielman sodomized him after dinner there on his 16th birthday.

"It was not about the money, it never was. It was about them, the diocese, finally taking responsibility."

"That was another time that he had in his mind that, you know, 'Let's celebrate your birthday, but I'm also gonna rape you when we're done,'" Husted said.

He came close to telling his mother after that flashback because she could tell something was wrong. But each time, he buried the memory, not telling his Mom or Dad until decades had passed.

"The denial that happens, and the shame that takes you over is so incredibly powerful," he said. "Today, I still don't know what's stronger and what's more powerful. The denial or the shame."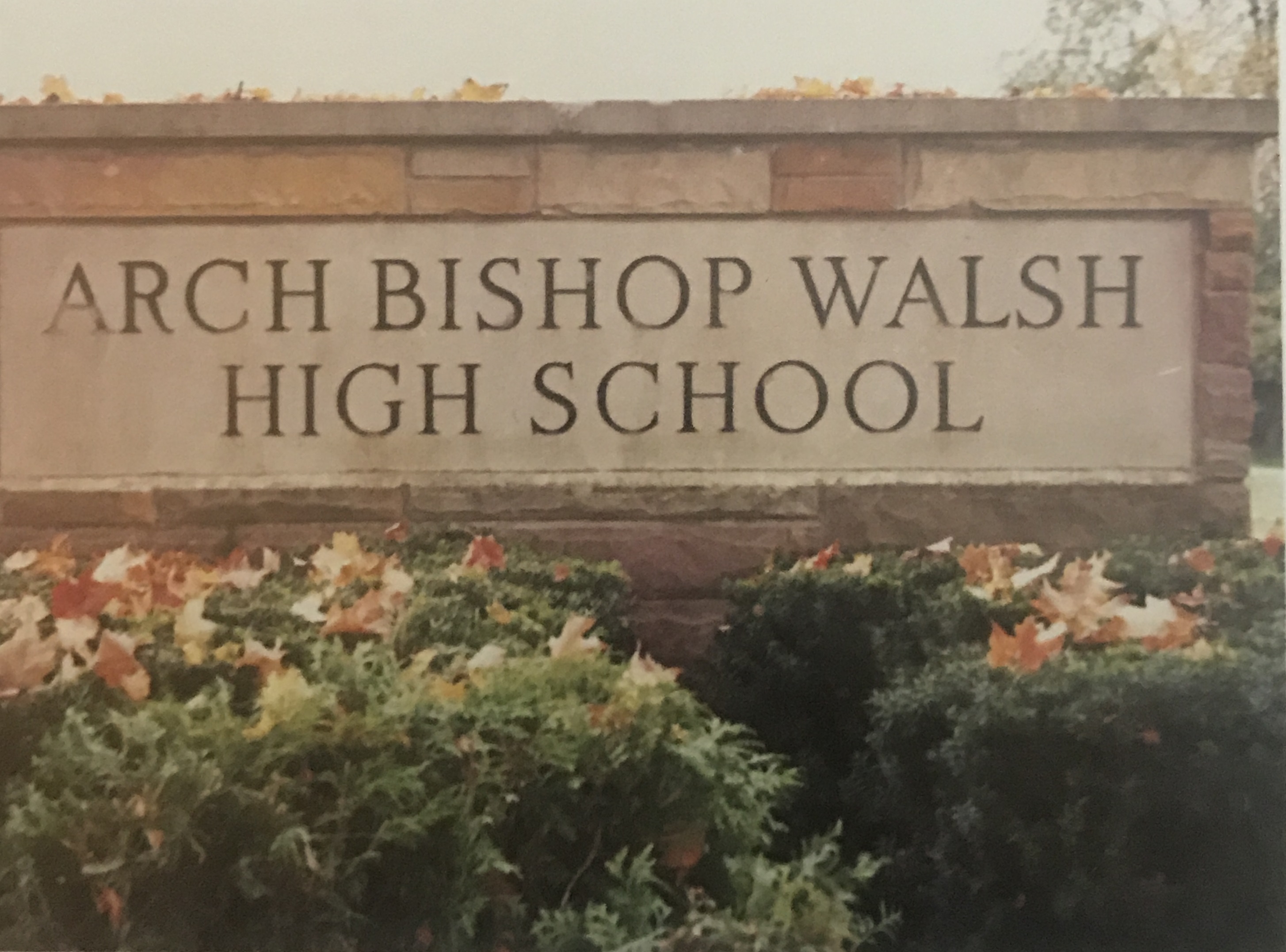 Sign outside Arch Bishop Walsh High School



The abuse even happened at Walsh High School, Husted said. During a record hop, Spielman encouraged him to get a bottle of vodka he has stashed in the bathroom. The priest then took him into a dark hallway and fondled him, he said.

Another time, a nun caught Spielman in the act when she walked into his classroom after school, Husted said.

"She dropped her head, turned around and walked out the door," Husted said. "That was it. There was no words, no comments ever."

Diocesan records show Spielman was shuffled around to at least six different parishes or schools:

St. Aloysius in Springville (1972-77)

St. Patrick in Salamanca (1978)

Archbishop Walsh High School in Olean (1979-1983)

St. Mary in Canaseraga (1984-86, 91-93)

Assumption of Portageville (1991-93)

Peter & Paul in Jamestown (1987-89, '93)

Spielman resigned from the priesthood in 1993.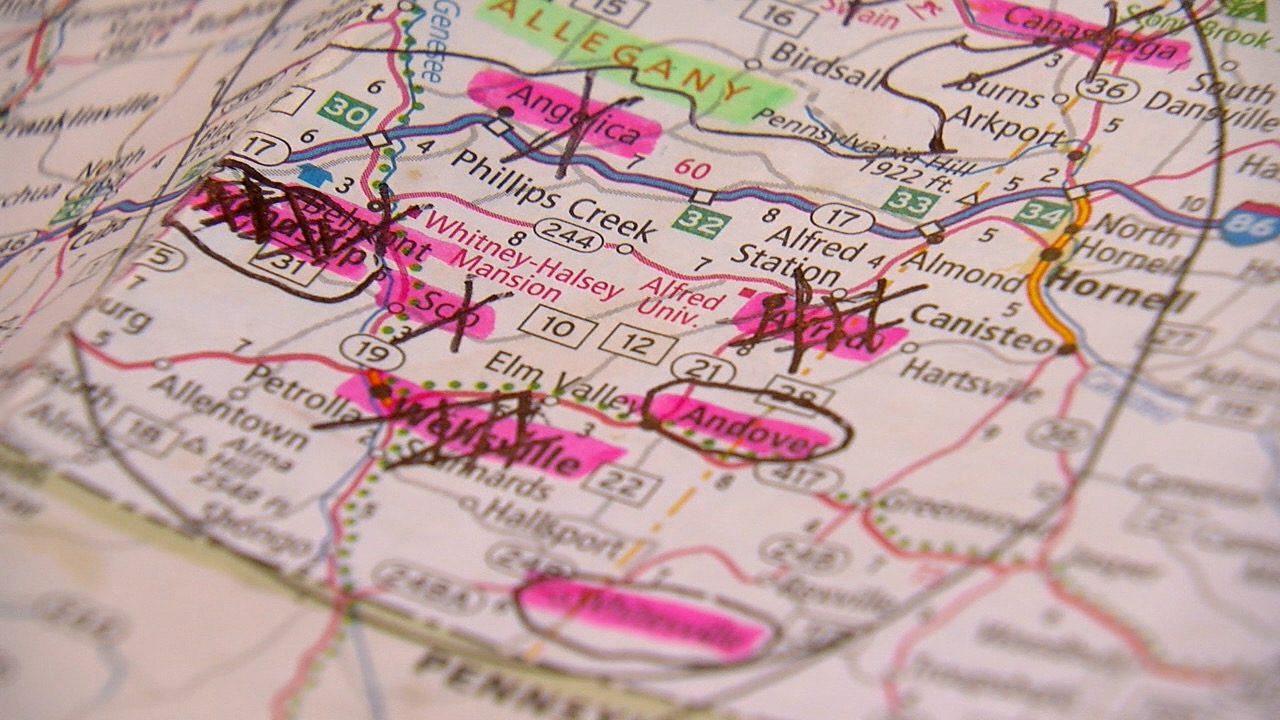 Map Husted used to track where Father James Spielman serveda



It's unclear how many victims Spielman, who through a lawyer declined to comment for this story, may have had, although one victim came forward in the 1990s about abuse by the priest in Springville and received a settlement from the diocese.

Husted said he "personally knows" four other boys who were abused. The family of another victim has contacted 7 Eyewitness News about alleged abuse by Spielman at Camp Turner, the diocesan youth camp, in the 1970s.

Records obtained by 7 Eyewitness News show the diocese removed Spielman from SS Peter & Paul in Jamestown in 1989 — sources say an altar boy came forward with an allegation of abuse — and sent him to Southdown Institute in Canada for "treatment" before returning him to parish work.

"The process of him being sent to Southdown, the bishop putting him right back in his position...is so why everybody in this country is so pissed off," Husted said.

The anger in Husted burns fiercely. So does the search for healing.

"It's not like a Band-Aid on a cut," Husted says of the scars of sexual abuse. "It's a big gaping wound down your core that opens up and spills. So no, you don't just get better in a few weeks or months or days or years. It take a lifetime, but I will."

Poetry and therapy has helped him salve those wounds:

Speech starting to slur

Inhibitions are fading

Drink a few more

He started his playing

Two more assignments the latter in Jamestown.

A victim met Bishop Head exposing your fault.

I know why his secrecy, though painful and selfish.

No trace of the meeting documents into the vault.

Bishop Head moved you right back to Jamestown

Only five months later put on administrative leave.

The second report of Childhood Sexual Abuse by you

This survivor found strength to again believe.

True recovery for Husted started in November, when his father — who was in poor health — encouraged him to drive to Buffalo.

"When I got ready to leave, he started to cry and he grabbed me and he said, 'Boy, you do what it is you gotta go do," Husted said as he tried to hold back tears. "You've got the strength in you. Go do it and you have every ounce of our support and love. As I hugged my dad in the hospital bed and that gave me that last bit of strength to get in the car and come to Buffalo."

"I feel that hopefully I am making a difference and helping someone else get through their trauma"

Months before Michael Whalen would break his silence about Fr. Norbert Orsolits and unleash a tidal wave of abuse allegations in the Diocese of Buffalo, Husted drove to each church in Western New York where Spielman had been assigned. He distributed 200 copies of his poems, laminating them and throwing them out the car window as he drove the country roads of Allegany County.

"My hope was that someone picks it up, knows the story and says something to someone else," Husted said. "And if that was gonna make a difference, that's all I could hope for."

Husted and Whalen met last month in an emotional moment at 7 Eyewitness News. They talked about their matching scars of abuse but also their newfound strength and their desire to help victims like them come forward and speak their truth.

Both men have a desire to be the best fathers they can be to their children. They no longer consider themselves victims, but survivors.

"I feel that hopefully I am making a difference and helping someone else get through their trauma," Husted said. "You can't do it alone."