Masses of security, media and protesters at Cardinal George Pell trial
Newstalk ZB
May 1, 2018

http://www.newstalkzb.co.nz/on-air/larry-williams-drive/audio/murray-olds-masses-of-security-media-and-protesters-at-george-pell-trial/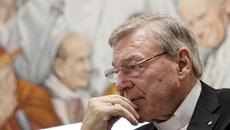 George Pell


[with video]



A mass of security, media and protestors honed in today for a court appearance of Australia's Cardinal George Pell.

The 76-year-old pleaded not guilty to historic sex offences dating back to the 1970's and 1990's at a Melbourne magistrate's court.

Pell has maintained his innocence since allegations came to light, and taken leave from his position at the Vatican to fight the complaints.

Australian correspondent Murray Olds told Larry Williams several more charges were on the table but ultimately thrown out.

He says half of the complaints were thrown out due to a cavalier attitude of one of the complainants, and allegations deemed not likely to hold up at trial.