Advocates Rally Urging NY Assembly To Pass End Child Trafficking Act
By Elizabeth Hill
WAMC
May 2, 2018

http://wamc.org/post/advocates-rally-urging-ny-assembly-pass-end-child-trafficking-act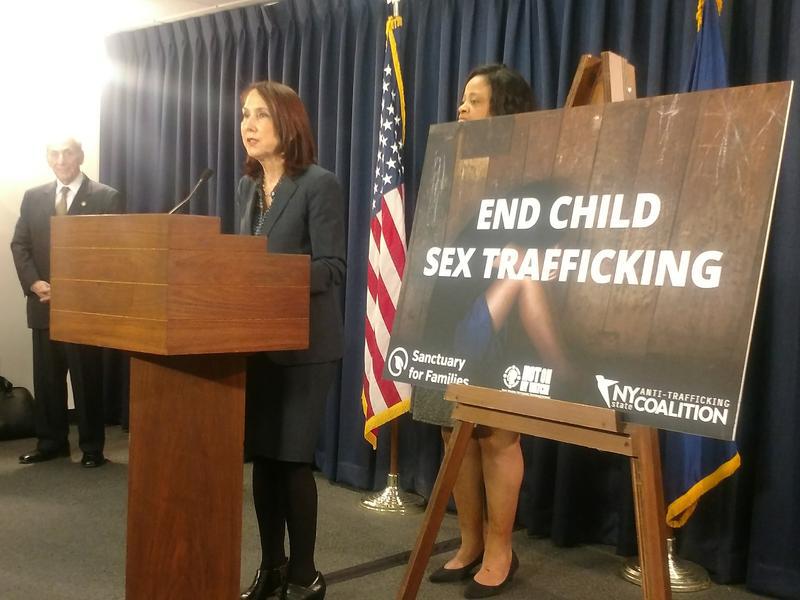 Sanctuary For Families Legal Director Dorchen Leidholdt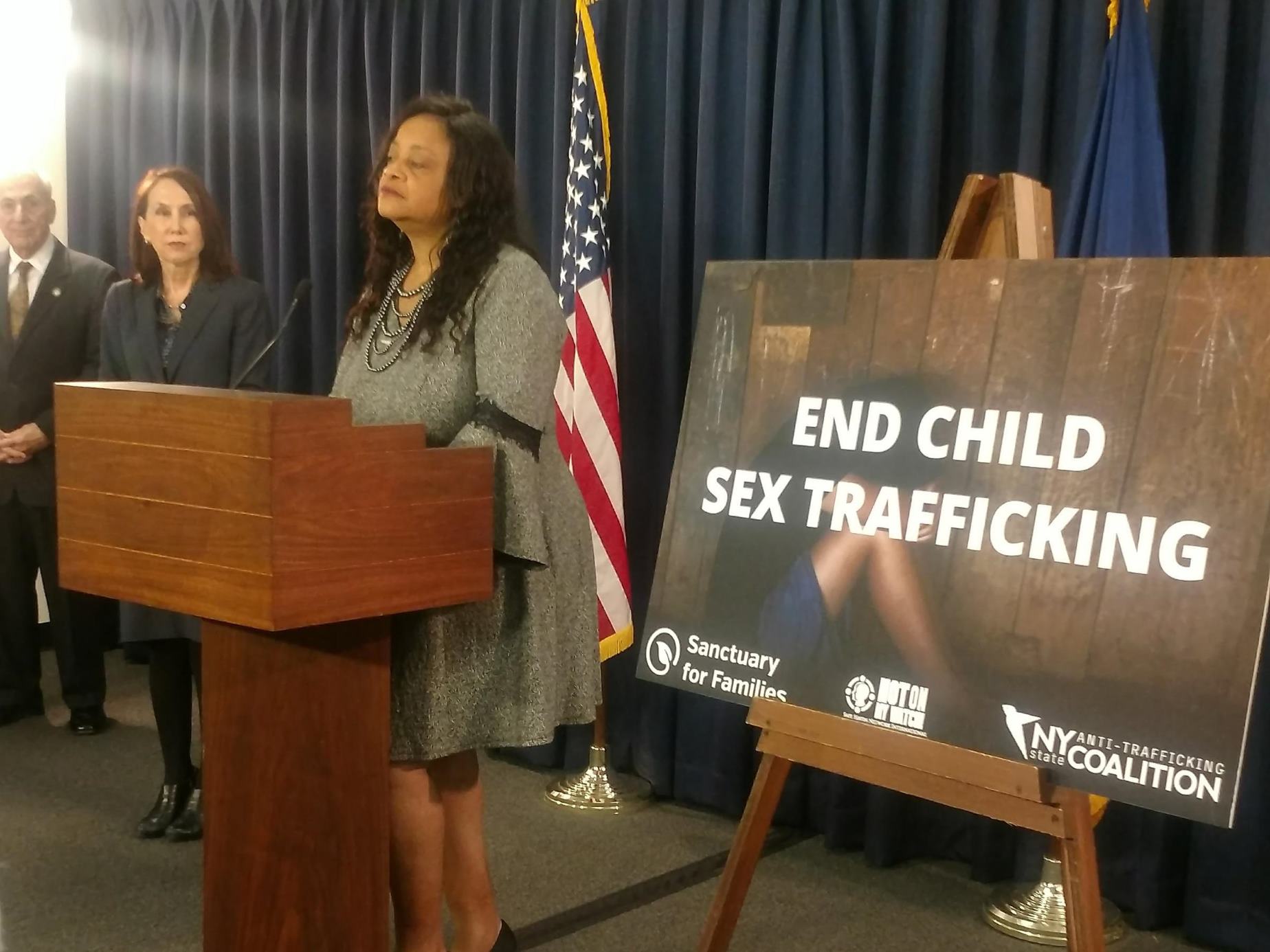 CEO of Not on My Watch! Reverend Que English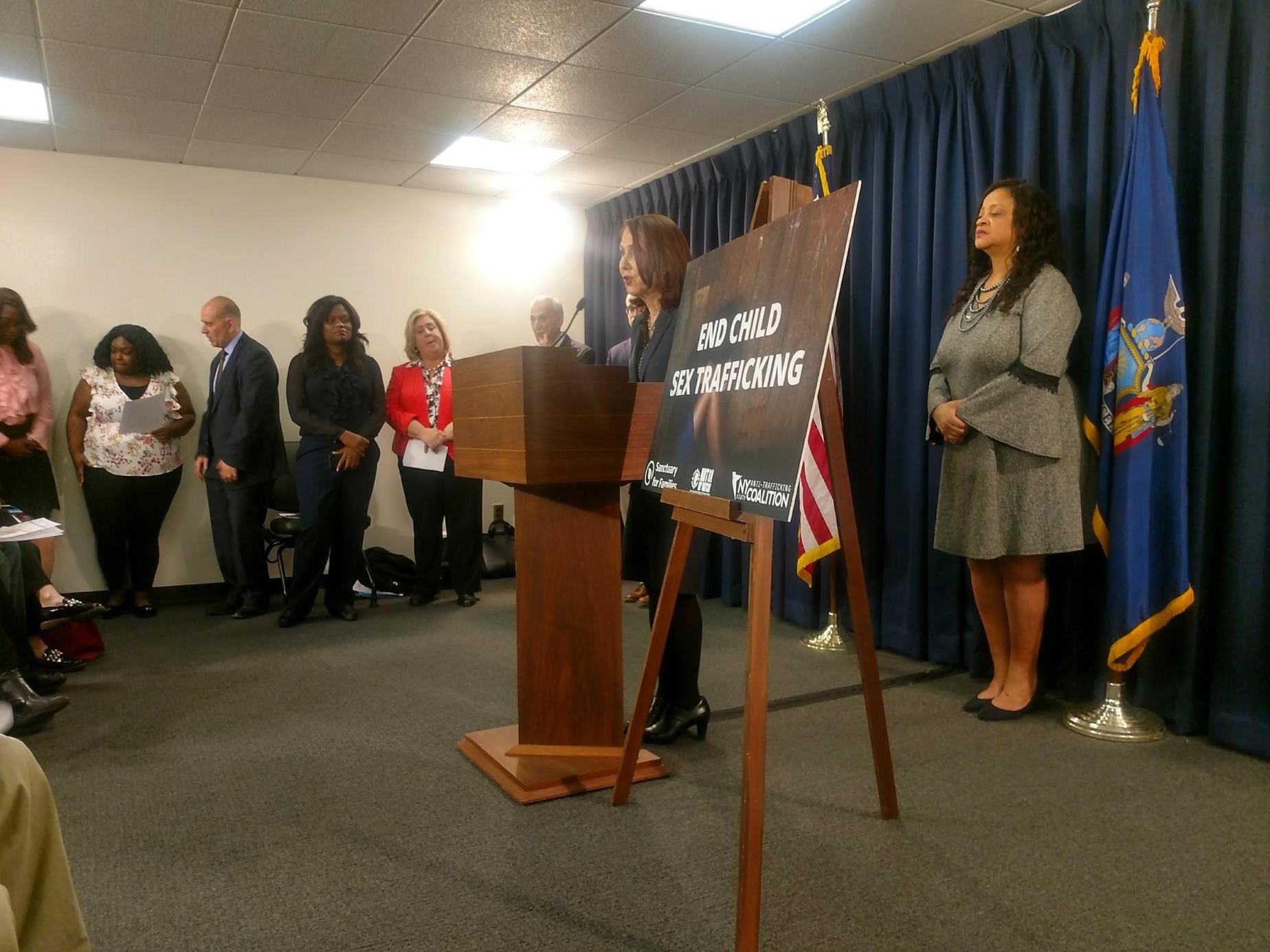 New York Assemblywoman Rodneyse Bichotte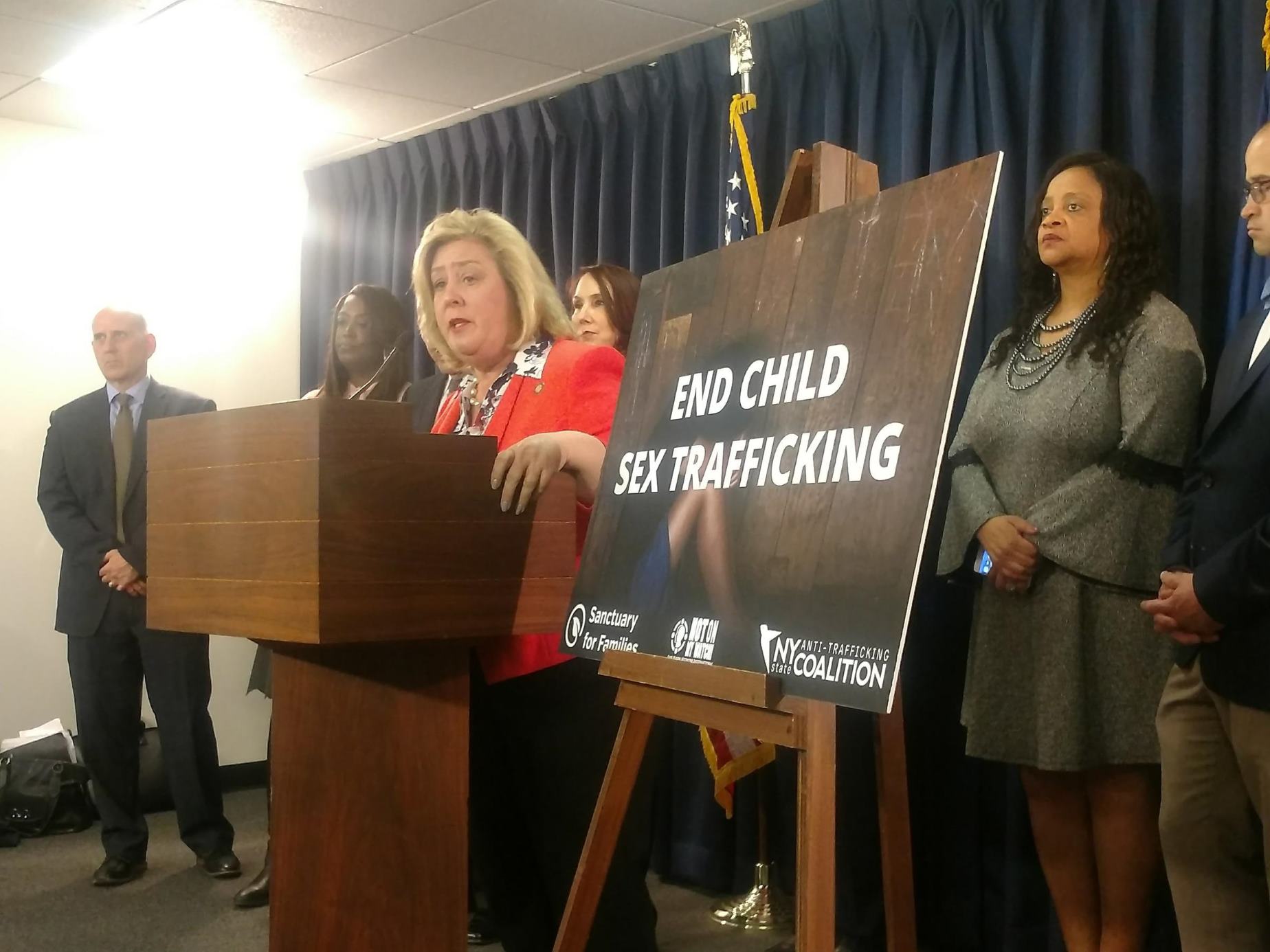 New York Assemblywoman Rebecca Seawright



[with audio]



With the legislative session in its final weeks, advocates and New York state lawmakers gathered at the capitol Tuesday to urge the state Assembly to pass the End Child Trafficking Act.

The legislation is sponsored by Democratic Assemblywoman Amy Paulin, of the lower Hudson Valley, who says the bill would eliminate the requirement to prove force, fraud or coercion in prosecutions for sex trafficking. She says the measure creates an affirmative defense for victims 19 and younger. Sanctuary for Families — a New York City-based nonprofit that advocates for victims of domestic violence and sex trafficking — led the event at the Legislative Office Building. Executive Director Judy Harris Kluger, a former judge, said the time for action is now.

"Between 2010 and 2015 there has been an 800 percent increase in online sex trafficking of children. The time has come to be in line with federal law and 48 other states," says Kluger.

Sanctuary for Families says state prosecutors cannot build successful cases against traffickers of children unless the victim is willing and able to testify. According to Reverend Que English, CEO and founder of Not on My Watch – a nonprofit working against sex trafficking – trauma suffered as a result of being trafficked and the terror of retaliation often prevent victims from testifying.

"A 12-year-old who was attending elementary school, who was recruited by their fellow student to be trafficked by their mother. In this case when she was finally released, or when she was finally taken back, there was no way the parent would subject her child to be re-victimized after the extensive trauma she had already suffered under the hand of her serial rapist," says English.

Assemblywoman Rodneyse Bichotte is a Bronx Democrat:

"Burden of proof should not be on children, children are vulnerable. They don't have the ability, the emotional ability, the expertise or anything, to prove that they were victims. It is our responsibility to makes sure that this state be the progressive state that it's supposed to stand for. The burden of proof should be on those criminals, they should be accounted for," says Bichotte.

The legislation has 55 sponsors and is before the Assembly's Codes Committee. Dorchen Leidholdt, Director of Sanctuary for Families' legal center, says the biggest hurdle is the belief prosecutors would misuse the legislation.

"There are four different levels of intent from negligent, reckless, knowing and a highest level is intentional and this has the highest level of intent standard possible. Which means there is absolutely no way that a prosecutor would be able to misuse this law against a landlord who unknowingly rented a room to a trafficker or a trafficked person," says Leidholdt.

Democratic Assemblywoman Rebecca Seawright, of the 76th District in New York City, sits on the Codes Committee.

"We think about New York being a leader on so many issues in a progressive state. It's really outrageous it's a national embarrassment that we do not have this in New York state," says Seawright.

Although the federal Trafficking Victims Protection Act does not require prosecutors to prove coercion, advocates who rallied in Albany say New York law should be on par with the federal statute.