Legislators Weighing Time Limits on Sex Abuse Lawsuits
By Jonathan Oosting
Detroit News
May 3, 2018

https://www.detroitnews.com/story/news/politics/2018/05/03/sex-abuse-suits/34540759/

Correction: This story has been updated to correct how long minor victims of sexual abuse would haveunder a Michigan Senate package? to pursue criminal charges or file lawsuits against abusers or enabling institutions.

Birmingham — Victim No. 368, as he was called in a national settlement case, keeps his hair long to hide any sign of the faint scar. He got it roughly 40 years ago, when he says Brother Rice High School's principal bit him on the ear and told him it would leave a mark for the rest of his life.

He keeps the belt buckles his alleged abuser gave him during a prolonged "grooming" period that continued long after he claims leaders of the Roman Catholic school in Birmingham transferred Brother Frank Luke Dalton to California following an admission he'd had a "wet dream" about the teen. He keeps the pocket knife, turntable, records and other gifts.

"I really just want to get rid of this stuff," he said decades after Dalton allegedly spit in his mouth one night during a private "wrestling" session in the school cafeteria. Decades after he said Dalton, also the wrestling coach at the all-boys school, grabbed his testicles during another session in the adult's car.

Now 55, Victim 368 — who does not want to disclose his name for fear it could further damage his life — is asking Michigan legislators to think about cases like his as they consider changing laws that place time limits on how long a sexual assault victim can sue or pursue criminal charges against their abuser.

"I don't expect anything to come of it for me, but the most important thing is to stop it from happening to somebody else in the future," he said.

Legislation introduced in response to the Larry Nassar scandal at Michigan State University, approved last month by the state Senate, would retroactively extend the civil statute of limitations for victims who were younger than 18 at the time they were assaulted.

It would give victims a one-year window to sue for incidents dating back as far as 1997, when a teen gymnast said she first complained about Nassar to an MSU coach. For future abuse, minor victims would have up to their 48th birthday to pursue criminal charges or up to a decade to file lawsuits against abusers or enabling institutions.

The proposed extensions, especially the window for civil suits, face opposition as they await House consideration.

The Michigan Catholic Conference, universities, and business and local government groups have warned that retroactively waiving the lawsuit deadline could open up institutions across the state to difficult-to-defend complaints over claims dating back more than two decades.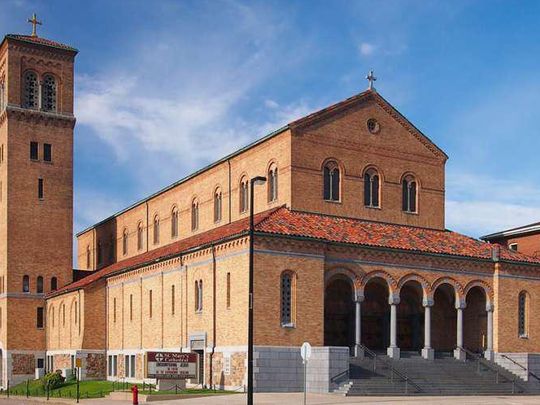 When Minnesota retroactively waived its civil statute of limitation for sexual assault, the St. Cloud Diocese started on a path to bankruptcy. (Photo: National Catholic Register)



When Minnesota in 2013 retroactively eliminated its statute of limitations for a three-year period, the deluge of lawsuits resulted in four Catholic dioceses filing for bankruptcy protection, according to local reports.

"The real problem is just the sheer lapse of time between the events and trial, which makes it almost impossible to figure out what happened, and that's true whether the change is retroactive or prospective," said Douglas Laycock of the University of Virginia School of Law.

"The accused might be dead, and certainly most of the witnesses will have disappeared."

On the other side are people like Victim 368, who says he did not fully understand that what happened to him was abuse until 30 years later — when his daughter turned the age he had been. Under the proposal, he would still not be able to press charges or sue because he was abused prior to 1997. His alleged abuser died in 2001.

"You either stand with the abusers or against them," Victim 368 said in an open letter to legislators, asking them to eliminate any restrictions on when a sexual abuse victim can take their case to court. "The statute of limitations is a political solution for those guilty to avoid prosecution and accountability."

Statute of limitations

Michigan's current civil and criminal statutes of limitations make it "one of the worst states in the country" for child sexual assault victims to seek justice, said Marci Hamilton, a church-state scholar and founder of Child USA, a nonprofit focused on child abuse and neglect prevention.

Michigan eliminated its criminal limitations for first-degree felony sexual assault in 2001, but "that's the mainstream now," Hamilton said. Second- or third-degree charges must be filed within 10 years of an alleged incident.

Michigan requires childhood victims to sue by their 19th birthday or within three years of the alleged assault, which Hamilton called the shortest window of its kind in the nation.

The Senate package would create a 10-year limitation for lawsuits based on criminal sexual conduct, but minors would have at least 30 years to bring claims.

The legislation, now in a House committee, is "a very modest example of statute of limitations reform," Hamilton said. "It's desperately needed in Michigan because the child sex abuse victims are at such a disadvantage in the state, but this is not a large step forward."

Minnesota has one of the most victim-friendly statute of limitations in the nation, according to a CHILD USA report. The state has no timing restrictions for criminal cases involving DNA evidence.

And in 2013, Minnesota eliminated civil limitations for future assaults and provided a three-year window for victims to bring lawsuits over past incidents — regardless of how long ago the alleged abuse occurred.

By comparison, the Michigan Senate bills would give victims a one-year window to file lawsuits for abuse claims dating back to 1997. An earlier version would have allowed suits dating back to 1992 but was revised after intense lobbying by opponents.

Employers are usually required to keep personnel records for between five and 10 years, said Rich Studley, president of the Michigan Chamber of Commerce.

Sexual assault is "inexcusable," but there is a practical concern that "good and responsible employers simply would no longer have records available" to respond to claims, he said.

Statutes of limitations "encourage plaintiffs to pursue their rights diligently and within a reasonable time so that the opposing party has a fair opportunity to defend," former Michigan Supreme Court Justice Maura Corrigan wrote in a letter distributed to lawmakers.

The American Civil Liberties Union of Michigan is urging legislators to develop a clear plan to ensure changes to the criminal statute of limitations would not be applied retroactively, which would be unconstitutional, said policy counsel Kimberly Buddin.

The Michigan Catholic Conference, which has praised other sexual assault prevention bills, has called the retroactive lawsuit proposal a "dangerous public policy that will do nothing to protect children today but rather subject a vast portion of the State of Michigan to currently barred civil actions."

Bankruptcy claims

When Minnesota retroactively waived its civil statute of limitation for sexual assault cases from 2013 to 2016, the Catholic Church was "rocked" by hundreds of lawsuits that led at least four dioceses to file for bankruptcy protection.

The St. Cloud Diocese, which filed for bankruptcy earlier this year, was facing 74 civil claims involving 31 clergy members in 30 parishes.

In total, more than 850 child sex abuse claims, including roughly 500 involving Catholic clergy, were filed during the three-year window, the Minneapolis Star Tribune reported.

"The church has suffered, but the church inflicted a lot of suffering, too," said Charles Reid Jr., a law professor at the University of St. Thomas, a private Catholic university in Minnesota. "These cases are tragedies, all around, in the classic Greek sense of tragedy. No one comes out ahead."

There was a lobbying effort against the Minnesota changes and some concern the law would go too far, but the cases that made it to public scrutiny "tended to look pretty well developed," Reid said.

"The hundreds of victims who otherwise were prevented from having access to the courts, they got access, and many of them got compensation."

Even if old claims are true, it doesn't mean they can be fairly litigated, Laycock said.

"The dioceses are the ones who get sued — the priest may not even be there anymore and may not be able to testify in his own defense, and potential witnesses are likely gone as well, or they're found and they don't remember anything," he said.

Filing for bankruptcy allows organizations to settle victim claims but limit public information about sexual abuse that could come out in lawsuits, said attorney Mike Reck, who represented Victim 368 and others in a 2013 settlement with the North American branch of the "Irish" Christian Brothers.

The Roman Catholic religious order, which founded dozens of schools like Brother Rice in Birmingham, was facing an "onslaught" of civil litigation from sex abuse victims and "countered" with a bankruptcy filing, Reck said.

"The problem is that the Irish Christian Brothers didn't have credit card debt" like some individuals who seek relief through bankruptcy, he said. "They have children whose lives were shattered by their members."

Reck's firm represented some of the roughly 420 abuse victims from across the country who filed claims in New York, where the bankruptcy case was litigated.

The Christian Brothers eventually agreed to pay out $16.5 million to abuse victims.

While victims were not named in court documents, Victim 368 was not the only claimant from Michigan, Reck said. "There's no secret Brother Rice was one of the schools that was included in the bankruptcy proceedings," he said.

'Zero tolerance'

In a statement issued through a spokesman, Brother Rice President Tom Reidy said the school has "no knowledge" of Victim 368's allegations against Dalton.

"Since they are being made by an unnamed individual against someone who is deceased, it would be impossible to respond blindly to these allegations," Reidy said.

"With that said, we have a zero tolerance policy that includes implementation of independent protocols when someone comes forward with allegations of abuse."

The school also displays a plaque indicating that abuse is not tolerated, he said, a requirement of the New York bankruptcy case.

Dalton later worked at two schools in California, St. Vincent-St. Patrick in Viejo and Palma School in Salinas, where he was well liked by both students and staff, said President Br. Patrick Dunne.

"He was just a really wholesome person here," Dunne said. "I couldn't think of a better influence on kids. I hold him in great esteem. I'm really shocked, to be honest with you."

Victim 368 says he never forgot his relationship with Dalton, but he didn't realize how inappropriate it was until he thought about his daughter in a similar situation.

That experience is "common and consistent with how we've known memory works for a long time," said Jim Hopper, a clinical psychologist and teaching associate at Harvard Medical School who specializes in psychological trauma.

Unexpected cues or a particular context, such as feeling very vulnerable like one did as an abused child, can cause childhood victims to "retrieve" memories of sexual assault years later, Hopper said.

There are several explanations, some supported by neuroscience research, for why victims may block out memories for prolonged periods of time.

"Some kids are sitting there in school tormented by the memories, but some people are able to just push them away, at least a lot of the time," Hopper said. "You push things out of your mind, and then after a while, that can become a habit."

Victim 368 first reached out to a Metro Detroit law firm in 2008 to ask about potential legal action. An attorney, in a letter he still keeps, told him the statute of limitations had already "long expired."

Four years later, he filed a claim in the New York bankruptcy case, which would not prohibit him from taking legal action in Michigan if the law allowed it.

He received a little less than $20,000, about 35 percent of which went to attorney fees.

"We are profoundly sorry for the pain and suffering that you have endured," Edmund Rice Christian Brothers North America officials said in apology letter to claimants across the country in 2014.

"We will continue to hold in prayer all those affected by sexual abuse with the hope that some degree of healing and reconciliation can take place."

Contact: joosting@detroitnews.com