Minnesota priest accused of abusing 60 boys in Guam
By Jean Hopfensperger
Star Tribune
May 05, 2018

http://www.startribune.com/minnesota-priest-accused-of-abusing-60-boys-in-guam/481834121/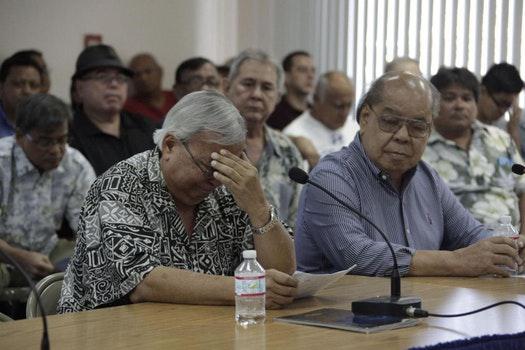 Leo Tudela testified in 2016, when Guam lifted its statute of limitations on child sex abuse. He is plagued by memories of what happened to him as an altar boy, he said. "I still have nightmares and continue to re-live those events as if it happened only yesterday."
Dozens of men accuse a 96-year-old priest of molesting them when they were boys.
The Rev. Louis Brouillard has kept a low profile at his home in Pine City. But the Catholic priest faces growing notoriety on the island of Guam, where he's been sued by at least 60 men who say he sexually abused them as children.
The tiny Pacific island is reeling from a clergy sex abuse scandal not unlike the one that rocked Minnesota a few years back, with tearful victims revealing memories of sexual indignations committed decades ago. The priest most frequently accused is a 96-year-old man in a senior apartment 7,000 miles away.
A Minnesota native, Brouillard lived more than 30 years on the remote island before being transferred in 1981 to the Duluth Diocese, where he served in three churches even as he reportedly brought teen boys from Guam to live with him.
Today Minnesota is known by many islanders as the place the accused serial abuser fled.
"The unbelievable thing is after [Brouillard] was finally forced to leave Guam, he was able to influence certain families to send their kids to Minnesota," said David Lujan, an attorney representing the abuse victims who was reached by phone in Guam. "There were at least three or four kids. Parents thought it was OK. This was a priest from their parish, offering a chance at education."
Brouillard, contacted recently at his apartment, declined to comment directly on the accusations. However court records show he signed a document in 2016 acknowledging he abused at least 20 boys.
"Looking back, I realize I crossed the line with some of my actions and relationships with the boys," he wrote, referring to a sex education class he taught. "At the time, I did believe the boys enjoyed the sexual contact. …"
Brouillard represents a Catholic Church pattern of dealing with abusers by often sending them to poor developing nations, said Patrick Wall, a former Catholic priest and investigator for Minnesota clergy abuse attorney Jeff Anderson.
"Then they tried to hide this guy in the woods of northern Minnesota, and hoped [the abuse] would never come out," said Wall.
The Duluth Diocese revoked Brouillard's ability to serve as a priest in 1985, said diocese spokesman Kyle Eller, "after questions were raised about a guest from Guam staying with him."
He has not been defrocked.
Brouillard now lives across the street from a Catholic school playground with slides and a climbing tower. The sound of children's laughter can be heard from his front porch, where he sat on a recent a warm day wearing sunglasses and a hat.
When asked to comment on the situation in Guam, he paused, then responded, "What situation in Guam?"
As for the accusations of sex abuse? "That's for the judge to determine," he said.
Minnesota connection
That Brouillard ended up on a tiny tropical island is likely because of a little-known relationship between Minnesota Catholic educators and Guam. Lujan said it wasn't uncommon for some wealthier students in Guam to attend the University of St. Thomas decades ago. In fact, Brouillard apparently met students from Guam while he studied to be a priest at St. Paul Seminary.
He was expelled from St. Paul Seminary, said Lujan, and finished seminary in another state, asking Catholic officials in Guam for an assignment.
Brouillard began his priestly career in 1948 in Guam, where for three decades he served as priest, teacher and president of the island's Boy Scouts. It was a poor but beautiful 30-mile-long island of sun, sand and palm trees, and about 60,000 residents — nearly all Catholic.
Lujan, 71, said growing up in Guam, he knew something didn't seem right with the church. But it wasn't until the Guam legislature, like the Minnesota Legislature, lifted its statute of limitations on child sex abuse cases in 2016 that the magnitude of the abuse was revealed.
Today, Lujan alone is handling more than 120 cases — and he estimates more than half include Brouillard.
His victims charge Brouillard with sexually abusing them inside church, the monastery, on camping trips. He often photographed sexual acts, said Lujan, including those with other priests. And he sometimes made other children watch, lawsuits said.
Leo Tudela, one of Lujan's clients, was among the first to go public. He wept as he testified before the Guam legislature as it debated lifting the statute of limitations on child sex abuse. Guam joined Minnesota, Hawaii and about a half-dozen states that have done so. Guam is a U.S. territory.
"All these evil incidents have stuck in my mind for some 60 years, and to this day, I still have nightmares and continue to re-live those events as if it happened only yesterday," Tudela testified. "Terrible things come to my mind … I have cried on many occasions since."
Sent to Duluth
Brouillard's assignment history showed he worked in seven churches from 1940 to 1981, plus he had a two-year sick leave. He was sent to Minnesota in 1981 "in the hope that he would receive help with personal problems," said Eller. Brouillard went on to assist in churches in the towns of Keewatin and Kelly Lake, outside Hibbing, and in the community of Beroun, south of Hinckley. No abuse was reported, said Eller.
In November, Lujan flew to Minnesota and joined about 10 other lawyers involved in the case to conduct a deposition on Brouillard at Pine City Technical College. Brouillard was represented by Minneapolis attorney Tom Weiser, who was not available for comment. Lujan said Brouillard was mentally alert and answered the questions over a three-day period.
"He was coherent," Lujan said.
While life goes on in Pine City, the sex scandal continues to make headlines across Guam as well as publications spanning USA Today to Russia Today. At least 15 priests, two archbishops and a bishop are accused in abuse spanning from the 1950s to the 1990s.
In a rare move, a Vatican tribunal in March exiled former Guam Archbishop Anthony Apuron from the island after investigating multiple sex abuse accusations against him. At the same time, the Guam Archdiocese of Agana announced it was selling its chancery and other properties to pay for a future lawsuits settlement.
And new victims keep coming forward. Said Lujan: "I had seven last week."
As the Guam archdiocese prepares for mediation on the cases slated for September, victims are watching the fate of the elderly man in northern Minnesota.
"I feel cheated and molested by people who were supposed to be ... God's guardian angel," said Tudela. "They were supposed to be representatives of God."