Matt Flynn defends his work with Archdiocese of Milwaukee on sexual abuse cases
By Jessie Opoien
Cap Times
May 9, 2018

https://goo.gl/Gy5xy2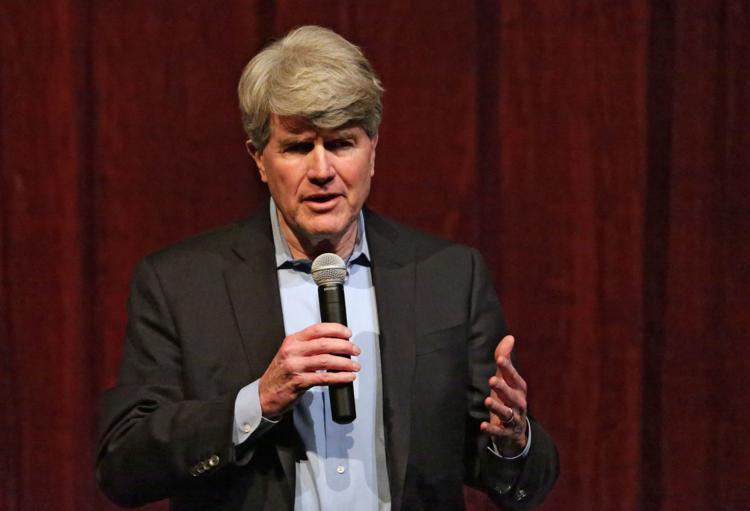 Milwaukee attorney Matt Flynn
Milwaukee attorney Matt Flynn is fighting off a call from a women's group to end his gubernatorial campaign based on his work as an attorney representing the Archdiocese of Milwaukee against victims of sexual abuse by priests.
Wisconsin Women's March co-chair Sarah Pearson called on Flynn to drop out following the publication of a story about his work with the archdiocese in the liberal, Milwaukee-based Wisconsin Gazette. In a brief interview on Wednesday, Flynn said "misinformation" would be a "polite term" to describe the arguments against him.
"The archdiocese is a great organization and the vast majority of priests are good men who devote their lives to people and don't make very much money. They're good people," Flynn told reporters after a candidate forum in Madison. "And the handful of ones that committed these abuses, I was not their lawyer. I represented the archdiocese … I didn't defend their conduct, neither did the archdiocese."
Asked by Pearson about a particular priest mentioned in the Gazette story, Flynn said the article was "fundamentally untrue in many, many respects," and told Pearson to watch for a statement from his campaign. Pearson posted a video on Facebook of their conversation, which took place after a candidate forum in Madison on Sunday.
"Wisconsin deserves so much better than this," Pearson said in a statement. "At minimum, Wisconsin's next governor should be someone who can be trusted to protect children from abusers. Matt Flynn is not that person."
Republican Party of Wisconsin spokesman Alec Zimmerman called Flynn a "dirty defense attorney" who "bullied victims of sexual abuse."
Pearson, who pressed Flynn on his "involvement in the cover-up and transfer of pedophile priests," presented the candidate with documents related to James Arimond, a priest who was charged and convicted of fourth-degree sexual assault in 1990. Arimond was forced to resign, but years later was able to obtain a counseling license from the state. His license was revoked in 2002 after his work and history were reported by the Milwaukee Journal Sentinel. Pearson argued that a set of documents related to Arimond's case show that Flynn knew the former priest planned to work as a counselor for children and families.
Of Arimond, Flynn told reporters Wednesday, "we threw him out." He said he did not know what Arimond did after leaving the church, and questioned why a criminal background check had either not been conducted or did not catch Arimond's previous conviction.
This is not the first time Flynn has taken heat for his work with the Catholic Church, but it is the first time public criticism has been leveled at him from groups on the left as he competes against a large field of Democratic gubernatorial candidates in the party's primary race. The Madison and Wisconsin chapters of the National Organization for Women have also called for him to drop out.
"In my work almost 20 years ago, I worked with others to put into place procedures to identify and remove abusive priests, notify the authorities and prevent their transfer," Flynn said. "It was imperative that we work to create a system that would ensure that crimes such as these could never be committed and allowed to persist."
"The archdiocese is a wonderful institution which does much good work for schools and for the poor, and I was representing the good priests," Flynn said in December. "I will always represent good priests, always."
In his statement, Flynn said he was proud to represent the archdiocese and believes those who committed "horrible crimes should be punished to the fullest extent of the law."
The Wisconsin Gazette story quoted several victims of sexual abuse, one of whom called Flynn's gubernatorial bid an "appalling choice" and accused him of employing a "scorched-earth policy" against victims.
One woman said Flynn had been "absolutely brutal" to her, subjecting her to lengthy depositions and damaging her relationships with family and friends. The woman called Flynn a "heartless, egotistical, dangerous man."
Flynn said he disagrees "100 percent" with those characterizations, but said he understands that in many sensitive cases, any deposition may be perceived by a victim as intrusive.
"Witnesses were treated with courtesy and respect," Flynn said.
In his work with the church, Flynn said, he helped settle cases with victims dating back as far as the 1960s, in some cases providing funding for therapy and tuition.
A retired commercial litigation partner with Quarles & Brady in Milwaukee, Flynn served as chairman of the Democratic Party of Wisconsin from 1981 to 1985. He mounted several unsuccessful campaigns for the U.S. House of Representatives and Senate, co-chaired John Kerry's 2004 presidential campaign in Wisconsin and served on Hillary Clinton's finance committee during her 2008 presidential campaign.