Using Accuser's Name Humiliates Greitens' Victim. and Now We're Talking about Her Sexual History?
By Melinda Henneberger
Kansas City Star
May 10, 2018

http://www.kansascity.com/opinion/opn-columns-blogs/melinda-henneberger/article210910324.html

Remember back in the bad old days, when the names of sex crime victims were made public? Earlier this week in Missouri, for instance.

On Wednesday, Judge Rex Burlison, the judge in the felony invasion of privacy case against Gov. Eric Greitens, ruled that the full name of the woman whose privacy he's accused of invading can be used in court. She never asked for this, yet her privacy is being invaded all over again.

Burlison has yet to rule whether her sexual history may also be pawed over during the trial, which saw jury selection begin Thursday. It's hard to know what purpose taking out her history and tossing it around in public could serve — Hey, look at this one! — beyond humiliating her even more.

A simple but highly effective method of shutting women up — and you know, the classics are rarely anything fancy — it's a problem that this throwback move is even being considered.

Attorneys for the governor, who is accused of taking a partially naked picture of his former hairdresser without her consent and threatening to use it against her, argued that referring to her as a victim is just too prejudicial. ("That woman," maybe? Or something even more judgmental? Or, if they wanted some neutral designation, what was wrong with continuing to use her initials?)

When he ruled in Greitens' favor, the judge said that after all, she'd never filed a police report. But that's because she never wanted to come forward, or ever find herself in the situation she's in today. She spoke only because her husband recorded her without her consent — are you sensing a trend here? — and then the prosecutor and the Missouri House committee investigating Greitens came to her with questions.

Now, she's being penalized for answering those questions. Using her name makes sense, though, if the point is to further compromise her safety, her livelihood and the well-being of her children, one of whom is in high school. The governor's lawyers have also argued that the woman's sexual history is "a very relevant issue to her credibility." It is? The only sexual history that seems relevant here is that of Eric Greitens.

If he did to any other woman what he's accused of doing to her — patting her down, taking away her purse and keys, blindfolding and restraining her, tearing her clothes, and coercing her into oral sex while she sobbed — well, it's not too hard to see why that person hasn't come forward. This kind of legal hazing is what keeps victims quiet still.

Jackson County Prosecutor Jean Peters Baker is so vexed by this week's turn of events that "inappropriate is the nicest thing I can say about it — and I'm not that nice!'' The judge's decision "makes me mad because it has a cooling effect on others coming forward. They have a legal argument that the rape shield law should not apply because the invasion of privacy charge came along later" in the evolution of the criminal code. But that distinction "is horseshit, I'd say. It should be extended to invasion of privacy cases. And now her name must be plastered everywhere? This shouldn't happen."

Peters Baker has not seen a flood of sex crime victims with nothing to fear coming forward seeking justice post-#MeToo. Or even a trickle. Legally speaking, little has changed.

"It's a problem more in the past than the present," Marci Hamilton, who founded the University of Pennsylvania's anti-child sex abuse CHILD USA, says of using the names of victims, and making their sexual histories admissible in court. "But it's a typical intimidation tactic, and more victim-friendly laws haven't been developed."

Democratic Missouri Rep. Stacey Newman, who has known the woman who is about to be named for years because Newman and her husband were among her first clients, says "she's not a political person. She's a full-time college student, a single mother trying to keep her business going" and someone who "wants this to be over."

It won't be, though. Not any time soon, anyway. And "victim" is the right word, no matter what the governor's lawyers and Judge Burlison say.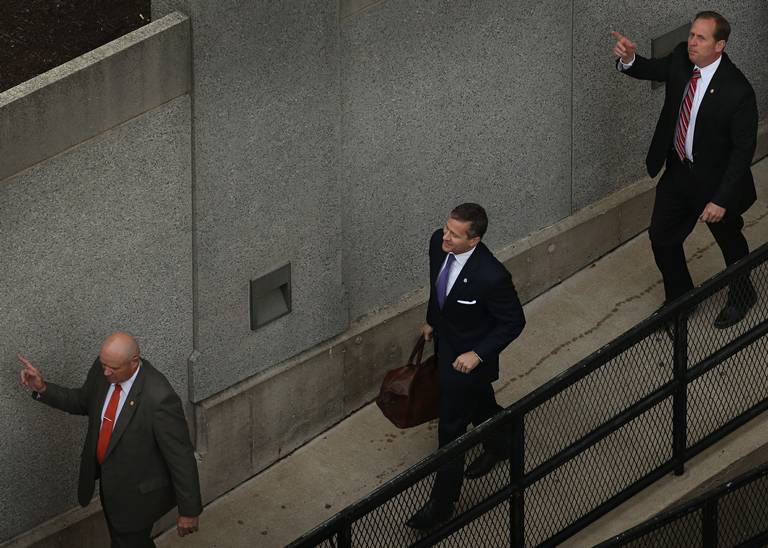 Flanked by security guards, Missouri Gov. Eric Greitens, center, arrives at court for jury selection in his felony invasion of privacy trial, Thursday, May 10, 2018, in St. Louis. Greitens is accused of taking an unauthorized and compromising photo of a woman with whom he had an affair. David Carson/St. Louis Post-Dispatch via AP

Contact: mhenneberger@kcstar.com