Witness Hitch in Catholic Priest's Sexual Abuse Case
By Kitavi Mutua
Daily Nation
May 10, 2018

https://www.nation.co.ke/counties/kitui/Witness-hitch-in-priest-sexual-abuse-case/3444936-4555356-idpqpvz/index.html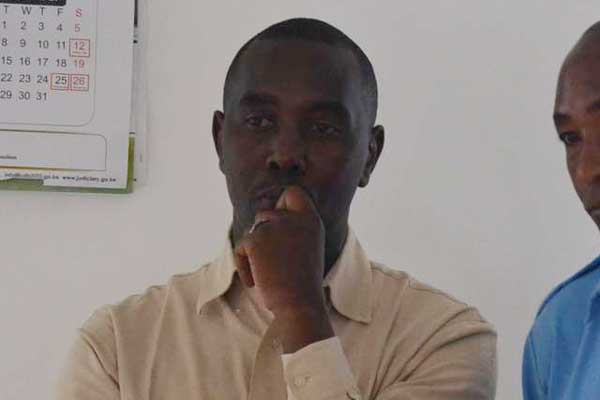 Catholic priest Japheth Mwove Kimanzi when he was arraigned in a Kitui Court on December 3, 2015. PHOTO | KITAVI MUTUA| NATION MEDIA GROUP



The witnesses were summoned after the prosecution expressed frustration that they were unwilling to testify despite having recorded statements with police over the incident.

Father Japheth Mwove Kimanzi is accused of assaulting and causing grievous harm to the girl and her child as he attempted to cover-up infidelity due to his celibacy vows.

ADJOURNED

Chief Magistrate Maryanne Murage summoned the witnesses after they failed to attend the hearing, making it to be adjourned to June 28. She warned of consequences if they disobey the court.

The witnesses include police officers and villagers who rescued the student and took her to hospital after the alleged attack by the priest, and doctors who treated her.

The move by the court to summon the witnesses comes amid claims that the priest and his family are intimidating and interfering with witnesses lined up to testify.

The priest, who has since been excommunicated from the Church, denied the charges.

His lawyer did not turn up in court for Thursday's hearing, prompting the magistrate to fix a new hearing date.

The student, then aged 15, was reportedly enticed by the priest with pocket money and other goodies, and she would occasionally accompany him on evangelical trips.

Fr Kimanzi was then serving at Nuu Catholic Parish in Kitui Diocese, the girl's home area.

The court heard that since 2011 when she became pregnant and later gave birth to a blind and crippled child, Fr Kimanzi has consistently used violence, intimidation and bribery to silence her.

According to witness testimonies and documentary evidence including a DNA report presented in court, the priest, who until his suspension was in charge of Kabati Parish, refused to take responsibility for raising the child, and frustrated efforts by the girl's family to get justice.

Meanwhile, the Federation of Women Lawyers (Fida) has offered to give legal support to the young woman.

Fida officials said they will seek to compel the priest to meet the costs of raising the child, which he is said to have fathered.

According to Fida Executive Director Teresa Omondi-Adeitan, the organisation will also apply to be enjoined in the case. "It is with deep sorrow and dismay that Fida Kenya learnt of the suffering she underwent in the hands of a priest, who should have been her source of refuge in such circumstances," said Ms Adeitan.