Prosecutor denies threatening Saginaw Diocese
By Brenda Battel
HurDaily Tribune
May 15, 2018

https://www.michigansthumb.com/news/article/Prosecutor-denies-threatening-Saginaw-Diocese-12916975.php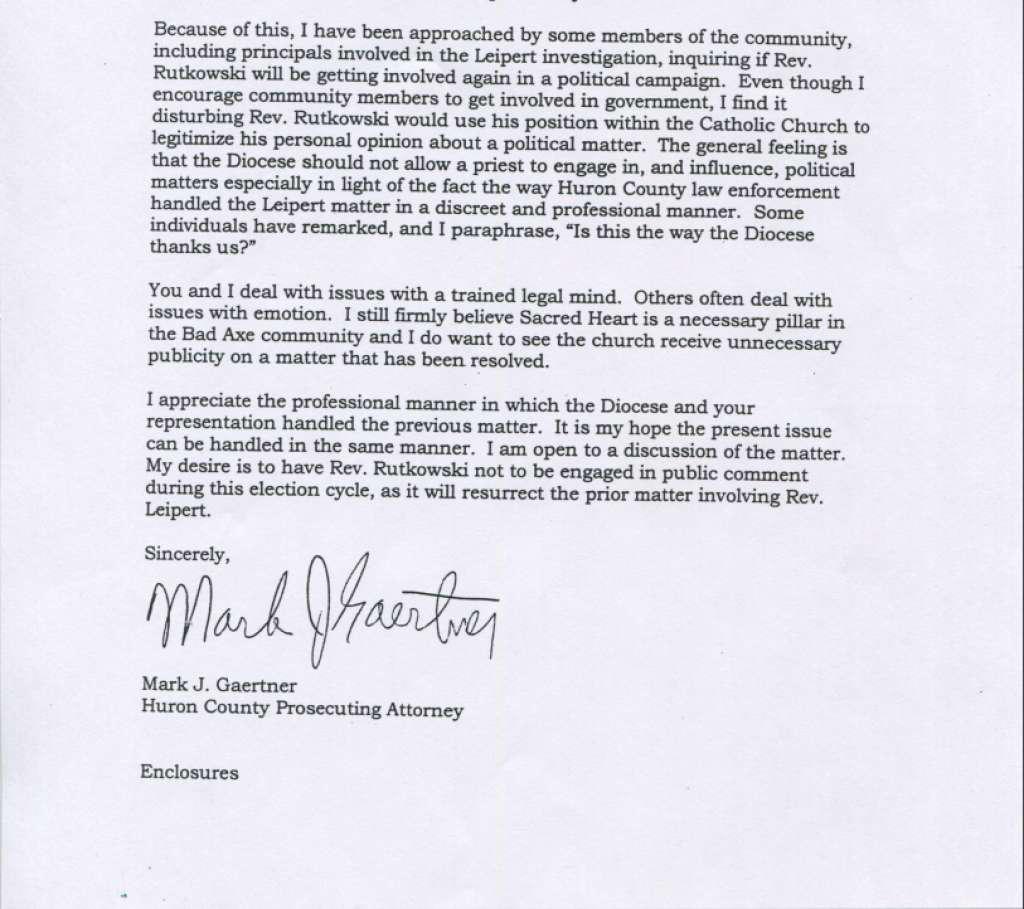 This is a 2004 letter from former Huron County Prosecutor Mark Gaertner to an attorney representing the Diocese of Saginaw.
BAD AXE — A prosecutor handling a sexual abuse investigation involving priests from the Diocese of Saginaw denies threatening the Diocese in a 2004 letter.
Mark Gaertner is a former Huron County prosecutor who now works as an assistant prosecutor in Saginaw County. The Saginaw County Prosecutor's Office is working with law enforcement regarding investigations of prior sexual abuse of minors by priests in the Diocese.
Gaertner was the Huron County prosecutor when Bad Axe Police investigated a former Bad Axe Priest, Jack E. Leipert, following allegations of sexual abuse while serving at Sacred Heart Church in 2000. In that case, the county elected to not file charges against Leipert.
At the time, a 21-year-old Caseville man claimed Leipert sexually molested him.
The Diocese told the Tribune this week that it was that complaint that led to Leipert's removal from the ministry in 2001.
"By what we can deduce, it was the determination of the Diocese at that time — 2001 — there appeared to be credible complaints involving the sexual abuse of minors against Jack Leipert from his earlier years in ministry," stated Erin Looby Carlson, director of communications for the Diocese of Saginaw, in an email to the Tribune.
"... Following the incident in 2000 (at Sacred Heart), he was permanently removed — restricted from all priestly ministry, unable to present himself as a priest," Carlson stated.
No charges sought locally
Leipert, known as "Father Jack," was a pastor at Sacred Heart from July 1990 to January 2001.
The Bad Axe Police Department, with assistance from the Huron County Sheriff's Office, investigated Leipert for allegedly molesting the 21-year-old Caseville man in November 2000.
Details of that case were reported by the Tribune in a May 2 article, "Former Bad Axe priest investigated locally for alleged sex abuse."
Gaertner on Tuesday told the Tribune that the case against Leipert was not strong enough to win at trial.
An attempt to gather evidence by recording Leipert talking with the alleged victim was unsuccessful for two reasons, Gaertner said.
Not only did the audio recording fail, Gaertner said, but the alleged victim did not ask Leipert all the questions provided by law enforcement.
"The recordings have to be dead on, otherwise, you have a he-said, he-said situation," Gaertner said.
Gaertner said he made many decisions about the case alongside former Bad Axe Police Chief John L. Bodis.
"We made the decision that we don't have a case ... We didn't talk to the priest ... because the priest was not going to tell us anything," Gaertner said.
A confession was unlikely, Gaertner added.
"He would have denied it," he said.
He said the prosecution may have succeeded in getting Leipert charged, but the case would not have succeeded at trial because Gaertner did not feel he had proof beyond a reasonable doubt.
"Some people say, 'A jury should have decided that,'" he noted. "When you're a prosecuting attorney ... it's not ethical for me to dump a case onto a jury (without convincing evidence)."
Gaertner also noted the alleged victim contacted an attorney regarding a civil lawsuit during the criminal investigation.
"You jeopardize a criminal investigation if you (begin a civil suit) during a criminal investigation," he said.
Bodis agreed that a conviction would not have come in the case.
"This is not a case that I would expect to result in a conviction," Bodis told the Tribune.
Following the investigation, Gaertner and Bodis met with Bishop Kenneth Untener, according to the police report.
Prosecutor pens letter to Diocese four years later
The Tribune obtained a 2004 letter by Gaertner to a Diocese lawyer via a Freedom of Information Act request to the Huron County Prosecutor's Office.
"... While there may have existed factually and legally sufficient evidence to sustain the initial charging level of probable cause, the prosecution most likely would not be able to meet the higher burden of proof beyond a reasonable doubt and thus the case would not be trial worthy," the letter states.
Gaertner wrote the letter to attorney David Masud, four years after the case was closed.
In it, Gaertner said he considered the Leipert matter "to be closed until recently when Timothy J. Rutkowski announced his intentions to once again seek the public office I now hold."
Gaertner complained to Masud about Rutkowski's brother, Rev. William J. Rutkowski, who was employed with the Diocese.
Rev. Rutkowski had been critical of Gaertner in letters to the editor in the Huron Daily Tribune and Bay City Times.
Gaertner questioned Masud about Rev. Rutkowski's involvement in "political matters," and said he had been approached by "some members of the community, including principals involved in the Leipert investigation."
"The general feeling is that the Diocese should not allow a priest to engage in, and influence, political matters especially in light of the fact the way (sic) Huron County law enforcement handled the Leipert matter in a discreet and professional manner. Some individuals have remarked, and I paraphrase, 'Is this the way the Diocese thanks us?'"
Gaertner closed the letter by stating, "My desire is to have Rev. Rutkowski not to be engaged in public comment during this election cycle, as it will resurrect the prior matter involving Rev. Leipert."
Geartner told the Tribune he was concerned about members of the community and those involved with the Leipert investigation resurrecting the Leipert matter, and that he had no intention of doing so himself.
He said the letter was not intended to be a threat, but was meant to warn the Diocese.
"I personally wouldn't have cared if (Rev. Rutkowski) wrote another letter in the 2004 campaign ..." Gaertner said. "What I was trying to convey to Masud was this is going to get churned up in the public again. Not because of me, but because people are going to be talking about it again."
"I did not want to see Sacret Heart receive unnecessary publicity," he added.
Timothy J. Rutkowski, beat Gaertner for the position in of Huron County Prosecutor in 2008, after he ran against Gaertner for a third time. He still holds the position of Huron County Prosecutor.
Prior investigations uncovered after Diocese goes public
It wasn't until last month that the Diocese publicly announced Leipert was suspected of sexual abuse.
An investigation by the Tribune revealed the alleged incident in 2000 on May 2.
"Subsequently, (in 2006), (Leipert) went through a process under Church (Canon) Law known as laicization. When a priest is laicized, it formalizes his return to status of a layperson; it severs his ties to the Diocese," Carlson explained.
The Diocese announced in March a total of five priests, including Leipert, were removed from the ministry as a result of sexual abuse allegations against minors.
Two others — Robert J. DeLand and Ronald J. Dombrowski — are on administrative leave "related to allegations under investigation," according to the Diocese.
Drombrowski, 72, served at several Thumb area churches from 1978 to 2001. He was suspended by Bishop Joseph R. Cistone because an allegation of sexual abuse against Dombrowski is being investigated.
Drombrowski served at St. Mary of Czestochowa, Kinde; St. Edward the Confessor Parish, Kinde; Ss. Peter & Paul, Ruth; St. Frances Xavier Cabrini, Vassar; St. Bernard, Millington; St. Mary, Parisville; St. Mary, Our Lady of Sorrows, Port Sanilac; St. John Chrysostom, Forestville; and Sacred Heart Parish, Caro.
Other former priests who served at area churches and have been removed from the ministry were: Stanislaus A. Bur and Leonard F. Wilkuski. Wilkuski served as pastor at St. Mary of Parisville from July 1983 to July 1990. He had his faculties withdrawn in April 2002. He was laicized in February 2006.
Bur served as pastor of St. Edward in Kinde and St. Felix of Pinnebog from August 1973 to May 1974. He stopped functioning as a priest in October 1992, and underwent permanent suspension of faculties in November 2005. He died in February 2009.
DeLand was recently bound over in Saginaw on charges of criminal sexual conduct, assault with intent to commit criminal sexual conduct, and distributing an imitation controlled substance.
However, he has not ever served in the Upper Thumb.
Michael J. Talbot, recently retired chief judge of the Michigan Court of Appeals, was appointed last month by the Saginaw Diocese as special independent delegate for sexual abuse of minors and misconduct in the Diocese.
Law enforcement resources
Saginaw area police and Huron County Sheriff Kelly J. Hanson previously stated that anyone who has been a victim of abuse should contact local law enforcement. Gaertner echoed that sentiment.
Gaertner said there is a special investigations team with a number of detectives from various agencies for the Diocese investigation. There are three prosecutors from the Saginaw County Prosecutor's Office on that team.
"I guess you could say I'm the most senior of those three prosecutors," Gaertner said, while
denying that he is the lead prosecutor for the Diocese investigation.
Complaints can be lodged with team members, who can be reached at the following email addresses:
• Scott Jackson, Saginaw Township Police Department: sjackson@saginawtownship.net
• Brian Berg, Tittabawassee Township Police Department: bberg@tittabawassee.org
• Chris Siegert, Michigan State Police: siegertc@michigan.gov
• Jeff Hunger, Michigan State Police: hungerj@michigan.gov
The Huron County Sheriff's Office can be reached at 989-269-6500.