Civil suit targets NM priest over abuse
By Maggie Shepard
Albuquerque Journal
May 15, 2018

https://www.abqjournal.com/1172497/civil-suit-targets-nm-priest-over-abuse.html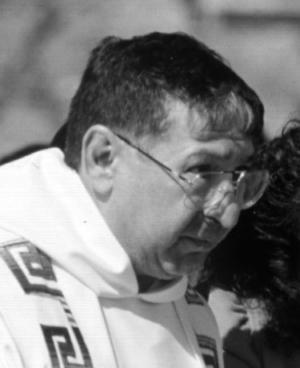 Father Sabine Griego
ALBUQUERQUE, N.M. — Since law enforcement never filed rape and molestation charges against former Catholic priest Sabine Griego, seven people who say they are victims of his sexual abuse are now taking up the mission of accountability in a civil lawsuit filed last week.
Documents released under court order by the Archdiocese of Santa Fe in a separate civil lawsuit show that by 2017 the archdiocese had reached settlement agreements with 32 New Mexicans who alleged that Griego sexually abused them as children. The Archdiocese faces dozens of suits regarding its role in covering up pedophile priest behavior.
This suit, filed May 9 in 4th Judicial District Court in Las Vegas by Albuquerque attorneys Brad Hall and Levi Monagle, targets Griego as an individual. It alleges he raped, abused and molested six male children and one female child at his home, in his car, at the churches he worked at and at his mother's home in Las Vegas over decades.
The seven plaintiffs, now all New Mexico residents in their 50s, are in addition to victims identified by the church who were abused by Griego and by two other priests, Jason Sigler and Arthur Perrault, who have been named in dozens of civil lawsuits dating to the 1990s.
Griego, who lives in Las Vegas, did not return a phone call seeking comment.
Similar lawsuits targeting individual abusive priests – not the Church – have succeeded around the nation, netting multi-million dollar settlements.
In New Mexico in 2017, victim Kenneth Wolter was awarded $16 million from former priest Arthur Perrault, who is in exile in Morocco.
He likely won't see any of the money, attorney Monagle said.
"(These victims), they aren't doing this for money. They know Sabine Griego likely doesn't have assets. For them, it's about sort of addressing the failing of the criminal justice system. They understand they are likely not going to recover funds, but they'll be in a position to publicly lay out the abuse that he made them suffer," Monagle said. "And there is power in people having to grapple with the fact that we have seven people here, seven victims here who were abused at different times and different places but who can testify to similar things about Griego, about what he said, how he acted."
In the suit, Hall and Monagle say that "many of the Griego victims in this case have gone to the Attorney General's office with their sworn information, but have been told that under New Mexico criminal jurisprudence, the statute of limitations for potential charges against this pedophile priest has now run, and that Sabine Griego will not be arrested for raping them when they were children."
Most criminal offenses against children have a three-year statute of limitations.
"The Office of the Attorney General is actively seeking information for cases that survive the statute of limitations and we are committed to investigating, apprehending, and prosecuting perpetrators of sexual abuse to the greatest extent allowed by law," James Hallinan, spokesman for the attorney general, wrote in a statement. "The Office has reviewed several allegations against Sabine Griego and found that, tragically, the statute of limitations created by the legislature prevents any office in New Mexico from prosecuting the incidents reviewed, which occurred in the 1970s and 1980s."
The statute of limitations for civil lawsuits regarding childhood sexual abuse is "three years from the date that a person first disclosed the person's childhood sexual abuse to a licensed medical or mental health care provider in the context of receiving health care from the provider," according to a state law enacted in 2017.
This lawsuit says that each of the seven plaintiffs has in the past three years disclosed their abuse and trauma to a therapist.