Northern Ireland priest steps aside as police probe allegation
By Jonathan Bell
Belfast Telegraph
May 19, 2018

https://www.belfasttelegraph.co.uk/news/northern-ireland/northern-ireland-priest-steps-aside-as-police-probe-historic-safeguarding-allegation-36925704.html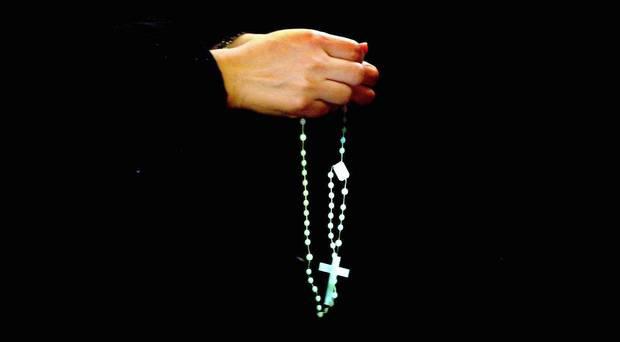 Church officials said both the diocese and the priest were cooperating fully with the police.
A priest has stepped aside from his position to allow for a police investigation into a historic "safeguarding allegation".
Police said they are investigating a complaint made in April.
The Diocese of Dromore confirmed the priest would be stepping aside in a statement on Saturday evening.
It said both the diocese and the priest were cooperating fully with the police.
"While this allegation is being investigated, and as part of the diocesan Safeguarding Procedures, the priest has voluntarily stepped aside from all public ministry pending the outcome of the investigation," it said.
"The diocese cannot make further comment at this time whilst an investigation is ongoing. The Diocese advise anyone who may have a concern of a safeguarding nature to contact the PSNI, Social Services, or the Diocesan Designated Safeguarding Officer on 077 8991 7741."
The diocese has been at the centre of a scandal over how it handled allegations of abuse against one of its priests.
The PSNI has established a special unit to investigate complaints of abuse against the now deceased Father Malachy Finnegan.
He was a teacher at St Colman's College in Newry up from 1967 to 1976 and its president until 1987 and was accused of sexually abusing 12 boys.
Allegations about the disgraced teacher and cleric were highlighted in a BBC Spotlight programme, although the first allegation against him came to light in 1994.
He was never prosecuted although claims made against him were reviewed by the National Board for Safeguarding Children - a clerical abuse watchdog set up by the Catholic Church.
Although the disgraced cleric died in 2002 and can therefore no longer be held accountable for his crimes, the PSNI's public protection branch said other areas needed to be investigated.
These include taking action against any living person from that time and assessing any current child safeguarding risks.
Former Bishop of Dromore John McAreavey resigned from his position over the matter. He had celebrated Mass alongside the priest he knew was a paedophile. He had known about allegations of child abuse against the disgraced cleric as far back as the mid-1990s.
He conducted Finnegan's 2002 funeral.
He admitted he'd made "an error of judgement" by officiating at the funeral of the paedophile teacher whose actions he described as "abhorrent, inexcusable and indefensible". He said his decision, made when he was a priest, to say the Mass "was the wrong one".
Since the abuse claims came to light, there have been more come forward to say they were abused by the now-deceased priest.
There is no suggestion Dr McAreavey is involved in any police investigation.
A PSNI spokesman said: "PSNI Public Protection Branch are currently investigating an historical allegation of abuse against a member of clergy in the Diocese of Dromore.
"This allegation was reported to PSNI in April 2018.
"As this is an ongoing investigation it would not be appropriate to comment further at this time."