Third abuse lawsuit filed against Father Adrian Cristobal
By Haidee V. Eugenio
Pacific Daily News
May 22, 2018

https://www.guampdn.com/story/news/2018/05/22/third-abuse-lawsuit-filed-against-father-adrian-cristobal/631667002/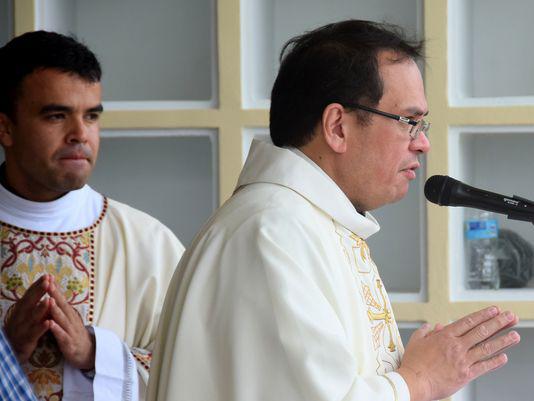 In this 2014 photo, Father Adrian Cristobal gives an opening prayer at All Souls' Day Mass at Guam Memorial Park in Barrigada. He was reassigned to the Umatac church.


[with video]



A third child sex abuse lawsuit was filed Tuesday against Father Adrian Cristobal, who hasn't obeyed Archbishop Michael Jude Byrnes' repeated directives to return to Guam since the first allegation came out in April.

The latest lawsuit was filed by a former altar boy identified in court documents only as J.E. to protect his privacy.

J.E., in his lawsuit, said Cristobal sexually molested and abused him when he served as an altar boy at San Vicente Ferrer/San Roke Catholic Church in Barrigada from about 1995 to 1997. He was about 10 to 12 years old at the time.

Now 33, J.E. said in his lawsuit that Cristobal on numerous occasions instructed him to massage his back. This was at the Barrigada parish and the priest's residence, the lawsuit says.

"Afterwards, Father Adrian would grope, fondle and squeeze J.E.'s private parts, which caused J.E. extreme pain and eventually led to J.E. repeatedly urinating on himself," the lawsuit says.

J.E., represented by Attorney David Lujan, demands $5 million in minimum damages.

Archdiocese: Priest remains off-island

Cristobal still wasn't on Guam as of Tuesday, according to Tony Diaz, director of communications for the Archdiocese of Agana. Cristobal is a former chancellor for the archdiocese.

"Chancellor Paul Fisher is communicating to him again today via e-mail," Diaz said.

The archdiocese believes Cristobal is in the vicinity of New York, after leaving the Diocese of Phoenix in Arizona, where he had been staying.

Archbishop Byrnes stripped Cristobal of some priestly faculties, including prohibition from celebrating Mass publicly and hearing confession while child sex abuse allegations against him are being investigated.

Cristobal also faces penalties and sanctions for failing to follow repeated directives for him to immediately return to Guam in connection with allegations he sexually abused children, the archdiocese said.

Lower school tuition as an altar boy

J.E. said in his lawsuit that on one occasion, the priest invited him and other altar servers to a retreat at a private beach in Ipan. One big tent was for Cristobal and other priests were also present. There were several small tents for the altar servers.

"During the retreat, J.E. recalls Father Adrian summoning the boys one by one into the big tent. J.E. refused to go when his name was ... called, but recalls hearing some of the boys saying 'Stop! No!," the lawsuit states. After the retreat, J.E. noticed some of the boys stopped coming to church and serving Mass.

J.E. said in his lawsuit he couldn't handle the pain, humiliation and embarrassment Cristobal inflicted on him and wanted to quit being an altar boy, but learned that one of the benefits of being an altar boy was lower tuition costs at the Catholic school he was attending, San Vicente Catholic School.

"J.E. began to lose faith in the church and felt betrayed, angry and violated," the lawsuit says.

Preliminary investigation

The archdiocese did a preliminary investigation regarding the first allegation against Cristobal and the findings were forwarded to an independent review board, in accordance with strengthened sexual abuse policy.

The second lawsuit against the priest alleged Cristobal sexually abused and raped a Catholic school student for about 18 years, from 1995 through 2013, at two parishes, the school, the priest's residence, his vehicle and at a private beach in Ipan.

There have been nearly 170 child sex abuse lawsuits filed in local and federal court against the Archdiocese of Agana, priests, other clergy, religious groups and others associated with the Catholic Church.