Erie Bishop Seen As a Reformer by Some - but Not by Clergy Sex Abuse Victims
By Ivey DeJesus
PennLive
May 23, 2018

http://www.pennlive.com/news/2018/05/erie_bishop_seen_as_a_reformer.html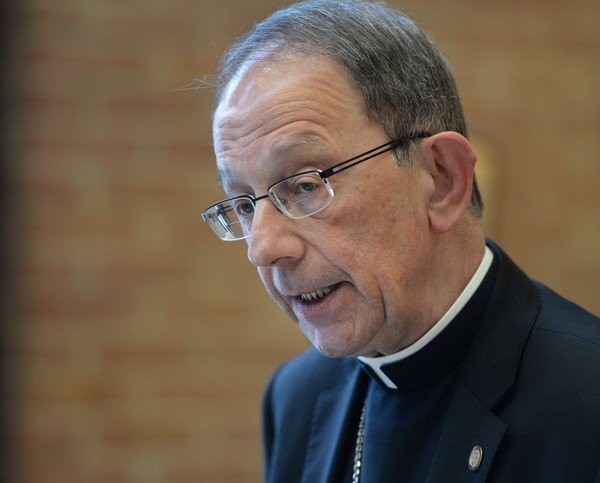 Catholic Diocese of Erie Bishop Lawrence Persico (Greg Wohlford/Erie Times-News via AP, file)



Late last week, the Roman Catholic Diocese of Erie added six names to the list of clergy and staff that have been credibly accused of child sex molestation.

The names joined the list of 51 other names that in April were first made public by the head of the diocese, Bishop Lawrence Persico.

It's become the modus operandi for a cleric fast earning the moniker of a reformer: the idea, that is, of a bishop who offers up a measure of transparency from within an institution known for its historically secretive and guarded confines.

"His philosophy is 'We are going to protect the children of the diocese,'" said Mark Rush, an attorney with Pittsburgh-based K&L Gates law firm, who has been working with the diocese throughout the ongoing grand jury investigation into clergy sex abuse.

"That is his first and foremost goal. He believes it's important to hear from those victims, however old those claims are. He's very modest and a man who doesn't want to bear the mantle of reformer. He's simply doing what he thinks is right for his diocese and parish."

Persico, who was installed as bishop in Erie in 2012, joins a relatively small fraternity of about 30 other diocesan officials in this country to have disclosed the names of clergy accused of sexual misconduct.

Earlier this month, Bishop Richard J. Malone of Buffalo took a similar step, disclosing the names of priests facing similar allegations, including 27 priests whose names not previously been linked in public to molestation complaints.

Even Pa. Attorney General Josh Shapiro commended Persico for his actions, including his decision to not stall or impede the release of the investigation report.

"Bishop Persico has also not sought to block these matters from seeing public light, or attempted to keep victims' voices from finally being heard. I commend his actions," Shapiro said recently.

Amy Hill, spokeswoman to the Pennsylvania Catholic Conference, the church's powerful lobbying arm, indicated that Persico and other bishops have had autonomy.

"Every diocese is its own sovereign entity; each has worked with the grand jury independently," she said.

Shapiro's office in 2016 launched an investigation into allegations of child sex abuse across six dioceses in Pennsylvania, including, in addition to Erie, those of Harrisburg, Allentown, Pittsburgh, Scranton and Greensburg.

Victims of clergy sex abuse see Persico's actions through a different prism.

Tim Lennon, president of SNAP (Survivors Network of Those Abused by Priests), points out that 16 years ago, in the wake of the investigation reports out of the Archdiocese of Boston, the U.S. Conference of Catholic Bishops vowed full disclosure going forward in matters pertaining to the sexual abuse of children by priests.

Bishops such as Persico and Malone, Lennon said, have been compelled only be pending legal actions.

Persico, he said, was motivated to make public the names of predators by the impending release of the 18-month grand jury investigation into his diocese.

"He hasn't been compelled by what I believe is the right thing to do, the moral thing to do and that is at every instance at every moment to disclose credibly accused priests and refer them to civilian authorities," Lennon said.

A survivor of clergy sex abuse himself, Lennon opines that the fact that a church official has taken such an action is a measure of Pennsylvania's aggressiveness to pursue such crimes. In fact, the Vatican has repeatedly over the years been asked to turn over predators by numerous commissions, including out of the United Nations.

"Why are we finding this out now?" Lennon said. "Why didn't we know this five years ago or 10 years ago? To me that is question that need to be asked."

Of the 30 dioceses that have made public the names of predatory priests - out of nearly 200 dioceses - most have been compelled by court dispositions and survivors who have sought legal action. That includes the latest chapters of the clergy sex abuse scandal out of Australia, which is prosecuting the Vatican's third-highest ranking official Cardinal George Pell.

Lennon suspects a church official in Persico's position may be trying to diminish negative public exposure, or he may be doing the right thing, but regardless, for the community of victims such information is invaluable.

Persico does not see himself as a reformer.

"I'm just taking care of my diocese," says the former Diocese of Greensburg priest. "I see myself as pastor of a diocese, a bishop, a shepherd. What I see myself doing is to take the best actions possible to protect children and young people."

Shortly after Shapiro a few weeks ago announced the arrest of an Erie priest and charged him with three felonies in connection to child sex crimes, Persico made a public statement that he had not previously known about the priest - Father David Poulson.

Persico says he is cooperating fully with the investigation and law enforcement.

"It's accountability," he said when asked further about the release of the names. "We have to make the public aware. Secondly, I think it's important for healing. There's a lot of victims and survivors whose alleged abusers their names have never come to light. This is an opportunity for them to hopefully experience some healing."

Beyond the transparency and the restoration of the trust from the faithful, Persico said he hopes to turn a page.

"We are learning from our past and trying to understand our past but we also have to move forward," he said. "We have to admit we made mistakes. We have to show that we are sorry for what has happened. We obviously regret it and are shameful for what has happened but when you put it out into the light, the light helps to heal too."

Added to the list of priests credibly accused of child sex abuse in the Diocese of Erie are:

Living

Randolph A. Byrd, of Crozet, Virginia; former lay school teacher.

The former Rev. Barry M. Hudock, of Albany, Minnesota; laicized, or permanently removed from the priesthood.

The former Rev. Patrick B. Vallimont, of Union City; laicized.

Deceased

The Rev. Kevin E. Cray, Society of the Divine Savior; the abuse was reported after his death. Cray, a former chaplain at the Erie Veterans Affairs Medical Center, died at 76 in 1999, in Milwaukee.

The Rev. Fidelis G. Lazar, Order of Saint Benedict; was no longer in ministry. He died at 82 on March 8 in West Haven, Connecticut.

The Rev. Andrew W. Pawlaczyk; was able to function as a priest because the abuse was reported after his death. He died in 1982.

This story was updated to include a comment from the Pennsylvania Catholic Conference.