Archbishop Wilson Stands down Following Concealing Sex Abuse Conviction
The Tablet
May 23, 2018

http://www.thetablet.co.uk/news/9128/archbishop-wilson-stands-down-following-concealing-sex-abuse-conviction-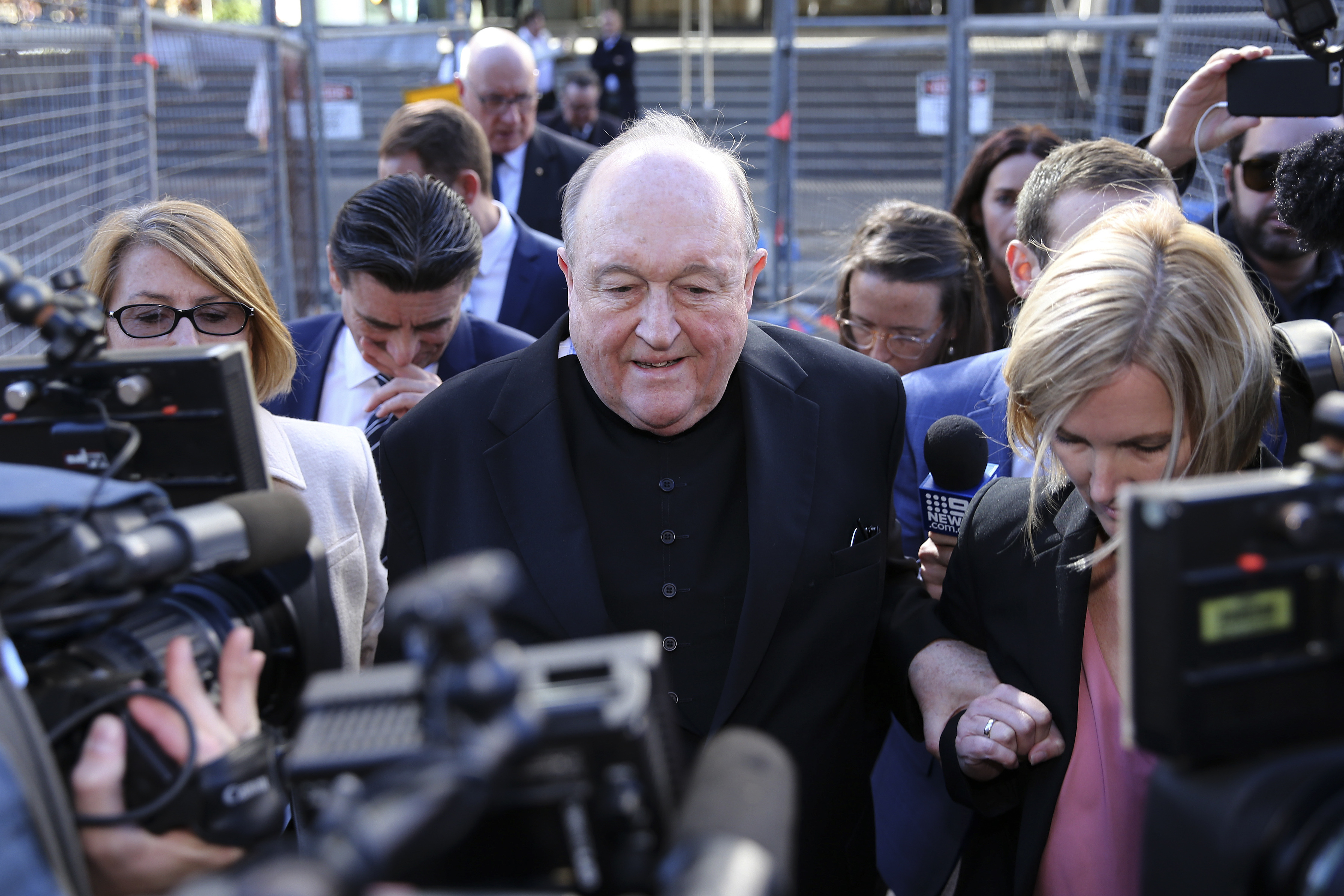 Archbishop Philip Wilson of Adelaide, Australia, leaves the Newcastle Local Court 22 May



'If at any point it becomes necessary or appropriate for me to take more formal steps, including by resigning as Archbishop, then I will do so'

Archbishop Philip Wilson of Adelaide has announced he is to stand down – and may resign later after almost 17 years as leader of South Australia's Catholics – a day after he was convicted in a New South Wales court of concealing child sexual abuse.

The day after Magistrate Robert Stone found him guilty of covering up the sexual abuse of altar boys by the late Fr James Fletcher in the 1970s, Archbishop Wilson said he would stand down on Friday (25 May), having considered the magistrate's reasons for his decision.

"I am still considering those reasons together with my legal advisors," the 67-year-old prelate said in a statement issued today (23 May). "While I do so, it is appropriate that, in the light of some of his Honour's findings, I stand aside from my duties as Archbishop.

"I am now putting in place the necessary administrative arrangements to ensure that the affairs of the Archdiocese are managed responsibly. I therefore intend to step aside as of Friday this week once those arrangements are in place.

"If at any point in time it becomes necessary or appropriate for me to take more formal steps, including by resigning as Archbishop, then I will do so.

"In the meantime, while the remainder of the legal process runs its course, I want to assure the Catholic faithful in the Archdiocese of my continued prayers and best wishes and assure everyone that the affairs of the Archdiocese will be appropriately managed in my absence."

It is the second time Archbishop Wilson, a former President of the Australian Catholic Bishops Conference, has stood down over the matter. On 20 March 2015, three days after he was charged by NSW Police, he took indefinite leave. But on 30 December that year, he informed Adelaide's Catholics that he would resume his duties the following month, declaring: "I cannot responsibly remain on leave indefinitely given my serious responsibilities as Archbishop of Adelaide. I have made a commitment in faith to the People of God in the Archdiocese of Adelaide and it is a commitment that I feel I can longer defer."

With this week's court verdict, for which he faces up to two years' imprisonment, and on bail until his sentencing hearing on 19 June, Archbishop Wilson had come under immediate pressure to step aside.

Fr Frank Brennan, a Jesuit and lawyer who is CEO of Catholic Social Services Australia, told the Australian Broadcasting Corporation's 7.30 public affairs program on the night of the verdict: "I think he should definitely stand aside and he should remain standing aside from all Episcopal roles, whether local or national, unless and until any appeal court were to quash the conviction. But if the conviction stands, then yes, I think it would be then necessary for him to resign."

Asked what message Archbishop Wilson and the Catholic Church would send to the Australian community if he did not stand aside, Fr Brennan replied: "Oh, I think it would be a dreadful message."

Referring to the offer of resignations by Chile's entire episcopate to Pope Francis over their response to abuse, Fr Brennan said: "The Pope's attitude has clearly hardened, as it should have, and so I would think that… if there be a conviction of a bishop in relation of a failure to disclose abuse in circumstances where the state thought that was criminal activity, then I would think the mind of the Pope would be that that doesn't measure up in Church terms either and that therefore it would be impossible for someone to remain in the job as a bishop, as a leader of the flock."

Fr Brennan said detailed reports provided to the Australian bishops by the Truth, Justice and Healing Council (TJHC), their liaison body with the Royal Commission into Institutional Responses to Child Sexual Abuse, should be "made available to the community at large but particularly to the Catholic community".

He said the verdict on Archbishop Wilson was "crushing for all of us".

"If I might say partly in his defence, there's no doubt that Archbishop Wilson in recent years, in fact over the last couple of decades, has been one of the good guys.

"He has been one of the bishops in the Catholic Church who's been trying to clean things up but this relates to when he was a young priest back in 1976 and the crushing thing is realising that even someone like him, who later got it, back in those years was so confined by a culture that it would seem that there was no disclosure and that is really crippling for all of us… It is a shock to wake up to the fact that we've had such a deep cultural mindset about the protection of the institution as to lose sight of those most basic teachings of Jesus of Nazareth."

The former CEO of the TJHC, Mr Francis Sullivan, told ABC Radio Adelaide today – before the Archbishop's announcement was made – that it was "pretty obvious" that the Archbishop should stand down.

"Obviously Archbishop Wilson has his own legal rights to consider but he knows full well that in the Catholic Church, even when someone is facing allegations in this area, they step aside from their duties," Mr Sullivan said.

"The Catholic Church leadership needs to demonstrate that it's not going to be business as usual, that the royal commission and other findings are going to be taken seriously and implemented."

A female caller to ABC Radio Adelaide, who sits on the board of a Catholic school, said the archdiocese was shocked that Archbishop Wilson did not step aside immediately.

"The statement from the Archbishop — we're all just really stunned that that didn't contain a resignation. His position is untenable," she said.

"My kids are preparing for their sacraments at the moment, their communion and confirmation, and they then see that the head of the Catholic Church in South Australia has been convicted for something like this. That's really hard to explain to them.

"It's not what we as young Catholic families want our contemporary church to be."

Political leaders responded to Archbishop Wilson's conviction, with some calling for tougher penalties for Church leaders who covered up abuse.

South Australian Premier Steven Marshall said Archbishop Wilson had taken "the only course that he could", but would not be drawn on whether he should have resigned.

"I think his position became untenable when the conviction was recorded," Mr Marshall said.

SA Greens Senator Sarah Hanson-Young called for stronger laws against those who covered up sexual abuse.

"It was a recommendation of the royal commission — we need to move on that quickly," she said.

"The Federal Government should come out today and say they're going to move to uniform laws to ensure that hiding, covering up, concealing child abuse is unacceptable."

NSW Greens MP David Shoebridge foreshadowed a motion expressing concern that an Australian Catholic Bishops Conference statement after Archbishop Wilson's conviction contained no regret that the Archbishop and the Catholic Church had failed the boys who relied on them for help.

Mr Shoebridge will ask the Upper House of Parliament, the Legislative Council, to call on the bishops conference to "formally and positively respond to the final report and recommendations from the royal commission".