Catholic Dioceses Receive Copy of Grand Jury Investigation Report
By Ivey DeJesus
Penn Live
May 24, 2018

http://www.pennlive.com/news/2018/05/catholic_dioceses_receive_copy.html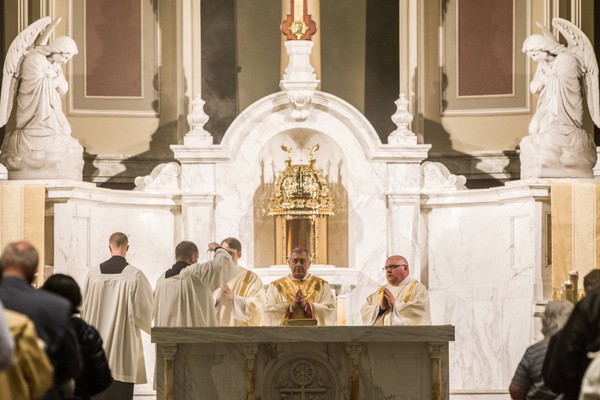 The six Catholic dioceses at the center of a grand jury investigation into child sexual abuse have reportedly received a copy of the findings of that probe. Pictured here is Bishop Ronald Gainer of the Harrisburg Dioceses, one of the dioceses under investigation. (PennLive File)



The six Pennsylvania Catholic dioceses at the center of a grand jury investigation into the potential child sex abuse of children by priests have received a copy of the findings.

Mark Rush, an attorney working with the Diocese of Erie, on Thursday confirmed his office had received the report. The 884-page report covers the findings across the six dioceses, which, in addition to Erie, include: Harrisburg, Allentown, Pittsburgh, Scranton and Greensburg.

Rush indicated the other dioceses had also received the report, which remains sealed until otherwise ordered by a judge.

Rush, of the Pittsburgh-based K&L Gates law firm, said Erie Bishop Lawrence Persico will now review the findings. By law entities investigated by a grand jury have the opportunity to respond to the findings of any investigation. Responding is not mandatory, however.

"There's no requirement that anyone respond," Rush said.

He could not comment on the timeframe given to the dioceses to respond, as that is determined by court order.

News that the dioceses had copies of the findings was first reported Thursday by Erie.com.

Amy Hill, spokesperson for the Pennsylvania Catholic Conference on Thursday said the organization - the legislative lobbying arm for the church - has not received a copy of the report.

In September 2016, the state Office of Attorney General launched the investigation into allegations of child sex abuse across the six dioceses in the wake of another grand jury report out of the Diocese of Altoona-Johnstown. That investigation found systemic child sex abuse by priests and church staff in that dioceses. The volume of calls from potential victims in other dioceses generated from that report prompted the attorney general to launch the current probe.

Attorney General Josh Shapiro this week indicated he would release the report by the end of June. His office could not comment or confirm the report that the dioceses had received the findings.

"Pursuant to the law and our strict adherence to the statute and process, we cannot yet comment on the grand jury report on sexual abuse within the Catholic Church or its dissemination and timing," said Joe Grace, a spokesman for the Office of Attorney General.

The Diocese of Erie, which launched its own independent probe to coincide with the grand jury investigation, has identified 57 individuals - priests and church staff - who have been credibly accused of child sex crimes. One priest - Father David Poulson - has been arrested and charged with three felonies.