Priest's assignment to St. Louis parish rescinded over parent concerns about past allegations
By Erin Heffernan
St. Louis Post-Dispatch
May 30, 2018

https://bit.ly/2xs2ill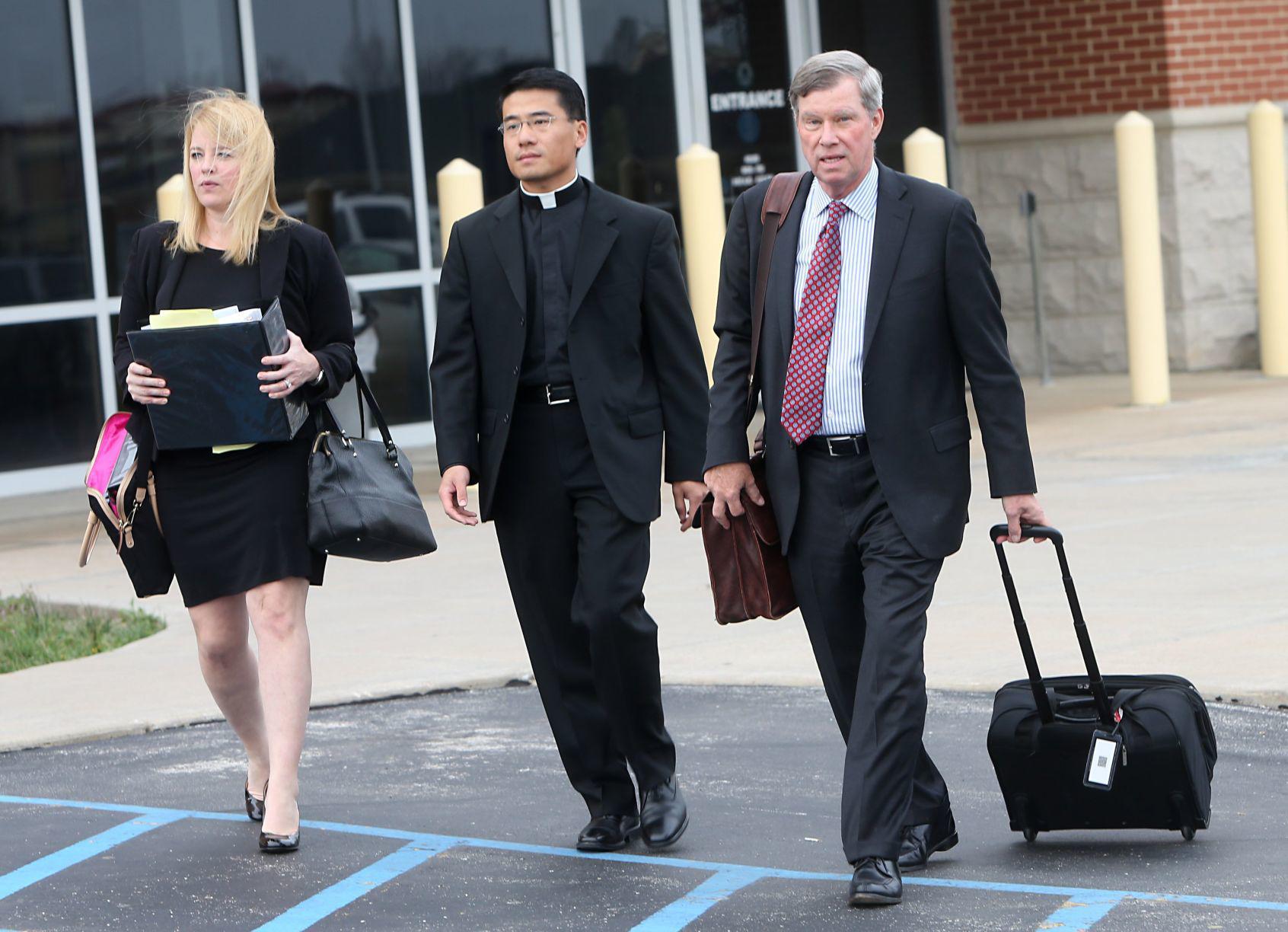 Rev. Xiu Hui "Joseph" Jiang, 31, leaves the Lincoln County Justice Center in Troy, Mo., on Wednesday, March 29, 2017, with his lawyers Ryann Carmody (left) and her father, Gerard Carmody. Jiang, 31, was on trial in a civil suit in related to sexual abuse of a 16-year-old girl. The jury sided with Jiang and the archdiocese.
Photo by Laurie Skrivan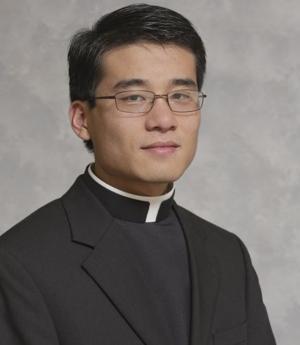 Rev. Xiu Hui "Joseph" Jiang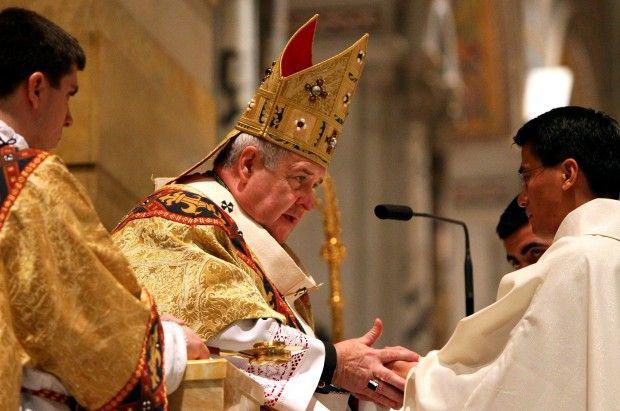 Archbishop Robert J. Carlson conducts the Anointing of Hands rite on the Rev. Joseph Xiu Hui Jiang during a ceremony at the Cathedral Basilica in St. Louis to ordain eight men into the priesthood on May 29, 2010.
Photo by David Carson
A Roman Catholic priest twice accused of misconduct involving children will no longer be assigned to a new St. Louis parish after an outpouring of concern from parents, officials with the Archdiocese of St. Louis announced Wednesday.
The Rev. Xiu Hui "Joseph" Jiang had recently been appointed associate pastor of St. Gabriel the Archangel Parish, which is in the St. Louis Hills neighborhood and includes a K-8 school.
The priest was previously charged with statutory sodomy in St. Louis and child endangerment in a Lincoln County case, but charges in both were dropped several years ago. Jiang denied the allegations, and a jury sided with him last year in a civil suit tied to the Lincoln County case.
Still, parents voiced concerns to church leaders about the appointment, including speaking out in the Post-Dispatch and other media. Parents were told Archbishop Robert Carlson and St. Gabriel's pastor Msgr. John Shamleffer would take questions about the appointment at a parish meeting Thursday.
Jiang will remain in his current assignment at the Cathedral Basilica of St. Louis for the time being, according to an archdiocese spokesman.
Carlson wrote in his letter that the decision came after hearing many concerns from members of the parish.
"While there is no reason Fr. Jiang could not or should not be assigned to a parish with a school, at the same time, I realize that very few priests have been exonerated in the courts as has Fr. Jiang," Carlson wrote. "Unfortunately, the level of your concern is a sign of the healing which still needs to take place in the Church when dealing with historical abuse."
Carlson wrote that he planned to soon meet with school and parish leadership to discuss concerns and "work toward a better understanding of what Fr. Jiang has gone through, the reaction to his appointment on the part of so many parishioners, the work that the Church has done over the years to safeguard our children, and then to discuss where we go from here as a parish and as an archdiocese."
Some parents of students at St. Gabriel complained about a lack of communication from the school and archdiocese regarding the appointment.
"I regret that an opportunity for Fr. Jiang and the parish community to get to know one another was not created before assigning him to your parish," Carlson wrote. "He is a talented and pastoral priest."
Before the appointment was rescinded, Carlson released a statement in response to concerns asking the community to abstain "from gossip and character assassination toward any of our brothers and sisters in Christ." Some parents took issue with the archbishop's characterization of their worries about the priest.
Parents' concerns about Jiang stemmed from two past, high-profile sexual misconduct investigations.
In 2013, a family from Lincoln County filed a civil suit accusing the priest of molesting a 16-year-old girl both at her home and in the St. Louis Cathedral Basilica rectory parking lot. At the time, Jiang was an associate pastor at the parish. The case went to trial, and in April 2017 a jury sided with Jiang and the archdiocese, which was also named in the suit.
Related criminal charges of child endangerment and witness tampering — Jiang had been accused of leaving the family a $20,000 check along with an apology note — were dropped.
In 2014 Jiang was accused of sexually assaulting a boy in the restroom at St. Louis the King school, the elementary school at the Cathedral Basilica. All criminal charges were dropped against the priest in 2015, and Jiang filed a civil suit against the mother of the accuser and a victims group, alleging they made false claims.
Jiang came to St. Louis at age 20 after escaping religious oppression in China. He served as a deacon in Saginaw, Mich., when Carlson was bishop there. He was ordained in St. Louis in May 2010, and then became an associate pastor at the St. Louis Cathedral Basilica.
St. Gabriel's pastor, Shamleffer, wrote that Jiang's initial appointment to his parish created conflicted views.
Shamleffer said he spoke to many who believed Jiang was innocent, but still feared "the unknown of who Father Jiang is and what really happened with him."
"I believe that maybe with a better process this could have been addressed, but time did not allow this to happen," Shamleffer wrote.
The pastor said he hoped the controversy would refocus parents on the faith of their children.
"I heard, this past week, the zeal that many had for their children and their role as their primary protector," Shamletffer wrote. "Many went into action right away. I believe that we as a community and as parents need to also re-evaluate whether we have used that same zeal to guide our children in faith."
Katie Schmitt, a parent of two St. Gabriel students who initially had concerns about Jiang's appointment, said she appreciated the letters from the church leaders announcing their decision.
"I think it was a learning experience for us all," she said. "I also believe our reaction might have been a little different if the church was more forthcoming about Fr. Jiang's past. I hope that Fr. Jiang's new placement will be welcoming for him."
Contact: eheffernan@post-dispatch.com