Expert: Apuron verdict tied to child sexual abuse charges
By Haidee V. Eugenio
Pacific Daily News
June 02, 2018

https://www.guampdn.com/story/news/2018/06/02/expert-apuron-verdict-linked-sex-abuse-charges/658329002/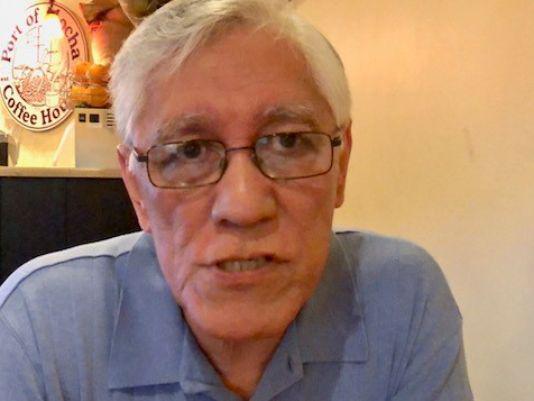 Vincent P. Pereda
Photo by Haidee Eugenio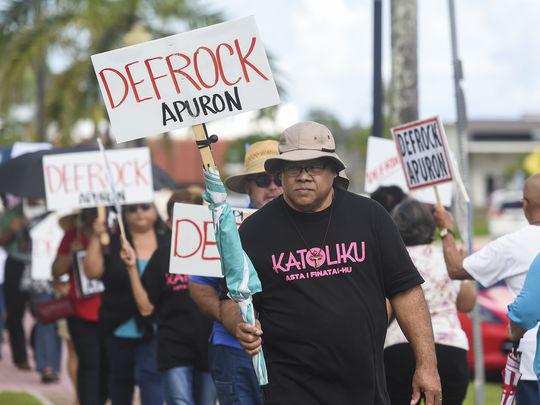 In this July 9, 2017, file photo, members and supporters of the Laity Forward Movement and Concerned Catholics of Guam picket against Archbishop Anthony Apuron at the Dulce Nombre de Maria Cathedral-Basilica in Hagåtña.
Photo by Frank San Nicolas


[with video]



A Vatican tribunal's guilty verdict on former Guam Archbishop Anthony S. Apuron can be reasonably linked to the credibility of those who accused him of child sexual abuse, according to a board-certified clinical social worker.

Vincent P. Pereda, who's also a licensed mental health counselor with specialty in evaluating and counseling sex offenders, believes the victims' disclosures were "very strong and they were credible."

"In my experience, the vast majority of victims who disclose being victims of child sexual abuse tell the truth, and they very rarely lie," Pereda said. "This is not to say that victims never lie, but if you take a look at the statistics, the vast majority of victims are truthful and I believe the four that initially came forward presented very credible stories of how they were victimized."

A fifth accuser, Apuron's nephew, filed a lawsuit in January this year, two months before the Vatican handed a decision on the canonical trial. Apuron has denied all allegations of child sexual abuse against him.

Pereda evaluated and provided direct treatment intervention to sex offenders on Guam for years.

The Vatican tribunal, led by Cardinal Raymond Burke, went to Guam, Hawaii, Arizona and California to interview Apuron's accusers. On March 16, the tribunal found Apuron guilty of certain accusations and removed him from the position of archbishop and from the local archdiocese.

Pereda has accrued more than 30 years of clinical experience as a professional counselor, program manager and clinical administrator. He has worked with the federal civil service, Navy, Department of Veterans Affairs and the Superior Court of Guam.

Pereda said as a former court counselor who has worked with hundreds of convicted sex offenders, he can realistically state guilty verdicts often have resulted on the basis of the victims' credibility in the absence of any physical, medical or any other kind of evidence.

"As an experienced professional counselor, it is my professional opinion that Apuron did engage in committing sexually abusive acts against his accusers," Pereda, 70, wrote in a statement.

Apuron had due process

The Vatican provided Apuron due process, the outcome of which he is seeking to appeal, Pereda said.

Attorney Jacqueline Terlaje, Apuron's civil attorney, said she had no comment at this time.

Pereda said due to the statute of limitations, Apuron can't be criminally prosecuted for child sex abuse cases. The only way he can be brought to court is being sued in a civil court.

Apuron has recourse to further due process if he chooses to respond to child sexual abuse cases filed against him in civil courts. Apuron would have to need Rome's permission to return to Guam, Pereda said.

"He's still a bishop because he hasn't been laicized or defrocked," Pereda said. "But he's no longer a bishop who has any standing, any position of power. That's a major consequence."

Pereda said any belief the verdict can still be changed or overturned defies reality. He said those who are blindly loyal and supportive of Apuron will minimize the tribunal's verdict and sentence.

Canon law expert Patrick Wall, a former Catholic priest and Benedictine monk who left the ministry in 1998, believes the Vatican, for civil legal reasons, backed off child sexual abuse and proceeded on solicitation because it gets the same final result but also doesn't trigger civil liability for the hundreds of cases on Guam.

Marked a new era

The Vatican's guilty verdict and sentence marked a new era for the Catholic Church on Guam, Pereda said. He said Archbishop Michael Jude Byrnes is now the head of the church on Guam and he doesn't see that changing.

"So that's a new chapter going forward in the Catholic Church. And I think a lot of changes have been made since Archbishop Byrnes has taken over, a lot of positive changes, and I believe that that would continue," Pereda said.

Pereda also said while it's evident Apuron will likely be perceived historically as a disgraced prelate, it's hoped the former archbishop would prayerfully come to terms with his wrongful behavior and accept responsibility for his actions, as well as the consequences.

"In charity, he deserves the opportunity to make amends and become penitent and remorseful so that he can come to peace with himself and with God," Pereda wrote.

Apuron still receives a $1,500 monthly stipend from the archdiocese. This is known in church terms as decent support, the archdiocese said.

Status hearing

The archdiocese has acknowledged the abuses committed by clergy and strengthened its policies on the protection of children. The archdiocese and others named as defendants in clergy sex abuse lawsuits are pursuing mediation with the accusers, including those accusing Apuron.

Pereda said he never imagined there were about 170 cases of child sex abuse involving Catholic clergy on Guam. He said the lifting of the statute of limitation gave victims a voice to be heard.

On June 5, U.S. District Court of Guam Chief Judge Frances Tydingco-Gatewood and Superior Court of Guam Judge Michael Bordallo will hold a joint status hearing on the cases.