Twin Cities parishes step up to help pay clergy sex abuse settlement
By Jean Hopfensperger
Star-Tribune
June 02, 2018

http://www.startribune.com/twin-cities-parishes-step-up-to-help-pay-for-victims-of-clergy-sex-abuse/484392471/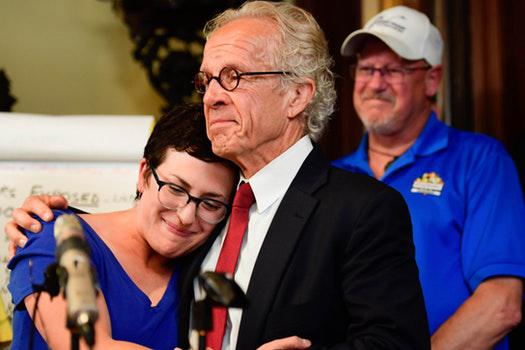 Victims' attorney Jeff Anderson embraced Marie Mielke, who was abused by a priest starting when she was 12, after she spoke during a news conference Thursday about the settlement.
Photo by Aaron Lavinsky
Twin Cities churches will bear $13M of the $210M settlement for sex abuse.
Parishioners at Our Lady of Lourdes Catholic Church in Minneapolis are finding a letter in their church bulletins this weekend that explains the parish's decision to contribute to an unexpected fund — the archdiocese's long-in-the-making financial settlement with clergy sex abuse victims.
On Thursday, the Archdiocese of St. Paul and Minneapolis announced that it had reached a $210 million settlement for about 450 victims — the largest of its kind nationwide. Of that, roughly $13 million is to be paid by parishes.
Up to half of the archdiocese's 187 churches are donating or considering doing so. They include parishes where children were abused as well as those where there were no incidents, such as Our Lady of Lourdes.
"It's the right thing to do," said the Rev. Daniel Griffith, the parish's priest. "We're all part of the archdiocese, and we all need to be part of the solution."
Many Twin Cities Catholics walked into church this weekend grateful that the archdiocese had finally reached an agreement with abuse victims but uncertain about what it means for their own parishes.
The settlement brought somber closure to years of disputes that have transformed the archdiocese. In January 2015, it sought bankruptcy protection from an avalanche of abuse lawsuits that followed passage of a law opening a three-year window for suits stemming from older cases. The archdiocese eventually identified 91 abusers, and Archbishop John Nienstedt stepped down amid allegations of coverup and inaction.
The vast majority of the landmark settlement — about $170 million — will come from insurance carriers.
The parishes' direct contribution of about $13 million will include excess premiums in the parishes' general insurance fund, excess premiums from their medical benefit plan and other sources, said Tom Abood, chairman of the archdiocese's finance council.
But many parishes are going beyond that, after several Twin Cities priests launched an effort to encourage parishes to contribute directly to the settlement.
The Rev. Kevin Finnegan, of Our Lady of Grace Catholic Church in Edina, was among them. To date, more than half of the roughly 100 parishes in the archdiocese with clergy sex abuse claims have made or pledged a contribution, said Finnegan, whose church is among them.
"Other parishes without [abuse] claims have done the same," he said. "And a number of priests have made personal contributions."
The campaign was motivated by parishes' desire to do something to directly help the victims, he said, and to help bring resolution to the prolonged bankruptcy.
Finally, a sense of relief
Griffith and Finnegan are among Catholic clergy and parishioners relieved that the battles over a clergy abuse settlement could soon be history. For many, it was a cloud that wouldn't drift, darkening public perception of the church and preventing the archdiocese from focusing fully on its mission.
Donna Carlson, who was among dozens of people gathered for mass Friday at St. Olaf Catholic Church in Minneapolis, said she was glad an agreement was reached. She wasn't particularly concerned about any settlement impact on parish finances. The church has raised a lot of money for various projects over the years, she said, so it's likely it can do so again in this case.
That said, the longtime Catholic was taken aback by the price tag. "It's a lot of money," she said.
Brian Short, a prominent Catholic donor who attends Church of the Assumption in St. Paul, said he believes the settlement will benefit church and archdiocesan fundraising efforts.
Contributions to the archdiocese declined by nearly a third, from $3.9 million to $2.8 million, between fiscal years 2015 and 2017, according to archdiocese documents filed in bankruptcy court.
"You don't like to be associated with a place that is bankrupt, whether a business or a nonprofit," said Short. "What this [the settlement] does for me is, there's one less thing to worry about when I evaluate the missions I will support."
Overzealous claims?
Not all parishioners were feeling positive. Jeff Hyde, who attends mass at St. Olaf, said he believes the abuse claims were overzealous. He thinks the matter could have been settled with "less litigation, more prayer."
"The victims, clergy and church all need to heal," Hyde said. "Let the spirit work with us in lots of different ways."
The settlement calls for the archdiocese, which reported $20.7 million in operating revenue in fiscal year 2017, to contribute about $27 million, Abood said.
About $8 million will come from the 2016 sale of the chancery and other properties, he said. About $4 million will come from the sale of land owned by the archdiocese that housed Catholic high schools. Another $5 million will come from $1 million annual payments from the archdiocese for five years.
The balance will come from various unrestricted reserve accounts and other sources, he said. None of those amounts includes parish donations.
In the weeks ahead, the settlement agreement will be translated into definitive documents for bankruptcy court, with the goal of getting them before U.S. District Court Judge Robert Kressel as soon as possible, Abood said.
"For now, I'm sure everyone is catching their breath," he said. "The hard work needs to continue."