Father Faucher's Fall from Grace: Once a Respected Priest, Now He Holds Mass in Jail
By Katy Moeller
Idaho Statesman
June 3, 2018

http://www.idahostatesman.com/news/local/article209654969.html

The 72-year-old inmate's body looks frail, but his mind and voice are sharp and clear.

His demeanor reads more stunned victim than shamed perpetrator.

His tone is burdened, not broken.

The Rev. W. Thomas "Tom" Faucher, best known as Father Faucher, is clad in a maroon jail jumpsuit and sitting in a wheelchair at the Ada County Jail. He uses a wall phone to communicate with a reporter on the other side of the glass partition.

"I get probably six or seven letters or cards every day almost from supporters," he says of his life behind bars the previous 10 weeks. "And I have the newsletter. Now, did you get your copies of the newsletter? There's now 15 editions of it."

The retired Roman Catholic priest is in the fight of his life. Faucher talked exclusively to the Statesman several times, including during a May 7 jail visit, though on his attorney's advice he declined to discuss the charges that landed him behind bars.

His legacy as a good shepherd for nearly a half century has been marred by allegations that he collected and traded images of children being sexually abused, and that he talked in chat rooms about wanting to rape and kill children. Investigators said they found the illicit drugs LSD, ecstasy/MDMA and marijuana during a Feb. 2 search of his church-owned home in Northwest Boise.

Prosecutors say he had more than 2,000 child porn images and videos on his computer and cellphone. Most of the 24 charges against him are felonies, carrying a maximum penalty of 275 years in prison.

Faucher is a native Boisean with deep and wide roots across Idaho; the allegations against him hit the Catholic community hard. It prompted some of those who were abused by Catholic clergy to contact the Statesman, including one alleged victim of Faucher himself.

Others have offered Faucher support.

"It is fair to say that hundreds of people are supporting Father Faucher because they have been touched and helped by him, his message, his homilies, his good works," wrote Mike Ellsworth, a longtime friend. "These are people of every background, nationality, religion and profession."

After an investigation into past abuses within the Diocese of Boise, the Statesman found that during a four-decade period in Idaho at least two bishops, eight priests — including Faucher — and five other church members became aware that the Rev. James McSorley was sexually abusing children.

None of them called police.

Since Faucher was arrested in February, two men have told authorities that he molested them as children decades ago. Diocese of Boise officials said they never received any allegations of abuse by Faucher before he was arrested. No charges have been brought in those cases, and it's unlikely they will because state lawmakers' removal of the statute of limitations for most child sex crimes in 2006 wasn't retroactive.

A man who is now 41 and was a sixth-grader at Sacred Heart School in the mid-1980s told the Statesman that he didn't tell anyone about Faucher's abuse at the time because he was afraid of getting into trouble.

"I was hoping someone would piece it together without me possibly getting into trouble," he said. "I didn't tell anybody because I didn't think I should have to."

Jail life, writings

Faucher, an avid reader and writer, is sharing his experiences at the Ada County Jail with supporters through what he calls a "newsletter" — actually hand-written letters that are then distributed via email by Ellsworth.

Faucher has been held in a medical unit at the jail since mid-March, when a judge remanded him to custody after raising his bond to $1 million. In interviews with the Statesman from the jail, Faucher said he was diagnosed in 2004 with hemochromatosis, a genetic illness that has weakened his body and robbed him of his mobility.

"My body doesn't expel iron," he said. "If it builds up within your organs, you die. If it builds up within your bones, you become crippled."

He was initially able to use a cane to get around but now needs a walker. In custody, he uses a wheelchair. He's living in a 14-person cell, and he interacts regularly with cellmates. He shares observations about them, their cases and life in the jail in his newsletter.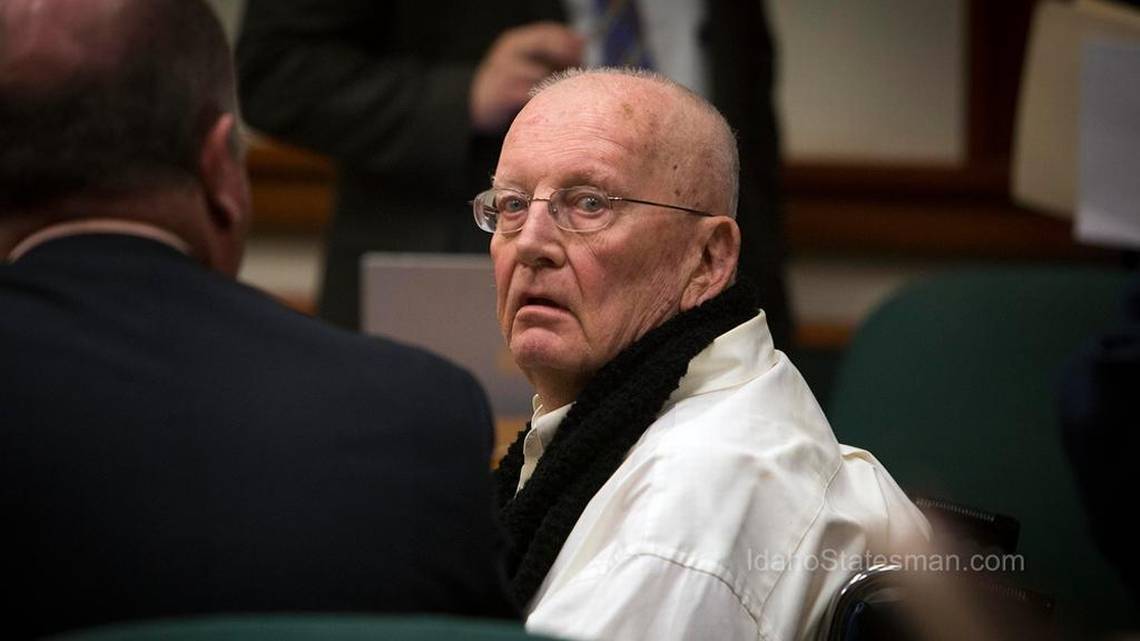 The Rev. W. Thomas Faucher, 72, chose to waive his preliminary hearing Tuesday, March 13, 2018 at the Ada County Courthouse in Boise. A judge increased bail to the amount of $1 million after prosecutors brought forth new evidence and additional charges. After being handcuffed, Father Faucher was taken from the courtroom in his wheelchair to be placed back in prison.



"I have been asked to write more about the food here. When I told someone that, they said, 'How can you write more than one word. All the food is c--p,' [sic],' " Faucher wrote on April 15. "It is consistently the worst food I have ever seen or eaten."

He notes that guards are inconsistent in what time they allow TV viewing, that it is sometimes so quiet that you can hear whoever is talking on the phone and that he sometimes gets bored.

"I am out of things to read, out of things to write, out of a need for rest, and I really have no desire to watch 'The Hobbit' one more time," he wrote in one eight-page missive.

He is sharing his faith with fellow inmates. He says a half dozen have joined him in worship and prayer.

"I have the breviary, the priest's breviary. I say that," Faucher said of the book containing the Catholic Church's daily liturgical texts. "Other people have asked me, they've joined me for that. On Sundays, I have mass ... It's technically a 'dry mass' because there isn't the wine."

He was optimistic that he would be released from jail on April 13, when a district judge heard his attorney's argument for reduction in bond. But he wasn't released — and described it as one of the worst days of his life.

"How am I going to deal with the reality that I will be here for at least three more months and then probably here or in prison for the rest of my life," he wrote April 14. "How am I going to deal with all of that spiritually, emotionally, intellectually and in any other ways."

"This is my time to make some major decisions about who I want to be and how I want to live in the future. There was a day not too long ago when I would have dealt with all of this with anger, hatred and a desire for revenge. I cannot, will not, let myself go down that path."

He wrote that he decided to forgive and pray for the prosecutor, the judge and the bishop, who "worked together to keep me in prison."

'He'd have me sit on his lap'

The two men who have come forward to authorities to accuse Faucher of sexual abuse have remained anonymous.

"I have read the anonymous stories (obtained from officials), and they're nonsense," Faucher said. In two interviews, he denied ever sexually abusing anyone.

A Boise mother told the Statesman that her adult son was one of the two men who contacted prosecutors. The former Sacred Heart student initially declined an interview but changed his mind after reading defense attorney Mark Manweiler's comments in court that the decades-later allegations were not credible, and that the men were simply seeking money from the church.

The alleged victim told the Statesman that Faucher repeatedly sexually abused him. The Statesman does not typically name victims of sexual abuse.

Faucher worked at Sacred Heart twice, first as an associate pastor from 1972 to 1975 and later as pastor from 1979 to 1989. The alleged abuse occurred from 1987 to 1989, when the student was in sixth and seventh grades.

His mother said the family was new to town, having moved here in 1986. Her then-10-year-old son — one of four kids — was small for his age and very shy. It took some time for him to make close friends.

The alleged victim told the Statesman that he got called out of class to help Faucher with chores, such as cleaning and dusting the church.

"Usually there was two of us. Sometimes there was just one of us," he recalled in a phone interview from Portland.

After the chore was finished, he said, Faucher would pull him aside to "pray and reflect" in a back room of the church.

"He'd have me sit on his lap. He'd (masturbate), using me instead of his hand ... He rocked back and forth," he said. He described being fondled through his clothes, and also said Faucher put his hand down the back of his pants.

"I felt very uncomfortable. I didn't know what was going on," he said.

He said the abuse occurred even when two or three boys were called out of class because the boys were separated, out of view of each other.

Coming forward

He suspected other classmates were being abused too. When the time came for him to be confirmed in the church — an affirmation of Christian faith — he told his parents he wasn't sure he wanted to do that, though he did go through with it. His mother said she thought he was just being a rebellious teenager.

It was years before he disclosed the alleged abuse to friends, and even longer before he revealed it to family. The Statesman contacted one of the friends he said he told about the abuse, and the friend — a Santa Cruz, California, man — confirmed it.

"I do remember (him) sharing this story of abuse and betrayal. ... I really don't remember the details," the friend said.

The alleged victim's sister said he first told her in 2010, but quickly retreated and declined to talk about it.

"When I pressed the issue the next day, after calling my mom, he did just brush it off as nothing," she said.

He regretted having "blurted it out one night" in a conversation with his sister, as he hoped to protect his loved ones, he said. When they asked him about it again recently, following the charges against Faucher, he admitted the abuse happened.

"I'm in pain knowing that my mother and sister are going through that pain," he said.

"I lost faith and respect for the church," he said. He's in counseling now, hoping "to find some sort of peace."

His mother provided the Statesman with his sixth- and seventh-grade report cards and photos from Sacred Heart. His grades in several subjects dropped from the third to fourth quarter in sixth grade (for example, his reading grade fell from a B- to a D). His teacher was Karen Harr, now a principal at Crossroads Middle School in Meridian.

The Statesman reached out to Harr to find out whether she recalled students being called out of class to do chores with Faucher.

"I have no recollection of that at all. The only thing I can recall is that (students) were called to the office," said Harr, noting that 30 years have dulled her memories of the goings-on and people at Sacred Heart. "I've heard all this on the news (about Faucher) but it's not popping with me."

'This was a setup'

Those who know Faucher expressed their shock and disbelief about the charges in many ways, including sadness over the loss of his reputation as a good and kind minister who helped many people.

"People are going to remember the terrible things he did now, and not the great things," said Henry Krewer, an active octogenarian who taught at Bishop Kelly High School for 20 years and, in 2003, co-founded the homeless day shelter Corpus Christi House.

Krewer got to know Faucher as a parishioner at St. Mary's Catholic Church. That was Faucher's childhood church — and the one at which he was pastor before he retired.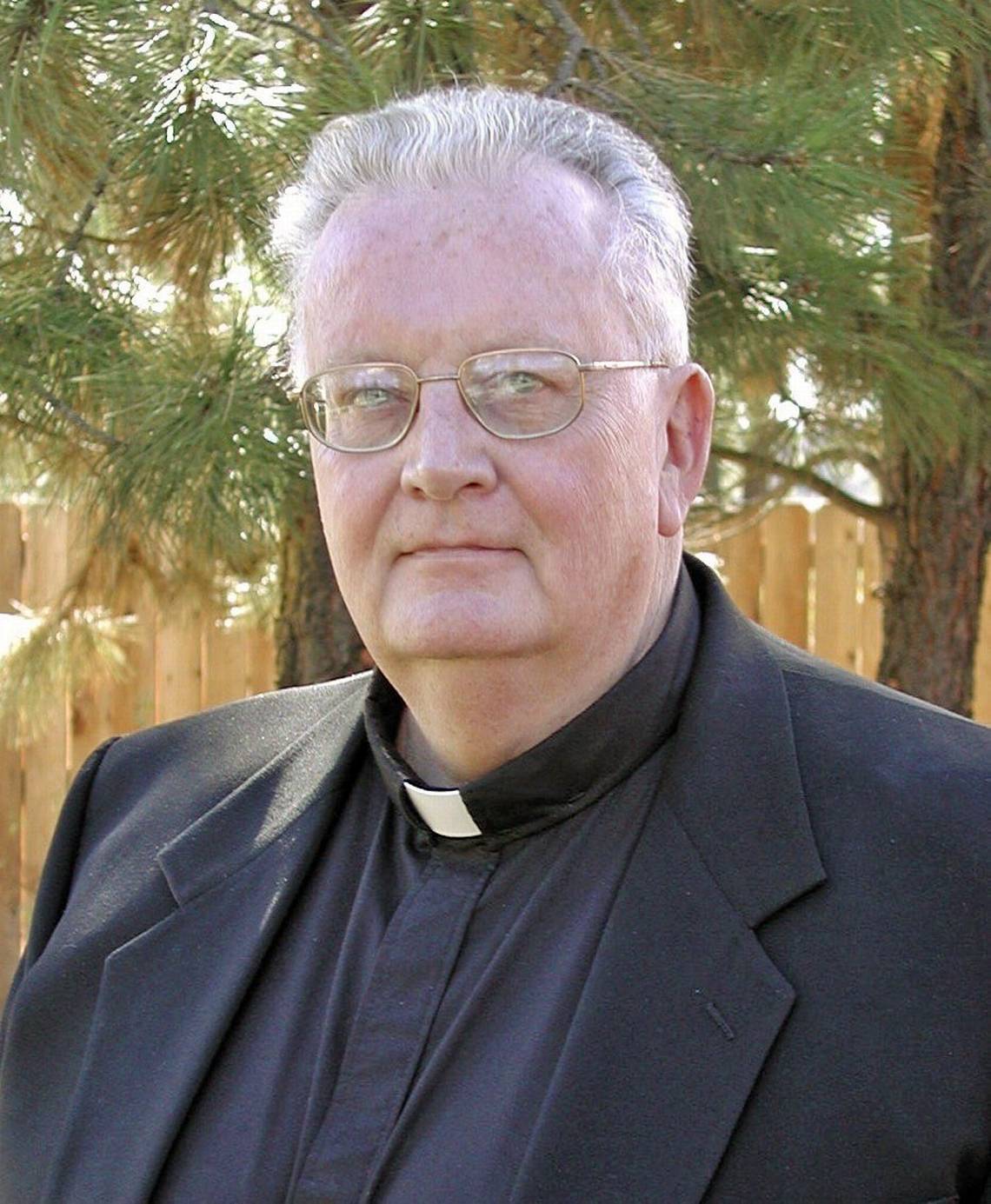 The Rev. W. Thomas Faucher.



"He was a terrific priest, as far as I was concerned. He was a wonderful homilist," said Krewer, impressed by the priest's well-crafted sermons. "As I said to my wife, 'When I die, I'd love to have Tom Faucher do my eulogy.' "

Several others interviewed for this article lamented that Faucher would probably not be able to preside at their funerals.

"I always told him: 'Don't you die before I do,' " recalled Dorothy Gratton, a Sacred Heart Emmett parishioner and mother of five, including David Gratton, now chief judge of the Idaho Court of Appeals.

Some of Faucher's supporters simply don't believe it happened at all.

"This type of (computer) 'hacking' could happen to any of us at any time, but in this case, it has been sensationalized to tarnish the image of all involved, except the real perpetrator ... He would never purposely download these images. This was a setup," Ellsworth wrote to the Statesman.

A jury will decide Faucher's fate in October — unless Faucher takes a plea deal. On Friday, Manweiler told a judge that he was optimistic that an agreement could be reached.

In the meantime, former parishioners are left to wonder: Who is Father Faucher? Did he lose a battle with inner demons amid failing health and the isolation of retirement? Was he living a double life while an active priest?

"The astonishing discoveries made by the police naturally cast a shadow of suspicion backward," Bishop Liam Cary of the Diocese of Baker, Oregon, said in a release after Faucher's arrest. "In an instant, the trust and respect of many years is shattered, and we find ourselves plunged into sorrow and confusion and pain which only God's grace and the passage of time can cure."

But Faucher sounds optimistic that his legacy won't be under a cloud forever.

"When I get out, I'll have at least one or two more chapters after that," he said. "I think in the long run my legacy and reputation will be restored, simply because what I'm being accused of is not me."

He communicates regularly with his two older brothers — Jim in Coeur d'Alene and Dennis, a retired attorney, in Philadelphia — though not in person. The jail allows only attorney and clergy to visit inmates. In an email, Dennis Faucher confirmed that they are supporting him and declined further comment.

What sparked the investigation?

A Diocese of Boise spokesman said there were no allegations of illegal activity of any kind raised against Faucher prior to his arrest in February. The Statesman filed nine public record requests with law enforcement agencies in places where Faucher lived or visited frequently and found no evidence that he was ever arrested or investigated.

It was a tip from the National Center for Missing and Exploited Children that led the Idaho Attorney General's Office to investigate Faucher. It's unclear how long officials monitored Faucher's activities online before showing up at his door in February.

Manweiler said in court that at least one of the online chatroom conversations was "role playing," with Faucher talking to another author in Brazil.

"They discussed all kinds of fantastic scenarios, like two murder novelists talking — only the issue is child abuse," Manweiler said at a court hearing in April.

Faucher is alleged to have shared three images depicting sexual exploitation of children — the first on or about Nov. 1, 2017 and the second two on or about Jan. 17, 2018, and Feb. 2, 2018, the day he was arrested, according to the amended criminal complaint filed by the Ada County Prosecutor's Office. Those account for three of the 24 charges against Faucher.

Ada County Deputy Prosecutor Kassandra Slaven said in court that Faucher has a "very sophisticated knowledge" of exchanging and viewing child pornography.

Out of more than 2,000 images and videos found on Faucher's devices, prosecutors selected 21 to charge him. The complaint describes them in sickening detail:

In one video, a 4- to 6-year-old child "yells out in pain and starts crying" as he's being raped by a "post-pubescent male," the criminal complaint says.

In another video, two boys who are 10 to 15 years old and wearing hockey masks sexually abuse and pour hot wax on a 10- to 15-year-old girl, who is shackled at the ankles and later subdued with leather handcuffs.

There was also video that depicted bestiality.

Independent, dedicated priest

In a video celebrating Faucher's 40 years in the priesthood, the narrator briefly describes an idyllic Boise childhood, including trips he took to his grandparents' farm in Washington and Disneyland in California two weeks after it opened.

He was the youngest of three sons of Florence and Bernard Faucher, who owned Royal Tire & Battery.

At 13, he left home to go to Mountain Angel Seminary in Oregon. He studied there through his second year of college, then finished his degree at Saint Thomas The Apostle Seminary in Seattle. After completing graduate school at Catholic University, he was ordained in 1971.

He spent most of his priesthood at Idaho churches. But he also pastored a church in Sisters, Oregon, for six years and did shorter stints at churches in Wales and Scotland. He was a student and instructor at a sabbatical center in England.

He is described by those who know him as intelligent, and sometimes arrogant.

"If he meets you, he will be very gracious," said Jim Sowell, brother of Statesman reporter John Sowell, both of whom were altar boys for Faucher at Sacred Heart Emmett. "If you challenge him on a point of theology, he will rip you a new one."

Faucher has six academic degrees in philosophy, theology and canon law. He's an expert in liturgy, or Catholic worship, and has served on several national church committees.

The Diocese of Baker needed a canon lawyer in the late 1990s. They sponsored Faucher's schooling at Catholic University in Washington, D.C., in exchange for him working in Oregon from 1996 to 2002.

"I released him to do that work for Bishop Connelly," said former Diocese of Boise Bishop Tod Brown in a phone interview from Orange County, California. "(Canon lawyers) do a lot of church annulments, advising the bishops, dealing with aspects of canon law. It's a multitask job."

Brown described Faucher as a gifted person and dedicated priest.

"He was very independent, and we weren't always in agreement," Brown said. "We weren't always on the same wavelength."

Faucher was a prolific writer, publishing six books. They included "Describing Color to the Blind: A Novel to Stir the Soul," which had a main character who was repeatedly sexually abused. He also wrote columns on faith, politics and a variety of timely topics for the Statesman, Bend Bulletin, Idaho Catholic Register and the U.S. Catholic Conference of Bishops news service.

He was a progressive priest who spoke out against the death penalty, advocated for immigrants and highlighted the contributions of women in the church.

He drew fire for a 2006 column in the Statesman that criticized Idaho lawmakers' efforts to block same-sex unions through a constitutional amendment to define marriage, calling it an "anti-gay movement."

"The gay lifestyle is criticized for its lack of structure, its promiscuity, its disregard for convention. But society has worked very hard to deny homosexual people opportunity to have structure," Faucher wrote.

In 2010, in response to the church sex abuse scandal, he wrote in a column that many American bishops "should have been retired" a decade earlier for "terrible errors in administrative judgment." He also called for Pope Benedict to step down.

"He is much too old to lead the church through this mess," Faucher wrote.

Two days later, then-Boise Bishop Michael Driscoll published a response in the Statesman.

"Father Faucher is free to express his own personal opinions, but they certainly do not reflect my opinion as bishop of Boise," Driscoll wrote.

Driscoll died of natural causes in October 2017, at the age of 78. In Faucher's jail newsletter, he blamed the late bishop for being in jail.

"It was Bishop Driscoll's evil actions that helped get me here in jail and my hatred of him and anger," Faucher wrote. "I cannot go down that path again with Bishop Christensen and Monsignor Joe da Silva."

Asked to elaborate on that, Faucher said, "I feel he chose to treat me unfairly, all during his time as bishop." He declined to say anything further.

Support for a struggling teen

Between his two stints at Sacred Heart Church in Boise, Faucher served as priest at Sacred Heart Emmett.

"He was never inappropriate at all," said David Foruria, who was an altar boy in the mid-1970s.

He remembers Faucher as kind and caring, showing extra concern for the well-being of a disabled child in the community. When Foruria was in a car crash at 19, the priest came with Foruria's parents to the hospital ICU and accompanied him to his best friend's funeral.

"This has blown me away," he said of Faucher's sudden fall from grace. "I just can't believe it."

Jim Sowell was also an altar boy at that time.

"Father Faucher had a very serious view of the liturgy and mass. He was always way more detail-oriented and expected way more perfection than previous priests had," Sowell recalled.

Altar boys help priests during worship in many ways, carrying the Bible, candles, cross, water and wine as part of church rituals. As a senior altar boy, Sowell helped Faucher with masses throughout the week, including weddings and funerals.

"There would be weeks where I would serve 10 masses with Father Faucher," he said.

He recalled one month when he helped Faucher clean out the "scary unfinished basement" of the church to prepare it for renovations. He said the priest never did or said anything inappropriate.

They often talked theology and church politics. Faucher was preparing him for the priesthood, in case he got "the call" to serve.

It was a hard time for Sowell. His parents had split, and his father was gone.

"I would not be alive today if he had not been my priest in those years. I was depressed and suicidal. He made me a challenge about committing suicide," Sowell said.

"This is not the man I knew. I have very strong feelings on this subject. I do not believe in mercy for a child molester. It's impossible to know the heart of another person. All I can attest to is what I know."

'It never crossed our minds'

When the police cars appeared outside Faucher's house on Feb. 2, his neighbors had no idea what was happening.

He retired in 2015 and was rarely seen by neighbors long before that. He had lived in the diocese-owned house for about 15 years, renting it since his retirement.

"It was a lot of commotion," recalled Tom Bassista. "Our neighbors started chit-chatting — maybe he's sick? It never crossed our minds that he would be arrested."

When they found out why, neighbors pressed the diocese to evict him.

The diocese served him with an eviction notice on Feb. 13. Faucher failed to have his belongings removed by the 60-day deadline, so the diocese filed a complaint with the court on April 16.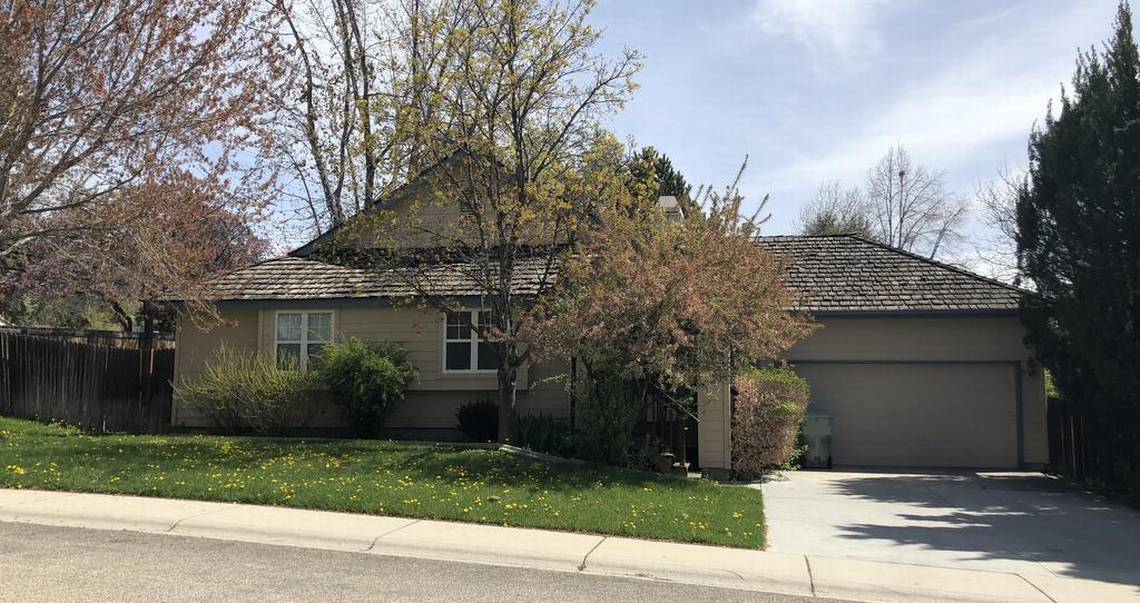 Retired priest W. Thomas Faucher was served with an eviction notice on Feb. 13 to leave a home he leases from the Roman Catholic Diocese of Boise.



Faucher challenged the eviction in Catholic Church court, while having supporters clear his belongings out of the house. The keys have been turned over to the diocese.

Though horrified by these allegations, many continue to pray for him.

"We would never condone anyone's actions if they were abusing children," Gratton said. "But it doesn't mean we don't love the person we knew. I say my rosary every morning, and I pray for him every morning. I pray for his soul. I pray for him to get through this.

'Good art takes us to the Spirit'

One of Faucher's undisputed legacies will be as a church renovator, expanding and beautifying sacred spaces. He managed renovations at most of the churches he pastored and found donors to support original artwork.

"Good always triumphs over evil, and good art takes us to the Spirit," Faucher told a Statesman reporter in 2008, as schoolchildren got a first glimpse of the impressive new hand-carved wood doors at St. Mary's in Boise.

J. Chester "Skip" Armstrong, the Oregon wood sculptor who made those doors, said Faucher first enlisted him to carve 45 busts for a Sisters church project. Each statue represented a patron saint of the parishes of the Diocese of Baker, and the busts were carved into log pillars of the church.

"So the saints were symbolically and literally holding up the church," Armstrong said. "It was a great concept."

After he returned to Boise, Faucher tapped Armstrong to make the large church doors and musical roof angels at Saint Mary's. He recalled the priest's pitch at his workshop in Oregon.

"He sat down on a log and asked for his Bible — a big, big Bible. I had never seen a Bible as big as that one," Armstrong said. "He proceeded to open it to Revelations 12 and started reading."

It was about a battle of good versus evil: Saint Michael trying to slay a seven-headed dragon.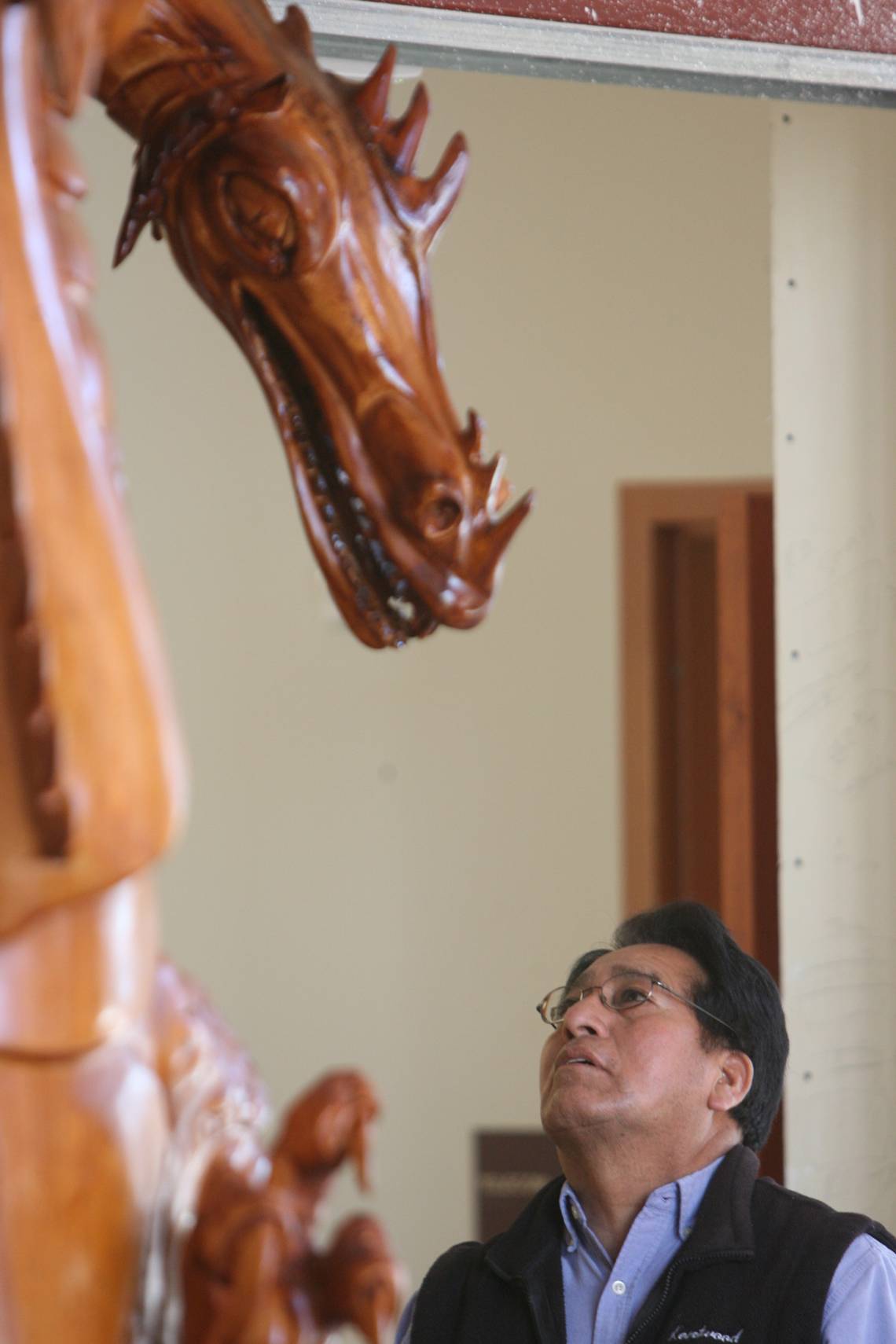 Albert studies a dragon on the side of the door that depicts Ch. 12 of the Book of Revelations.