Parents of Blue Earth football beating victim describe toll on family
By John Reinan
Star-Tribune
June 4, 2018

http://www.startribune.com/teen-pleads-guilty-to-sex-charge-in-blue-earth-football-beating/484477121/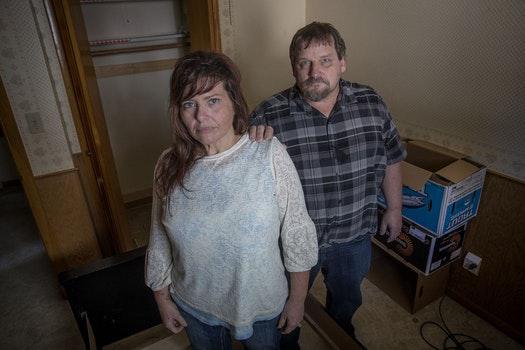 Tonya Hurley and her husband Dale Hurley took a break from packing their belongings for an upcoming move after they attended the first plea hearing of Dalton Nagel at the Martin County Courthouse, Monday, June 4, 2018 in Fairmont, MN. "Our son has to live with this the rest of his life, " cried Tonya Hurley as she spoke about her son, the Blue Earth football player who was brutally beaten last year.
Only a year ago, Tonya and Dale Hurley thought they had found a home for life in this southern Minnesota community of 3,400.
But that was before four of their son's high school football teammates allegedly beat him so brutally at a house party last fall that he lost consciousness.
Now, the Hurley home is for sale. Tonya and Dale Hurley have quit their jobs, and their 16-year-old son left school because of bullying. As the family packs a rental truck this week for a move to Nebraska, the couple's marriage is in tatters, too.
"I've been depressed. Sometimes I sit here and I feel like I've just been in a fog," Tonya Hurley said Monday, weeping as she described the fallout from the Oct. 18 assault that left her son with concussions.
On Monday, the first of the teammates charged in the case admitted his guilt.
Dalton Nagel, 18, one of four teens charged with felonies in the case, pleaded guilty in Martin County District Court to aiding and abetting assault in the third degree and fifth-degree criminal sexual conduct. Nagel testified that he and three teammates had been drinking when he held the Hurley boy down while the others punched him into unconsciousness.
Nagel testified that the other players hit the Hurley boy because he was loud and they were afraid he'd wake up the parents at the home where the party was being held. Nagel also admitted that he dropped his pants and rubbed his genitals on the boy's face while he was unconscious.
Nagel said that at least one of his teammates filmed the attack on a cellphone. Court documents revealed that the alleged assailants showed the video at school to other teammates and students — and also to the victim.
Nagel said little throughout the 20-minute hearing, answering "yes" or "no" to questions from Assistant Faribault County Attorney LaMar Piper as his parents watched from the gallery.
The other players charged in the assault are awaiting trial.
After Monday's plea hearing, Dale Hurley stepped outside onto the courthouse steps and took deep gulps of air, trying to control his anger.
"I had so many emotions," he said after listening to Nagel's plea. "People tried to make us out as liars. Now it's been admitted and nobody can pretend it didn't happen."
Attack shocked Blue Earth
In the days and weeks after the attack, which shocked many in Blue Earth, some residents and former students stepped forward with tales of their own about ongoing bullying at the school. The incident prompted the school board to organize a community task force to address bullying in the district.
Adding to the uproar, the alleged assailants weren't immediately disciplined after the incident and were allowed to play in the team's two state playoff games. Eventually, they were suspended from school for 10 days and barred from playing sports.
In the months after, the Hurleys say they were harassed by other residents who supported the youths, some of whom come from prominent families in town.
"We've been harassed the whole time, right up to this court hearing," Tonya Hurley said. "Honestly, I don't even like leaving my house.
"Our friends were saying, 'Do you know who you're messing with?' "
The beating took place at a party held at the home of Dale Hurley's boss, a supervisor at a local youth treatment center, where Dale Hurley worked as a counseling assistant. It made things "very uncomfortable" at work, Dale Hurley said, and he left his job in February and moved to Nebraska, where his son had gone a month earlier to enroll in school in a city where the family has relatives.
Dale Hurley has since found another job in his field, he said.
'I felt left behind'
Tonya Hurley, meanwhile, stayed back in Blue Earth, working an overnight shift as a caregiver at a home for adults with developmental disabilities. She took a leave of absence from her other job as a paraprofessional in the Blue Earth schools, but now has left both jobs and is uncertain whether she'll find work in their new home.
"It's been really hard," she said, dabbing at tears. "I haven't ever been away from my son for more than a week, and now I've been away from him for four months. Worrying about him starting at a new school and making new friends.
"I never missed a parent-teacher conference. Now I missed his first prom."
During their time apart, Dale and Tonya Hurley say, a gulf grew between them.
"No marriage is perfect," Dale Hurley said. "We had our struggles." But the incident hurt their relationship. Tonya Hurley didn't want their son to go to the party in the first place. Dale Hurley said it would be all right. He figured, what could go wrong at his boss' house?
"She works at a treatment center!" Tonya Hurley exclaimed. "Never in a million years did I think he would go there and drink."
Dale and Tonya Hurley say they can't afford two separate residences, so they will live together in Nebraska. But it will feel more like they are roommates than husband and wife, Dale Hurley said.
"Dale and I get along well," Tonya Hurley said. "Hopefully we can mend things. But I felt left out and I felt left behind."
'Stomach was churning'
Meanwhile, their son, who was the starting center on the Blue Earth team as a sophomore, may never play football again, Tonya Hurley said. He suffered primary and secondary concussions in the attack.
"He finally found his niche," she said of his playing days. "He found something he was good at. But if he gets one more concussion, it could have lasting effects."
While the Hurleys remain angry and bitter, after Monday they also have a sense that the end of their struggle is in sight, they say. They plan to return to Minnesota for the remaining trials and possible sentencings. Nagel is scheduled to be sentenced July 9.
Still, it won't be easy.
"To sit and listen to [Nagel] today, my stomach was churning," Tonya Hurley said. "I thought I might throw up.
"As a mother, I don't know what justice would be."
Contact: john.reinan@startribune.com