184 Claims of Guam Clergy Abuse Moving toward Mediation
By Haidee V. Eugenio
Pacific Daily News
June 5, 2018

https://www.guampdn.com/story/news/2018/06/05/184-claims-guam-clergy-abuse-moving-toward-mediation/668257002/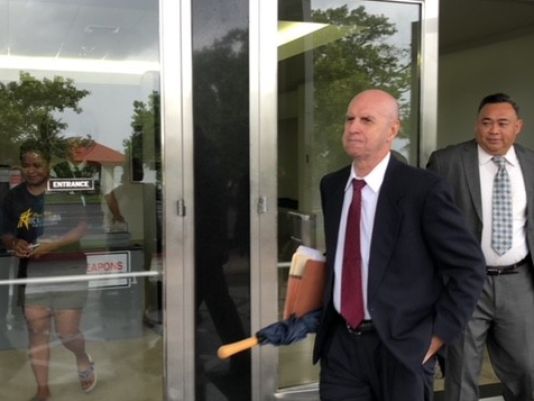 Attorney Michael Berman, left, counsel for nearly three dozen plaintiffs in clergy sex abuse cases, and Attorney Vincent Camacho, right, representing the Capuchin Franciscans, exit the U.S. District Court building Tuesday morning after a joint hearing on the status of 174 clergy sex abuse cases along with 10 abuse claims that don't involve lawsuits.



One hundred eighty-four people said they were sexually abused by members of Guam's Catholic clergy or others associated with the church, but 10 of them decided not to sue, attorneys said at Tuesday's court hearing on the status of efforts to settle the cases through mediation.

Mediation is set for Sept. 17 to 21, which is two days longer than initially anticipated.

Seattle-based attorney Michael Patterson, counsel for the Archdiocese of Agana, told judges 142 sworn statements have so far been gathered from the 174 who filed clergy sex abuse lawsuits.

The deposition-like interviews with plaintiffs on Guam, Hawaii and other states are for case review and claims evaluation. They could wrap up by the middle of July.

U.S. District Court of Guam Chief Judge Frances Tydingco-Gatewood, along with Superior Court Judge Michael Bordallo, said 116 cases have been filed in federal court and 58 in local court, for a total of 174 cases.

In addition to the 174 clergy sex abuse lawsuits, there are 10 other people who have come forward, are receiving counseling from Hope and Healing Guam, and are not suing the archdiocese, for a total of 184 alleged victims.

No estimate amount yet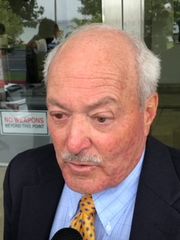 Seattle-based Attorney Michael Patterson, representing the Archdiocese of Agana, talks to reporters after Tuesday morning's joint hearing in federal court on the status of 174 clergy sex abuse cases plus 10 claims that don't involve lawsuits. (Photo: Haidee Eugenio/PDN)



Patterson said there is no estimated dollar amount for the anticipated settlement because review and claims evaluations are ongoing.

The Archdiocese of Agana in 2016 established an aid fund, with $1 million in seed money, to help clergy abuse victims. It announced it would place 41 non-essential church assets up for sale when needed, in addition to insurance money, to help settle the cases.

The assets include the Chancery and the archbishop's official residence as well as the former Accion Hotel and former Redemptoris Mater Seminary in Yona.

"The church is not looking to put up property at this particular point in time until such time as we determine what the values of these cases are and what they can be settled for," Patterson said after the hearing.

A suggestion was made to have a "pre-mediation mediation" because of a difference of opinion "as to what is covered, what isn't covered" by insurance, Patterson said.

The mediator for the Guam cases is Antonio Piazza of the San Francisco-based Mediated Negotiations.

Last week, in what's believed to be the second biggest settlement of its kind, the Archdiocese of St. Paul and Minneapolis in Minnesota said it plans to establish a $210 million trust fund for 450 clergy sex abuse survivors.

Ex-Capuchin brother: Lawyers turned me down

Vernon T. Kamiaz, a former Capuchin brother accused of sexual abuse, who is now a central office employee of the Guam Department of Education, personally told the court that the attorneys he reached out to turned down his request to represent him in the three abuse cases filed against him.

"I'm lost. I don't know what to do," Kamiaz told Tydingco-Gatewood and Superior Court of Guam Judge Michael Bordallo. "I feel like I'm hanging myself."

Kamiaz said of the approximately 10 lawyers he talked to, only two actually sat down with him to discuss his cases, but also turned him down.

Attorney Jacqueline Terlaje, counsel for former Archbishop Anthony S. Apuron, told the court that Kamiaz could get in touch with the Guam Bar Association for an attorney referral service. Terlaje is president of the Guam Bar Association.

The archdiocese cannot represent Kamiaz, who is a former Simon Sanchez High School science teacher.

"There's allegations that he engaged in misconduct, and that would be a conflict of interest for us to represent him in that context," Patterson said.

The three plaintiffs who accused Kamiaz of sexually abusing them attended religious classes at the Agana Heights Parish when they were minors, and Kamiaz was their teacher. Kamiaz said he will continue to represent himself in the cases until he finds a lawyer.

Patterson and Guam-based attorney for the archdiocese, John Terlaje, were joined by about a dozen attorneys for plaintiffs and defendants at the Tuesday morning hearing and some participated by phone.

Among those present in court were plaintiffs' attorneys David Lujan, Michael Berman, Anthony Perez and Kevin Fowler, along with Seattle-based Steven Reich, on the phone.

On the defendants' side, among lawyers present in court and on the phone were Samuel Tekker and Indiana-based Richard Nussbaum representing the Congregation of the Holy Cross; Duncan McCully, representing the Sisters of Mercy; and Vincent Camacho, representing the Capuchin Franciscans.

'We've made significant progress'

Patterson told the court the pre-mediation process is "on track" and he expects all parties to sign off on the proposed mediation protocol by next week.

"We've made significant progress," Patterson said.

The amendments to the proposed protocol are not substantive, Patterson said.

The Capuchins, for example, wanted a minor amendment to the proposed protocol regarding who they could share information with, Patterson said.

There are two separate pre-mediation processes ongoing - one involving 10 plaintiffs represented by Perez and the other involving the plaintiffs represented by three other law firms.

Patterson said he's very confident about a settlement because of the archdiocese's correct preparation and the support of Archbishop Michael Jude Byrnes.

"And I have to thank certainly all the attorneys, the archbishop for standing behind us and obviously saying that the better way to approach this is through mediation as opposed to litigation," he said.

The next joint status hearing is set for Aug. 14 at 8:30 a.m. in federal court.