Church destroys headstone of Sussex accused priest
BBC News
June 5, 2018

https://www.bbc.com/news/uk-england-44370535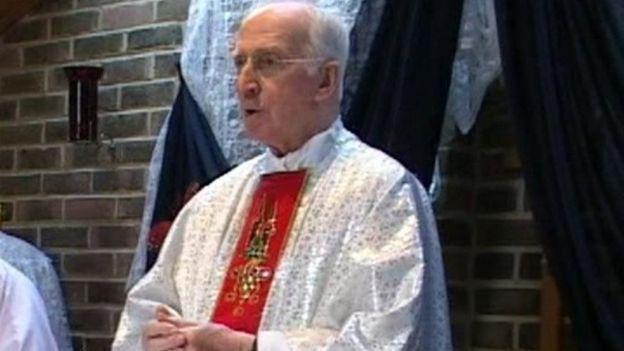 Allegations about Canon Dermod Fogarty were put to the Church before his death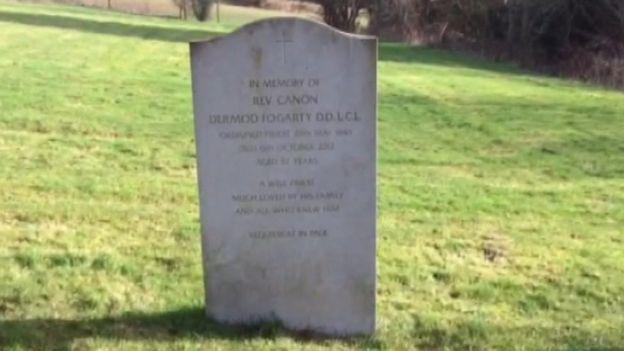 The headstone read: "A wise priest much loved by his family and all who knew him."


[with video]



The gravestone of a senior Roman Catholic priest has been destroyed following allegations he abused a boy.

Canon Dermod Fogarty, who died in 2012, is accused by Stephen Bernard in a book written by the Oxford academic.

Dr Bernard says the four years of abuse started in 1987 when he was 11 years old.

Deirdre McCormack, the canon's next of kin, called for the stone's removal as she felt the epitaph to a "much-loved, wise priest" was a "blatant lie".

The Church agreed to remove the stone following a meeting with Ms McCormack and in a statement said it would replace it with a simple headstone.

Ms McCormack arranged for the destruction of the headstone to be filmed and asked for it to be broadcast.

In the video, a man can be seen smashing the headstone into pieces before others join him to help clear up the debris.

The former Macmillan nurse said she had survived abuse by another priest and wanted to help Mr Bernard move on with his life.

The headstone read: "A wise priest much loved by his family and all who knew him."

Ms McCormack had chosen the words on the headstone herself, but said she could no longer live with it.

In his memoir, Dr Bernard claims he suffered 300 separate sexual attacks until the abuse ended in 1991.

Dr Bernard has declined to give a further interview to the BBC.

Canon Fogarty worked in the Arundel and Brighton diocese for 67 years.

His funeral was attended by senior figures, including the then head of the Roman Catholic Church in England and Wales, Cardinal Cormac Murphy O'Connor.

In a statement the Church said that following a meeting with Ms McCormack, it was agreed that the current headstone in the private cemetery of St John's Seminary, Wonersh, near Guildford, Surrey, would be removed as requested.

It added: "The headstone was removed in the presence of Mrs McCormack on Thursday 24 May. The destroyed headstone will be replaced with a simple headstone."

It said the diocese first received Dr Bernard's allegations on 6 September 2012 - before Canon Fogarty died - but it insists safeguarding procedures were followed.

It added: "At this time Dr Bernard did not report this matter to the police or give permission for the information to be passed on to to any third parties.

"The diocese was also aware that Dr Bernard reported his complaint to the police in 2015 and the diocese is committed to cooperation with the statutory agencies."