'Pay for your sins': Jacqui Lambie takes aim at Catholic Church abuse
Starts at 60
June 5, 2018

https://startsat60.com/entertainment/tv-movies/q-and-a-jacqui-lambie-suck-it-up-catholic-church-video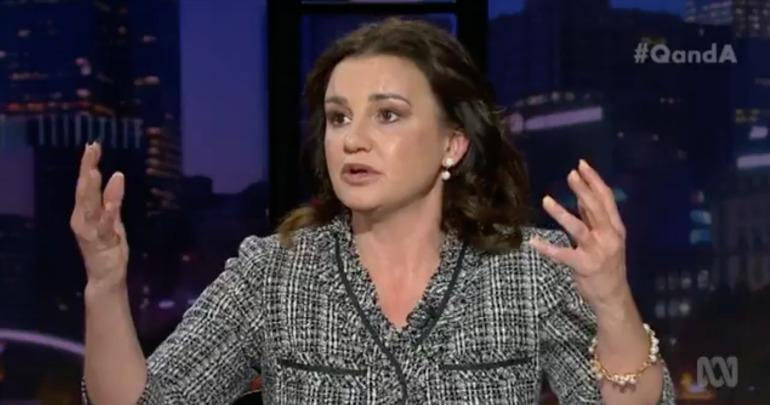 Jacqui Lambie took aim at the Catholic Church on Monday's episode of 'Q&A'.


[with video]



She's always one to speak her mind and former Tasmanian Senator Jacqui Lambie didn't hold back on Monday night's episode of Q&A.

During a heated discussion about the Catholic Church and the National Redress Scheme, the 47-year-old called for the Catholic Church to "pay for its sins" in relation to compensating victims of sexual abuse within the institution.

Lambie became fired up after an audience member questioned why there was a big difference between the amount of compensation available to victims of family abuse and general crime, compared to that offered to people who had been abused at the hands of an institution. At present, victims of crime can access up to $10,000 in compensation, while people abused within the institution can be granted up to $150,000.

Lambie first responded by noting compensation for veterans who had been abused is capped at $50,000.

"That's the same with the veterans," she told the audience member.

"There is inequality going on here," she said. "Somebody needs to set the standard amount for any sort of abuse that's going on." She then vented her frustration at the Catholic Church.

"As for the institutions, I can tell you what, it's taken them long enough to come up and first of all their apology was way too long and they just sat there as if nothing was happening," she snapped. "Then they're still out there crying because they have to sell some of their churches up or whatever. Well you know what? Suck it up."

The politician wasn't done there, noting the church was to blame for the way abuse victims feel.

"It was your fault these people are living in the nightmares they're living," she continued. "If it means you have to sell some of that property off, then you have to, because you have to pay for your sins. Someone please tell the Catholic Church that."

Her comments were met with cheers and claps from the live studio audience, while viewers at home praised her on Twitter.

"Jacqui Lambie teaching the Catholic Church about sin has made my Monday," one viewer wrote.

Another added: "The Catholic Church is the richest, most propertied organization in the history of mankind. They need to PAY UP".

A third comment read: "The compensation cap is disgusting. Yes, sell all of their churches and give the money to abuse survivors".

Meanwhile, Writer and panellist Rosie Waterland, who had been abused in foster care, said she didn't think enough was being done to protect children.

"Abuse of children is abuse of children," she said. "I don't think we do enough to handle it across the board, whether it be privately at home or in institutions.

"I think the Redress Scheme is a good step forward. What worries me, though, is we're not doing enough to prevent this from happening in the first place."

Last week, the Anglican Church, Scouts, YMCA and Salvation Army all joined the National Redress Scheme, aimed at providing support to people who were sexually abused as children while in the care of an institution.

The Catholic Church is estimated to be liable for around $1 billion in compensation. The scheme is expected to start on 1 July 2018, subject to it passing the Senate, and will run for 10 years.