Anger and Tears As "Magdalene Sisters" Hold Historic Reunion
By Julien Lagache
Agence France-Presse via Jakarta Post
June 7, 2018

http://www.thejakartapost.com/news/2018/06/07/anger-and-tears-as-magdalene-sisters-hold-historic-reunion.html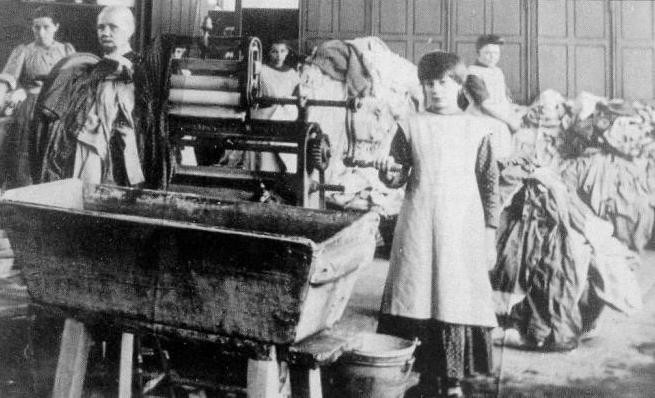 Unidentified Magdalene Laundry in Ireland, early 20th century. (Wikimedia Commons/-)



Scores of women forced to work in "Magdalene Laundries" -- Irish penitentiary work-houses run by the Catholic Church -- gathered for the first time in Dublin this week for an emotional reunion.

The "Magdalene Sisters" -- the title of an award-winning film about this dark chapter in Irish history -- shared stories about their internment and voiced anger at belated official apologies.

Teresa O'Connor, one of 200 survivors of the work-houses for "fallen women" which only closed in 1996, told AFP she was overwhelmed at meeting so many others who shared her suffering.

"It's too much. I can't believe it," she said.

"They turned us into child slaves to be honest," said O'Connor, who was sent to a Magdalene Laundry as a child.

The 67-year-old, who came to Dublin from County Offaly in the centre of Ireland, said she "cried night and day" when she was there.

The survivors were meeting Irish President Michael Higgins, who presented his official apology after the government earlier this week announced it would expand its compensation scheme.

Clutching O'Connor's hand was Beckie Buckley, who lived in a Magdalene Laundry between the ages of 11 and 15.

"They were cruel," she said, holding back tears.

"I'll never forgive them... never in my life," she said.

"It was bad, it was hard," Buckley said, adding that without the family she formed in later life she would not have survived.

She said she was hoping to meet other survivors at the meeting in Dublin but "I never want to see another nun".

The Catholic Church has lost a lot of the status it once occupied in traditionally Catholic Ireland, mainly due to a series of child abuse scandals in recent years.

The Catholic congregations that managed the laundries issued an apology in 2013 but many are still angry at the effective imprisonment of some 10,000 women in the Laundries, many of them young mothers, orphans, rape victims or prostitutes.

- 'Never had anything beautiful' -

Rosanna Murphy, who lived 16 years of her life in a Magdalene institution, said the authorities were finally listening.

"When we tried to say something at the beginning no one listened to us. Now they're listening," the 70-year-old said.

The government launched a compensation scheme in 2013 that has paid out over 26 million euros ($31 million) to 692 applicants since it was launched.

But Buckley said the money came "too late for us".

The historic meeting also gave survivors of the Magdalene Laundries a chance to present proposals for how to document their history.

Samantha Long said she wanted a museum and a garden to be set up on the site of the Dublin institution where her mother was interned.

Long, who was adopted in 1972 shortly after her birth, showed a picture of herself with her twin sister, from whom she was separated, with their biological mother when they were finally reunited in 1995.

"She was basically a slave all her life," Long said of her mother.

Now the site where she lived could be sold off to a hotel chain by Dublin's local authority.

"My hope is that a good portion of the site will be kept for a small museum and possibly a beautiful garden for the women because they never had anything beautiful there before," Long said.

"The generation coming after me has a great opportunity to never let those dark secrets happen again".