For Nassar survivors, the agonizing search for answers and accountability continues
By Lindsay Gibbs
Think Progress
June 11, 2018

https://thinkprogress.org/nassar-survivors-search-for-answers-and-accountability-cc154ca8cd7b/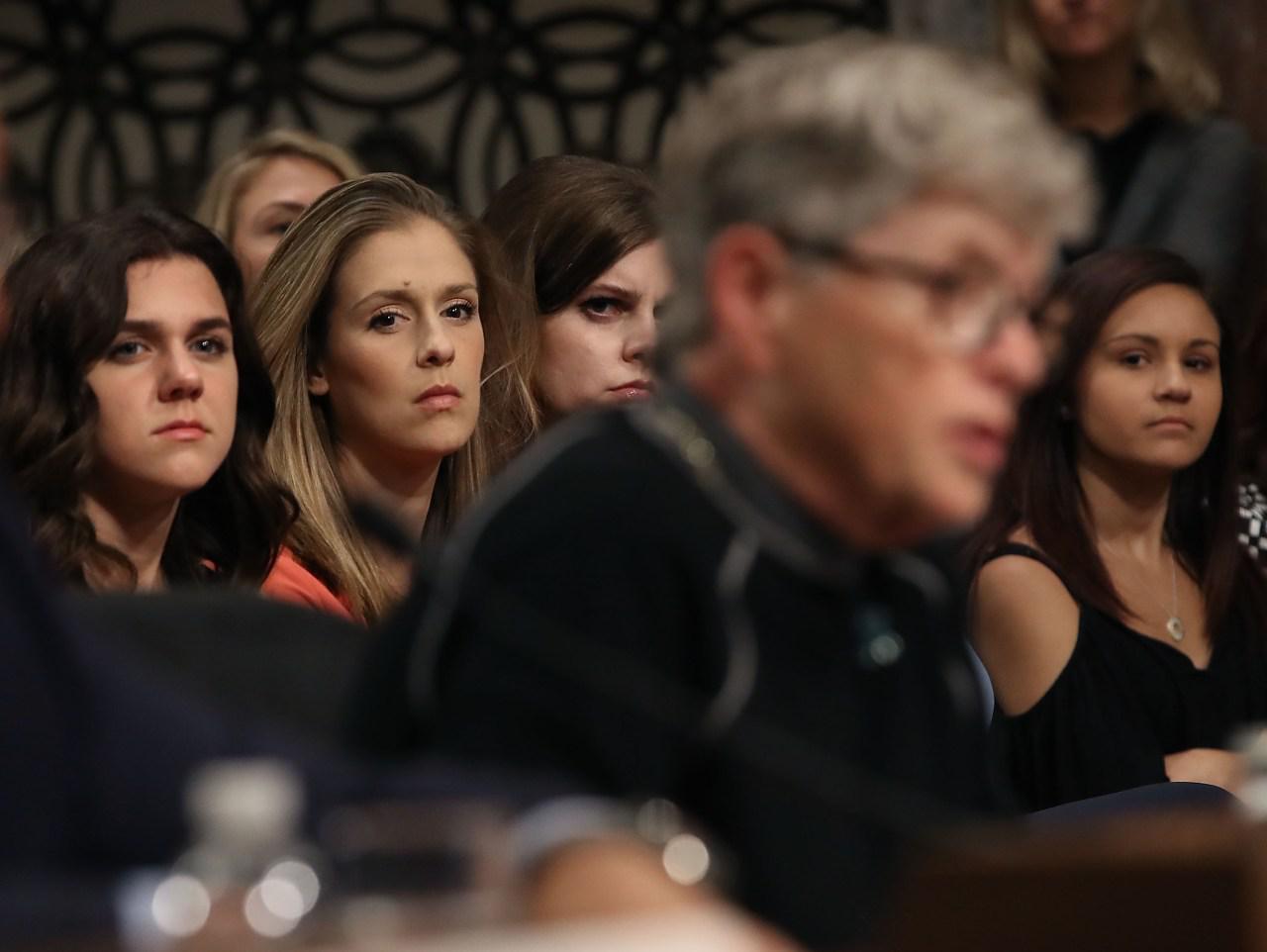 WASHINGTON, DC - JUNE 05: Young athletes watch as Lou Anna Simon, former president of Michigan State University, testifies during a Senate Commerce, Science and Transportation Committee hearing, on June 5, 2018 in Washington, DC. The hearing focused on preventing abuse in Olympic and amateur athletes and ensuring a safe and secure environment for athletes.
Photo by Mark Wilson
They're in it for the long haul, but at least they're in it together.
Last Tuesday afternoon, seven of the more than 330 women who were sexually assaulted by former Michigan State and USA Gymnastics (USAG) doctor Larry Nassar — now known as Inmate Nassar — sat in the front row of a cavernous hearing room in the Dirksen Senate Office Building in Washington, D.C., waiting to hear what former USA Gymnastics President and CEO Steve Penny had to say for himself.
Penny, who was appearing in front of the Senate Commerce Subcomittee under subpoena, led USAG during the largest sex abuse scandal in U.S. sports history. During his tenure, he filed complaints of sexual abuse away in his desk; waited five weeks to report credible allegations of sexual abuse against Nassar to the FBI; and allowed Nassar to publicly portray his departure from USA Gymnastics as a voluntary retirement, rather than a firing due to sexual abuse. Under outside pressure, Penny resigned from his position over a year ago — $1 million severance package in tow — and hadn't been heard from since.
As you might imagine, the survivors had plenty of questions, as did the senators. But, instead of being forthcoming, Penny plead the fifth. Over and over again, until the senators dismissed him.
That Penny pursued this tactic wasn't necessarily surprising. After all, none of his actions over the past two years have suggested he is concerned about anything other than his own reputation. Nevertheless, it was difficult for survivors like 18-year-old survivor Kaylee Lorincz, to hear Penny — who led the organization that they had given so much of their hearts, souls, and bodies to for so many years — demonstrate under oath that he cared more about his name than he did about their safety. Lorincz was left in tears. And she wasn't the only one overcome with emotion.
"I sat there for the first time of him pleading the fifth, and the second time I had to remove myself," Jeanette Antolin, a former Team USA gymnast who was abused by Nassar at the infamous Karolyi Ranch as well as national and international training centers organized by USAG, told ThinkProgress.
The existence of the hearing itself was a triumph for the survivors. United States Senators — leaders of the body that give the U.S. Olympic Committee its power — had listened to them, and were taking action. But the hearing itself was another reminder of how much distance remains to cover. Penny wasn't the only disappointing witness at this hearing. Former MSU president Lou Anna Simon and former USAG vice president Rhonda Faehn were present too, and while both of them actually answered questions, they took no responsibility for their role in Nassar's abuse. The survivors have given up so much of their lives to fight this fight, and there is no end in sight.
"We came here hoping to get some glimmer of an explanation, a sense of who knew what, when, but we didn't get that at all," said Sarah Klein, the first known gymnast to be abused by Nassar, back in the early 1990s
"This war we've been in these last two years, all we ever wanted was some accounting for how this could occur, and we did not get that today."
What did happen at the hearing
While Penny's presence at the hearing was hardly satisfying to those in attendance, it was, at least, partially revealing, as it gave Senators a chance to read some of the evidence that's been uncovered in their investigation into the record — including evidence that has not been publicly disclosed before.
In particular, Sen. Richard Blumenthal (D-CT) read from two emails from Steve Penny — one dated 2013, the other 2014 — that referenced concerns he had about Nassar. In one, Penny wrote, "If Nassar is our gatekeeper, then we're in trouble."
Simon's continued defense of MSU's botched Title IX investigation against Nassar was enlightening in its obtuseness, and while Faehn was not willing to take any personal responsibility in the matter, she did bring receipts that showed how culpable Penny was.
Faehn started working with USAG in May 2015, just 37 days before the coach of gymnast Maggie Nichols reported to her that Nassar was assaulting Nichols during treatment. Faehn immediately reported this to Penny, who proceeded to drag his feet — hiring a private workplace sexual harassment investigator to look into the situation, and waiting five weeks to report the complaint to the FBI.
E-mails provided by Faehn showed that 15 USAG officials were aware about Nassar's abuse while he was still employed at MSU, abusing patients — some of whom in the audience that day.
In e-mails, Penny repeatedly told Faehn to stay quiet about the abuse, ostensibly out of a concern that it might impede the FBI's investigation. But other emails demonstrated that, prior to going to the FBI, Penny had a number of interactions with Nassar about the allegations he was facing. Faehn argued that this was proof enough of her lack of culpability: She had duly informed her superior about the alleged abuse, which is all Indiana state law required her to do.
But the survivors weren't buying what Faehn was selling.
"She determined what character she was going to play today. She played a victim, and she played it very well," said Sarah Klein, the first known gymnast assaulted by Nassar.
"You call the police, you don't call Steve Penny," Morrow said.
There were vague, big-picture apologies — not from Penny, of course, but from Faehn and Simon. But for the Sister Survivors, they were empty.
"It's too little, too late," declared Klein.
"You see all these people thinking they did their thing, but no one took the step that that should have been taken, with is to go to the police, the authorities," said Emily Stebbins, who was abused by Nassar at the Karolyi Ranch in 1999, as she choked back tears. "The one thing one person could have done is do that, but nobody did."
What the survivors gave up to be there
In August of 2016, Stebbins' mother, after reading a news story on her iPad, called up her daughter to ask if she recalled seeing a doctor named Larry Nassar when she was in gymnastics. Stebbins did. When her mother told her that someone had accused Nassar of sexual assault, Stebbins immediately found herself blurting out, "She's not lying, It happened to me, too."
"In that moment, my entire wall came crashing down," she said. "That was all it took. In that instant I knew."
"Now," Stebbins says, "I feel I can speak for the nameless voices out there, hundreds of us, who were affected by the decisions these people in power decided to make."
But coming forward has taken a huge toll on all of the survivors, one was put under the spotlight back in January, when over 200 survivors gave victim impact statements at Nassar's sentencing hearings in Michigan. Despite the fact that the Nassar trial has concluded and a verdict has been rendered, it's still easy to lose sight of the ongoing impact Nassar's abuse — and the USAG's inaction — has had on their lives.
In order to ensure that the case stays both in the headlines and atop the to-do lists of local and federal governing bodies, they have to retell their stories to reporters and legislators on a near weekly basis. If they disappear, they know that any urgency to make this right will disappear along with them.
All that effort comes at a cost. Hannah Morrow, 18, missed her second biology class of the summer in order to attend. Morgan McCaul flew out here on short notice from Michigan. She's missing work, missing her family. But, she says, it pales in comparison to everything she's given up this year — her first year of college.
"I've missed just about everything that a regular college kid would experience in order to pursue justice for this case," McCaul said. "We've had to drop everything in our lives to make this happen, so to hear from people like Lou Anna Simon that it's an inconvenience for her vacation, it's disgusting."
Lorincz understands what McCaul went through. She, too, just finished her first year of college, where she often missed class, because she'd read a news article about the case, become sick and unable to get out of bed. She also missed a lot of classes due to the sentencing hearings.
"I don't regret it for a minute, coming forward and speaking my truth. I don't regret it for a second, but it was very difficult to go through that the first year of college," Lorincz said.
Klein, who was giving her first interview the day of the hearing, having remained anonymous through Nassar's sentencing, has a two-year-old child. In the past year, she's missed Halloween and Mother's Day with her daughter because of Nassar-related obligations.
That's why she finds it devastating to watch Penny plead the fifth, listen to Simon complain about the way the hearings have ruined her vacation, and witness those who were ostensibly responsible recite non-answers and play the victim.
"It's been an absolute war, disruption of life, in ways that are simply unimaginable. The lack of sleep, the lost wages," Klein said. "But when I go home and return to my two-year-old daughter, and see her face and think about her future, there's nothing I'd rather be doing."
In it for the long haul
Since the moment Rachael Denhollander first came forward to the IndyStar in the fall of 2016 about Nassar's abuses, this movement for justice has been led by the strength of the survivors.
"It's important for me to show personally that I am in this for the long haul," Lorincz said. "The fight is not going to stop until we see everything done that needs to get done."
Michigan has already passed one of the most progressive packages of sexual assault bills in the country, an accomplishment that would not have happened without the tireless advocacy of the Nassar survivors. But as much as they want to find concrete ways to make things safer for future generations of gymnasts, the survivors are equally desperate for more answers — and accountability — for what happened to them.
Some how, some way, Penny needs to be made to come clean. Faehn, Simon, and countless others at MSU, USAG, and the U.S. Olympic Committee, need to look in the mirror and accept their role in all of this. And Congress needs to keep putting those who were in charge during Nassar's reign of terror on the stand.
One of the USAG stakeholders that Congress should prioritize bringing to Capitol Hill for an inquiry is Martha Karolyi. Karolyi, the former coordinator of the U.S. national team, was asked to be at the senate hearing on Tuesday, but didn't show up because she was sick — a fact that absolutely infuriated Antolin.
"As an elite athlete, Karolyi required us to train when we were sick, when were hurt, and we were required to go see Larry Nassar for treatment no matter how we felt about it — so it's ridiculous that she used that as an excuse not to testify," Antolin said.
The Sister Survivors have joined a private Facebook group together, on which they lift each other up on a daily basis. Recently, Morrow shared one of her favorite Bible verses with the other women: The pain that you are feeling now is nothing compared to the joy that's coming. To get there, Morrow knows that she is going to have to keep on fighting. They all are.
"Right now we're going through a lot," Morrow said. "But maybe some day, in the long run, it won't hurt as bad."