American Priest Dismissed for Sex Abuse Still in Bangladesh
By Rock Ronald Rozario and Stephan Uttom
UCANews
June 15, 2018

https://www.ucanews.com/news/american-priest-dismissed-for-sex-abuse-still-in-bangladesh/82571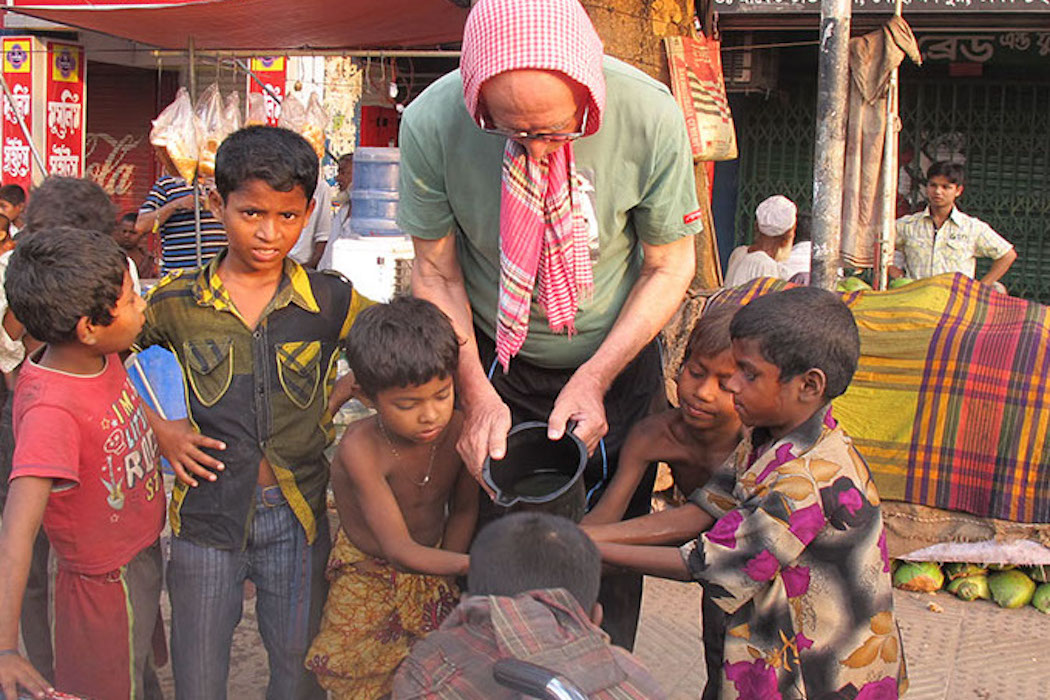 William Christensen with Bangladeshi children at the Poverty Eradication Program, an NGO he founded in 2012. (Photo from Poverty Eradication Program website)



An American priest who was dismissed from the clergy by the Vatican after being accused of sexually abusing as many as 30 teenagers in Bangladesh is still in the country.

William Andrew Christensen, a priest in the Society of Mary, or Marianists, was removed from the priesthood in October 2010 after the Vatican judged allegations against him to be credible.

In January 2011, ucanews.com published a story quoting Catholic human rights activist Rosaline Costa, who claimed that Christensen used the Institute of Integrated Rural Development (IIRD), which he founded in Bogra district in 1987, as a front to sexually abuse at least 30 Muslim teenagers in rural Bangladesh.

He was accused of buying the silence of the youngsters, their parents and local political and community leaders.

Christensen was accused of abusing a pupil at a school in St. Louis, Missouri, before coming to Bangladesh but a lawsuit filed in 2002 collapsed when the complainant died.

Christensen is now running the Poverty Eradication Program, an NGO that he founded in 2012 in Bangladesh. Interviewed at his office in Dhaka on June 11, he denied all allegations of sexual abuse and claimed he had been a victim of Vatican injustice.

A tall, bald man in his late 70s, his head is always covered with a headscarf. He staggers when he walks and talks slowly in a low voice. He has shaky hands, which he says is the result of a road accident that damaged his spinal cord and gives him neck pain. He can speak and read Bengali fluently.

Allegations against Christensen

In the late 1980s, Muslim boy Selim Ahmed* met William Christensen in Dhunot, Bogra district. The priest frequently visited villages in the area for field work for the IIRD.

Selim and his family were overjoyed when Christensen employed the 14-year-old as his assistant. He worked for the IIRD from 1990-94. His main job was to accompany the priest to many places across Bangladesh.

Interviewed by ucanews.com on June 8, he claimed Christensen was a "child predator."

In 1990, during a visit to Netrokona district, the priest sexually abused him by touching his genitalia one night, he said.

Selim said he was abused at least 10-15 times a month. He was given money and a permanent job as a social worker within a couple of months.

"I have endured inhumane abuses but kept silent as my family was poor. But my health couldn't bear it any longer. Within several months, I became physically unwell and my genitalia became unusually small," Selim said.

In 1994, Selim was terminated from the IIRD with some staff, most of them young as him, for no reason.

In 2001, his family tried to arrange his marriage. "I knew my situation, so I got scared and refused to get married. For three months, I took homeopathic treatment including medication in Dhaka," he said.

He eventually married in July 2001. For six months, he tried to have a physical relationship with his wife but failed due to erectile dysfunction. "My wife left for her parents and never came back," he said.

He married again a year later. This time he saved the marriage by taking "sex-instigative" pills following advice from a doctor. He fathered three children.

"The pills have some negative side-effects and my wife knows about my taking pills. She does not know about the causes and I never shared with her the unpleasant things that happened years ago," Selim said.

Rahim Ali* met Christensen at a primary school in Dhunot in 1986. The headmaster introduced the 14-year-old to the priest and helped him to get a job as Christensen's assistant in 1987.

"The headmaster said William was a good person," Rahim told ucanews.com on June 8.

Rahim said he was soon sexually abused by the priest, who touched his genitalia. "I was shocked and went home the next morning. I was ashamed and didn't even tell my mother," he recalled.

After Christensen contacted him through the headmaster, his poor family told him that he must return to his job.

"I was forced to sleep with him in one bed and when I fell asleep, he used to abuse me. My family was poor and struggled to manage two meals a day. I didn't speak up and was forced to stay with him," Rahim said.

In four years with the priest, Rahim saw Christensen always have boys aged 10-14 with him. Rahim helped to recruit some of them.

"He abused them during nights and he dismissed those who refused to take part in sexual activities. Those who agreed he gave huge amounts of money," he said.

Due to poor health, Rahim left the IIRD in 1991. He received treatment at hospitals in Dhaka and Bogra with the financial support of the priest.

In 1991, Rahim got married and had two sons, now aged 20 and 18.

"Even after marriage I continued to take medicines to recover from my poor health. I have suffered physically and mentally in silence. The shame I endured is unspeakable," Rahim said.

Two cases were filed against Rahim by the IIRD accusing him of embezzling funds. "He [Christensen] has done this to take revenge as I gave statements against him. So far, I have spent 100,000 taka (US$1,186) in running to court to face trials," he said.

A priest with a dark past

William Christensen was ordained a Marianist priest in 1973 in St. Louis. From 1973-77, he was a teacher and chaplain at Chaminade College Preparatory School run by the Marianists.

In the late 1970s, the priest left the U.S. to carry out development activities in Nepal and India. He settled in Bangladesh in 1986 and founded the IIRD in 1987. Christensen was never part of the IIRD's governing body. Instead, he identified himself as founder and voluntary consultant.

In 2002, Christensen and fellow Marianist John Woulfe faced a lawsuit from Michael Powel, one of their former students at Chaminade, for sexually abusing him from 1973-75.

The case at St. Louis County Circuit Court remained unresolved as Powel died of brain cancer in 2008. Powel's family later settled the case, according to a St. Louis Post-Dispatch report on Jan. 13, 2011.

During an interview with ucanews.com on June 11, Christensen denied any wrongdoing against Powel.

"I never taught him or had any dealings with him. He apparently was thrown out of school for alcoholism and cannabis addiction among others. I don't know why he complained that I had abused him," he said.

Breaking the silence

William Christensen abused about 30 underage Muslim boys, almost all from poor families, according to former IIRD staff and board members.

However, nobody made a complaint until 2007 even though his abuses were something of an open secret.

They said Christensen was a long-time friend of Mohiuddin Khan Alamgir, an influential Awami League parliamentarian, home minister from 2011-13 and a former IIRD chairman.

"William has a long record of child abuse, but nobody dared to speak up as Mohiuddin was his close friend," said Rafiqul Alam, a former IIRD communication manager.

When Alamgir was jailed in 2007, some boys dared to speak out. Alam brought the issue to the attention of Rosaline Costa, a former nun and Catholic rights activist who was treasurer of the IIRD board from 2001-06.

"She sat with William personally and tried to motivate him that he has made mistakes and he needs to correct himself. She also told him his acts are against the culture of our country and if it spreads out in this Muslim-majority nation, the minority Christian community would suffer badly," Alam said.

The priest was furious and Costa realized it was a kind of addiction that would not be corrected with words only, he said.

Costa wrote to Stephen Glodek, then provincial of the U.S. Marianists, in April 2008 about the allegations and asked him to move Christensen away from Bangladesh.

Glodek later told Costa that its investigation found "no credible evidence" of abuses by Christensen.

Bangladesh's NGO Affairs Bureau also held an inquiry that has not been made public.

In May 2010, Christensen filed two defamation cases against Costa and Alam in Netrokona District Court and the Chief Metropolitan Magistrate Court in Dhaka. In each lawsuit, he demanded 100 million taka (US$1.18 million) as compensation.

Following the turmoil, the IIRD lost many of its donors by 2012. The IIRD board forced Christensen to resign from the post of voluntary consultant, according to Alam.

Vatican inquiry and punitive action

In 2010, the Vatican's Congregation for the Doctrine of the Faith (CDF) asked Archbishop Joseph Marino, then papal nuncio to Bangladesh, to launch an independent investigation into the abuse allegations against Christensen.

Christensen was in the U.S. and was told by the Vatican not to go to Bangladesh during the inquiry.

For about three months, the inquiry team investigated the case and talked to youngsters including Selim and Rahim.

On Oct. 29, 2010, the CDF's prefect, Cardinal William Levada, issued a decree against Christensen dismissing him from the clerical state and the Society of Mary.

Christensen was given the option of making recourse against the decree within 10 days. Although he made recourse, the CDF confirmed the decree on Feb. 16, 2011.

Several Catholic bishops in Bangladesh sent letters to Archbishop Marino to say they were aware of Christensen's alleged child abuse and affirmed the priest had no priestly faculty to exercise in their dioceses. Ucanews.com obtained copies of two bishops' letters, both dated Nov. 1, 2010.

Denial of abuses

Interviewed by ucanews.com, Christensen denied all allegations of child abuse and claimed that Rosaline Costa and Rafiqul Alam conspired against him amid a leadership struggle.

"Their goal was to take over the IIRD. We had a lot of resources and very good funding. Some of those they destroyed when they couldn't take it," he alleged.

In September 2012, Christensen resigned from the IIRD after the board and donors pressed him to step down, Alam said.

However, Christensen said his resignation was in protest at ongoing corruption and mismanagement of funds in the organization.

He also alleged he had been a victim of injustice by the Vatican.

"When I came back at the end of October [2010], they had already made the decision that I was guilty of sexual abuse. No information to the Marianists or to me about who was accusing me of what," he said.

"In February 2011, they asked the Marianists to expel me, but they refused. They [the Vatican] said 'you obey our decree or not, we will throw him out of priesthood,'" he alleged.

Police blacklisting at airport

In December 2016, after he arrived on a flight from the U.S., police detained Christensen at Dhaka airport for three days, informing him he had been blacklisted from entering the country.

A Special Branch senior officer confirmed an order was issued by the Home Ministry.

"He fell sick and then he was released on medical grounds," former IIRD chairman Sabbir Ahmed Chowdhury told ucanews.com.

"Special Branch also informed me it was not possible to deport him as he had defamation cases pending in the courts, so he must stay in Bangladesh," he said.

Christensen alleged the harassment at airport was due to a conspiracy by three former IIRD staff including Rafiqul Alam. "They have a lot of friends in various places," he said.

At the airport, Christensen contacted his old friend Mohiuddin Khan. "Mohiuddin called the home minister and asked him to release me or he would come to airport to release me. They let me go," Christensen said with a smile.

Legal battle nears end

Lawyers fighting Christensen's defamation cases against Rosaline Costa and Rafiqul Alam say they are confident of winning.

"We have a good deal of documents on his misdeeds. The Vatican has stripped him of priesthood as allegations against him have been proved credible," advocate Dilruba Sharmin of the Chief Metropolitan Magistrate Court in Dhaka told ucanews.com.

Christensen's cases have no grounds at all, she said.

"Firstly, he has no jurisdiction to file a defamation case as a foreigner. Secondly, he was not part of the IIRD board, so he could not file a case on its behalf. Thirdly, he alleged they have defamed him by publicizing reports in newspapers, but he has not sued any newspaper or journalists for publishing so-called fabricated reports," Sharmin said.

She said both cases have finished hearings and are at the argumentation stage. The next court proceedings will be in July.

"Once the cases are won, they [Costa and Alam] must file counter defamation cases against him as the cases have cost them a lot of money and time," Sharmin added.

Back in Bogra, Selim Ahmed and Rahim Ali are unsure if they will ever get justice.

"We are poor and powerless people. I don't see any good prospect in filing a case against him, but I will testify if anyone charges him. A person like William must face the harshest punishment, and a criminal like him has no right to stay in Bangladesh," Selim said.

* The names of the alleged victims have been changed at their request and for their protection.