Brother of Pedophile Priest Urges Him to Apologize to Save His Soul
By Ines San Martin
Crux
June 18, 2018

https://cruxnow.com/global-church/2018/06/18/brother-of-pedophile-priest-urges-him-to-apologize-to-save-his-soul/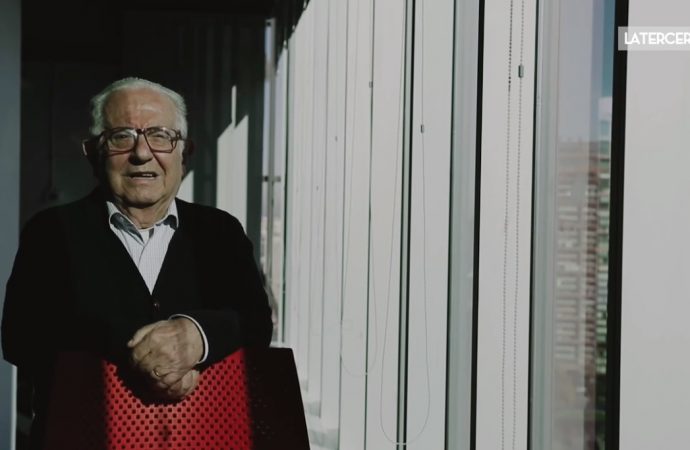 Oscar Karadima, brother of pedophile priest Fernando Karadima, as he's interviewed by Chilean newspaper La Tercera. (Credit: Video screen caption/La Tercera.)



After an undisclosed meeting with Pope Francis on June 1, one of the younger brothers of Chile's most notorious pedophile priest says he long ago lost any doubt regarding the guilt of Father Fernando Karadima, who's been found guilty of multiple counts of abuse, and asked his brother to admit his crimes and apologize.

"I would ask for him to be humble," said Oscar Karadima to the Chilean newspaper La Tercera.

"Fernando, ask for forgiveness. Not in silence to God, not in your prayers. Make it public, so that people hear you apologize for the hurt that you've caused to victims and everyone."

"Fernando, you are a man who's going to die. How do you dare to die like this, as a prideful man who doesn't apologize?" Oscar Karadima said when asked what he'd tell his brother if he had the chance to speak with him again, something he said he hasn't done since 2012, a year after the Vatican found Fernando guilty on several counts of sexual abuse and abuses of power and conscience.

"I ask you for God and for the Blessed Virgin, whom you always said you loved so much. I ask you for my father, for my mother, for my two dead sisters," he said.

Karadima has been sentenced to a life of penitence and prayer, and during the past few years he's been in a house for the elderly in Santiago.

Despite being found guilty, the priest never publicly apologized to his victims nor to the faithful of his former parish, El Bosque. According to his brother, he never apologized to his seven siblings either. In fact, when they went as a group to visit him in 2012, they brought a picture of the entire family, dating back to 1950, and his response was, "Why did you bother? I have many of these already."

Oscar's meeting with Pope Francis

Two weekends ago, Oscar Karadima was one of nine people who met with Francis. They were the third group from Chile to come to the Vatican in a span of 45 days to address the crisis facing the local Church, which began to unravel in 2015 when the pontiff appointed Bishop Juan Barros to the southern diocese of Osorno.

Barros is one of four bishops who were part of the "iron group" of Fernando Karadima, and his transfer from the military ordinariate to a diocese caused uproar both among the locals and victims of the pedophile priest.

Oscar Karadima has no doubt of his brother's guilt, and he's equally convinced of the culpability of Barros and three other bishops, Tomislav Koljatic, Horacio Valenzuela and Andres Arteaga. He told the pope that all four were very close to his brother, that they knew of the abuses, and that they had covered it all up.

The Karadima family, on the other hand, he said, "knew nothing."

He said he found out the same day the rest of the world did, in the same way as everyone else: the papers, on the morning of April 21, 2010. His son called to wake him and his wife up, and said, "turn the computer on."

When he did, he said, he saw his brother on the cover, accused of sexual abuse.

The Karadima family, Oscar said in the interview, was a victim of the priest's abuses of power: "A priest needs to be human with his family. He has to give his time, not his money. He gave money, I don't know where he got it from."

The priest's giving money to the family, Oscar said, "was a way of manipulation, of having us in his hands."

"My family's honor is on the floor. I've read in social media 'the Karadima family, a family of perverts, a family of cover-ups, pedophiles because they cover up for a pedophile.' With this, I cry. It infuriates me, because we're not like this. We're a good family, a working family. We've never hurt anyone."

When the Vatican announced in late January that the pope was sending two investigators - Maltese Archbishop Charles Scicluna and Spanish priest Jordi Bertomeu, former and current officials of the Congregation for the Doctrine of the Faith - to look into the "Barros case," Oscar didn't think twice before asking for an audience.

The meeting between Karadima's borther and Bertomeu, La Tercera reports, went on for an hour. At the end, Oscar said he cried. Bertomeu gave him a hug and told him that it was ok, that men cry too when they suffer.

Three months later, Oscar received a call from the Spanish priest. After welcoming three survivors of Karadima's sexual abuses and the entire Chilean bishops' conference- after which each bishop presented his resignation to the pope, who has accepted three of them since, including Barros'- Francis wanted to meet a third group.

Oscar was on the list, together with another lay person, who remains unknown, five priests who were victims of Karadima's abuses, some of them sexually, some of power and conscience, and two priests who've accompanied the victims for the past 20 years.

By way of explanation regarding why he's opening up about the meeting, Oscar said he wants to "save my family's honor."

His private encounter with Francis lasted 15 minutes, and all the meetings happened after the pope said Mass for the group, with the five priests who were victims of Karadima concelebrating. He said everyone arrived with an idea of what they wanted to tell the pope.

When he entered the room, the pope looked at him, smiled, greeted him and shook his hand.

"Holy Father, personally, it hurts me to speak like this about my brother, but what is there to do?" he began, with a broken voice and eyes full to the brim with unshed tears. The pope took his arm, as if to encourage him.

"The entire Karadima family has been victim of abuse of power and conscience," Oscar told Francis. "Fernando was a proud man, an authoritarian man, a man we were scared of."

He showed the pope a picture of his family and said that not once had someone from the Chilean Church approached the family to ask about their situation.

"Not [Cardinal Ricardo] Ezzati, not [Cardinal Javier] Errazuriz, no one ever acknowledged our pain. For this reason, what I also ask for, because no one has ever said this, is justice for my family," Oscar said to La Tercera.

"The pope was the only one who had words of comfort and consolation towards them. He asked me to extend to my brothers, my children and my grandchildren his suffering, and asked for forgiveness for what we've suffered."

During his meeting, reading a set of prepared remarks, Oscar also denounced the two cardinals, saying "we have to recognize the secret and overlapping power structure of some bishops, their concealment and silence regarding sexual abuse in Chile."

After talking with the pope, he re-joined the group he'd traveled with, and cried uncontrollably for his family. As he did so, he was holding a picture with a message in it, with Francis's signature: "To the family of Oscar Karadima, with my blessing and pain over so much suffering you carry. In the name of Fernando, mute and incapable of realizing [the hurting he's caused], I ask for your forgiveness."

On Jan. 16, 2011, Fernando Karadima was found guilty by the Vatican, and the sentence was ratified on July 22, 2011. The Chilean courts found him guilty too, but due to the statutes of limitation, he was never actually sentenced.

Yet the priest continues to claim he's innocent, refusing to apologize.

Throughout the interview, his younger brother insisted it's about time he did so.

"I still love [him]. He's my brother. But above all, I want for him to save his soul and apologize," Oscar said.