Dozens of Portland students protest university's silence over sexual assault allegations
By Elham Khatami
ThinkProgress
June 19, 2018

https://thinkprogress.org/portland-state-students-protest-universitys-silence-over-sexual-assault-allegations-67a6133aba07/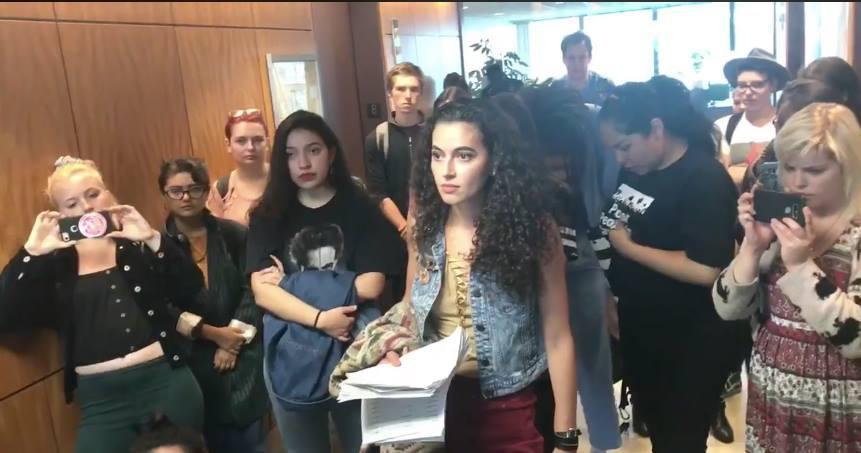 Tess Carter, middle, holds a petition at a recent protest against PSU's silence regarding allegations of sexual assault.
"It is so difficult walking around, knowing there's somebody out there who ... violated you that deeply."
Five months after she first reported her sexual abuse to Portland State University's Office of the Dean of Student Life, Tess Carter says she has not yet heard anything about possible action the school will take against the student and fellow member of the school's International Socialist Organization who allegedly assaulted her.
According to the Oregonian, Carter and dozens of other PSU students have been protesting the university's silence for weeks, demanding that the university discipline the student who has been accused by multiple women of emotional abuse and sexual assault over the past year and a half. In the latest protest, which took place last week, the group presented a petition with close to 3,500 signatures to the university's vice president of enrollment management and student affairs, Jim Fraire.
"It is so difficult walking around, knowing there's somebody out there who would be so violent to you and violated you that deeply," Carter, who is not a PSU student, but is a member of PSU's International Socialist Organization, told The Portland Mercury last week.
PSU's Office of the Dean of Student Life informed Carter in January 2018 that they would respond within 60 days, but she said she did not receive a formal response when the 60-day timeframe came to an end. According to the Mercury, campus officials cited the Education Department's loose restrictions when it comes to responding to sexual assault allegations. The Department last year rescinded Obama-era guidance that suggested a 60-day timeframe for a prompt sexual assault investigation, replacing it with "no fixed time frame."
Under Title IX, the federal civil rights law that prevents sex and gender discrimination in education, "an institution that receives federal funds must ensure that no student suffers a deprivation of her or his access to education opportunities on the basis of sex" and that sexual harassment must be addressed when it occurs. But by rescinding much of the Obama-era guidelines, the Trump administration has severely curtailed such protections — most notably, leaving it to schools' discretion to provide accommodations to separate victims from the accused and allowing schools to pursue an informal resolution, such as mediation, which forces victims to "work things out" with the accused.
Without such protections, Carter has come face-to-face with her alleged abuser, who graduated over the weekend, even though she was able to obtain a protective order against him. In one recent incident, he broke the order, spitting at her as she was walking across campus.
PSU's student-run newspaper, the Vanguard, reported earlier this month that the presence of the accused on campus has made survivors of sexual assault uncomfortable.
"This is really important and really emotional for me," Kella Carlson told the Vanguard. "Especially to carry everything that I have, all the baggage of my rape and sexual assault with me every day, and to know that I'm attending class at a school and walking around campus at a school that protects serial rapists … It makes me feel very unsafe."
Meanwhile, the school has disciplined several women affiliated with Carter who, frustrated with the lack of response from the school administration, decided to interrupt the accused's class in late April in a public callout. A number of students were placed on disciplinary probation, fined, and required to complete community service.
"We called [the accused student] out for the safety of the students in that classroom [and] for the safety of students on campus," said Carlson, who participated in the action. "Yes, students were triggered, but if we out a rapist so people stay away from him, that's more important to me."