Catholic Cardinal in Washington Accused of Sex Abuse
Reuters
June 20, 2018

https://www.usnews.com/news/us/articles/2018-06-20/catholic-cardinal-in-washington-accused-of-sex-abuse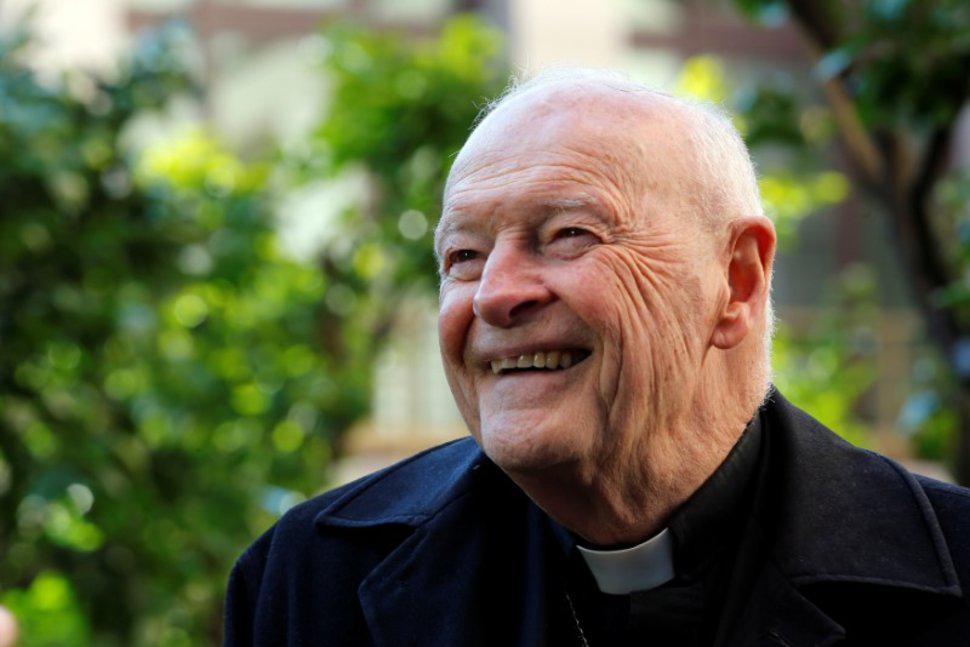 Cardinal Theodore Edgar McCarrick smiles during an interview with Reuters at the North American College at the Vatican February 14, 2013.
Photo by Alessandro Bianchi
The Vatican has asked retired Washington, D.C., Archbishop Cardinal Theodore McCarrick, to cease public ministry after finding he was credibly accused of sexually abusing a teenager almost 50 years ago, the archdiocese and McCarrick said on Wednesday.
McCarrick is among the highest-ranking of the more than 6,700 U.S. Roman Catholic clerics to be accused of sexually abusing children since the church's sex abuse scandal broke in 2002, according to BishopAccountability.org, a private group that tracks the allegations.
McCarrick, 87, was accused of sexually abusing a teenager when he was a priest in New York, he said in a statement. He said he was innocent, but an investigation by the Church found the allegations to be credible and substantiated, the archdiocese said in a statement.
"The Vatican Secretary of State, Cardinal Pietro Parolin, at the direction of our Holy Father, Pope Francis, has instructed Cardinal McCarrick that he is to refrain from any public ministry or activity until a definite decision is made," the archdiocese said. McCarrick said he would follow the Vatican's instruction.
"While I have absolutely no recollection of this reported abuse, and believe in my innocence, I am sorry for the pain the person who brought the charges has gone through," McCarrick said in a statement.
The clergy sex abuse scandal erupted in Boston and rippled around the globe as abuse was found in many countries, costing the church billions of dollars in settlements and undercutting its moral authority.
Pope Francis has worked to address the scandal, meeting twice with victims of clergy sex abuse. He came under heavy criticism in January, when he vigorously defended Chilean Bishop Juan Barros, who was accused of witnessing a priest's abuse of boys and doing nothing to stop it.
After returning to the Vatican, the Pope sent an investigator to speak to victims and witnesses, and accepted three Chilean bishops' resignations. In an interview with Reuters, he said he may accept additional bishops' resignations.
In addition to the priests accused of sexually assaulting children, high-powered leaders including former Boston Archbishop Cardinal Bernard Law were accused of allowing accused priests to continue to minister to children. Law died in December.
"This is an absolutely stunning revelation ... The fact that the Church itself is finding it is credible and substantiated suggests that it indeed is because the Church does not say that lightly," said Anne Barrett Doyle, a board member at BishopAccountability.org.