Retired Catholic archbishop McCarrick quits amid abuse allegations
By Sara Shayanian
UPI
June 20, 2018

https://www.upi.com/https:/www.upi.com/Top_News/US/2018/06/20/Retired-Catholic-archbishop-McCarrick-quits-amid-abuse-allegations/9751529503104/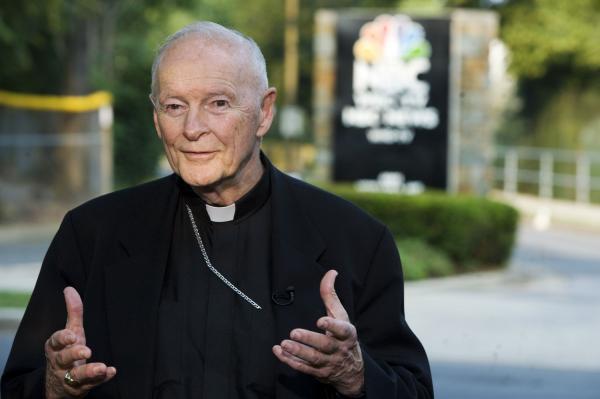 Cardinal Theodore McCarrick, retired Archbishop of Washington, announced he was stepping down from the ministry Wednesday amid allegations of sexual abuse.
Photo by Patrick D. McDermott
Retired Catholic Cardinal Theodore McCarrick, the former archbishop of Newark, N.J., and Washington, D.C., announced he was stepping down from the ministry Wednesday amid allegations of sexual abuse.
In a statement, the Archdiocese of New York said the Vatican secretary of state, at the direction of Pope Francis, asked McCarrick to step down from the ministry.
The allegations against McCarrick stem from the abuse of a teenager nearly 50 years ago, while the former archbishop was a priest of the Archdiocese of New York.
"This archdiocese, while saddened and shocked, asks prayers for all involved, and renews its apology to all victims abused by priests," the archdiocese said.
Although McCarrick said he has "no recollection" of the case and was "shocked" by the report, he accepted the pope's request to no longer publicly exercise his priestly ministry.
"While shocked by the report, and while maintaining my innocence," McCarrick said in a statement Wednesday, "my sadness was deepened when I was informed that the allegations had been determined credible and substantiated.
"I am sorry for the pain the person who brought the charges has gone through, as well as for the scandal such charges cause our people."
Cardinal Timothy Dolan, who told McCarrick about the abuse allegations months ago, said the crisis in the Catholic Church has been "devastating."
"We must put first the serious nature of this matter with respect and support for the process aimed at hearing victims and finding truth," Dolan said in a statement.
McCarrick was ordained a priest in New York City in 1968, and, before being named an auxiliary bishop in 1977, served at the Catholic University of America, the Catholic University of Puerto Rico in Ponce, at the Blessed Sacrament Parish and in several other archdiocesan roles.