Archdiocese of New Orleans alerts parishioners of deacon accused of sexually abusing children in 1980s
The New Orleans Advocate
June 22, 2018

http://www.theadvocate.com/new_orleans/news/article_91a9a1ee-7656-11e8-9bb3-df2dbbd7fe08.html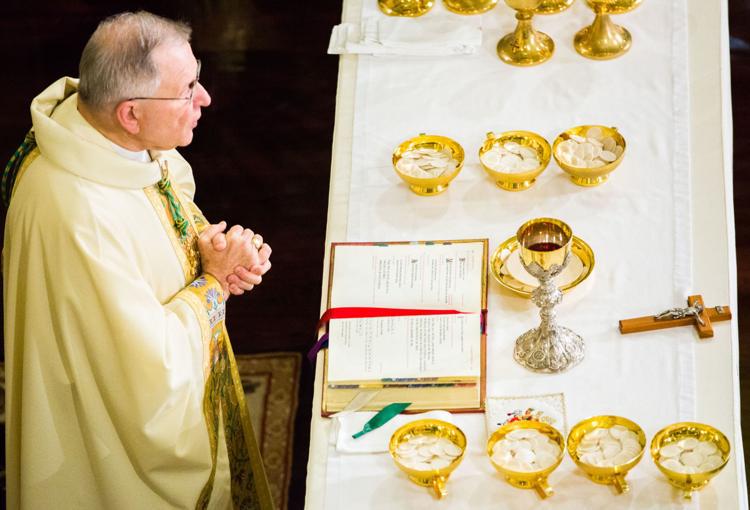 Archbishop Gregory Michael Aymond on Friday issued a letter alerting local Catholics about allegations of sexual abused leveled against George Brignac, a former deacon at Our Lady of the Rosary. Here, Aymond is pictured performing the sacrament of Communion during the Inauguration Mass at the St. Louis Cathedral in New Orleans, Monday, May 7, 2018.
Days after The Advocate reported that the Archdiocese of New Orleans had agreed to settle a sex-abuse case involving a former church deacon, Archbishop Gregory Aymond issued a letter to members of the deacon's former parish and to Catholics generally to alert them of the accusations.
The letter was addressed primarily to parishioners at Our Lady of the Rosary, where the alleged abuse by Deacon George Brignac began in 1979. It was posted on Aymond's Facebook page Friday afternoon.
The letter says that Brignac was removed from the ministry in 1988, and that prior to that, he had worked as a teacher at St. Francis Cabrini School, St. John Vianney Prep, and St. Matthew the Apostle before his ordination as a deacon.
By 1988, Brignac had been criminally charged at least twice with sexual misconduct — in 1977 in Jefferson Parish and in 1988 in Orleans Parish — without being convicted.
A lawsuit filed in Orleans Parish Civil District Court four months ago alleged that Brignac began sexually abusing the plaintiff, then an 8-year-old altar boy, in 1979. The abuse continued for three years, according to the suit.
The archdiocese settled the suit May 11, paying out more than $500,000, according to Roger Stetter, the plaintiff's lawyer.
Aymond's letter urges anyone with information about other abuse by Brignac, or any other clergy member, to report it to archdiocesan officials. "No one should suffer abuse and especially not by a church leader," the letter says.