At 125th Year, Activist Church St. Agatha Has Emerged from Clergy Sex-abuse Pain
By Maudlyne Ihejirika
The Chicago-Times
June 22, 2018

https://chicago.suntimes.com/news/at-125th-year-activist-church-st-agatha-has-emerged-from-clergy-sex-abuse-pain/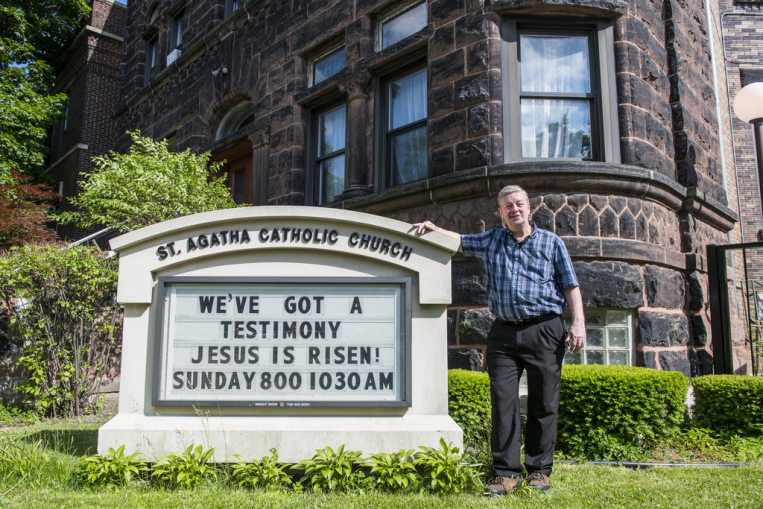 Father Larry Dowling stands next to Saint Agatha Catholic Church, the church in which he's the father too, on Monday, June 18, 2018, in Chicago. | Tyler LaRiviere/Sun-Times



The Rev. Larry Dowling still remembers when he got the call from Cardinal Francis George asking him to consider serving as pastor of St. Agatha's Church in North Lawndale.

It was 2007, and St. Agatha's was in agony. The church at 3151 W. Douglas was at the center of the clergy sex-abuse scandal rocking the Chicago archdiocese, with its former pastor, the Rev. Daniel J. McCormack, accused — and later convicted — of abusing five boys.

"When I got off the phone, the scripture that came to mind was Jesus on the seashore with Peter, saying, 'Do you love me?' And Peter saying, 'Yes. Yes. Yes.' Jesus said, 'Well, if you really love me, I may take you where you don't really want to go,' " said Dowling, who was then in his 10th year as pastor at St. Denis Church in Ashburn.

"I said, 'But I still have some things I can accomplish here. I'm comfortable.' What I heard back was, 'I didn't call you to be comfortable.' "

Twelve years later, Dowling, 65, known for his outspokenness on social justice issues, says his 300-family parish has cast off the pain from a predator pastor who targeted children through basketball and after-school programs and has rebuilt its pride through activism.

St. Agatha celebrates its 125th anniversary this month. On Sunday, Cardinal Blase Cupich will return to celebrate Mass at the church where he said his first Sunday Mass in 2014, and a June 30 gala is planned.

"There was a lot to deal with in terms of healing for the parish and community, which shared a very different sense of what St. Agatha had been before Father McCormack," Dowling said. "It had really been involved with the community, and all of that had been lost. As a parish, we had to engage on: 'Where we go from here?' We resolved to focus on our strength — empowering families."

The result has been outreach programs to solidify its anchor role in a neighborhood greatly challenged by poverty and violence.

Founded in 1893 to serve Irish families who had moved into the area near Douglas Park, St. Agatha today is a predominantly African-American parish that became host to three other parishes the archdiocese merged in 2005. Its school closed in 2016.

Today, the West Side church is known for its youth recreation and parent-training programs, food pantries and Christmas giveaways for the entire neighborhood. Parent-to-parent support programs have shifted focus from just youth to entire families.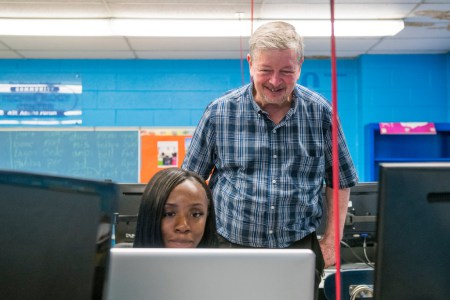 St. Agatha pastor, the Rev. Larry Dowling looks over Alexis Norman's shoulder, as the 21-year-old works during a session of the News School, a program the church provides to high-school students and young adults in the community. | Tyler LaRiviere/Sun-Times



"We knew if we were going to address the violence in the community, we had to get to where that violence was coming from," Dowling said.

St. Agatha is heavily involved in efforts to address the school-to-prison pipeline, criminal justice reform and ex-offender re-entry challenges, with member congregations of the Community Renewal Society. It runs a restorative justice program led by two formerly incarcerated young men, who engage young people and mentor inmates of the Cook County Jail and Juvenile Detention Center.

"St. Agatha was the first church I visited after becoming archbishop because I heard so many good things about the place — the resiliency of the people but also their willingness not to dodge very important challenges facing their community today," Cupich told the Sun-Times.

"It's due to its leadership in Father Larry, who has the ability to not only be imaginative and bold but the ability to get people to work with each other. That has been the true magic," the archbishop said.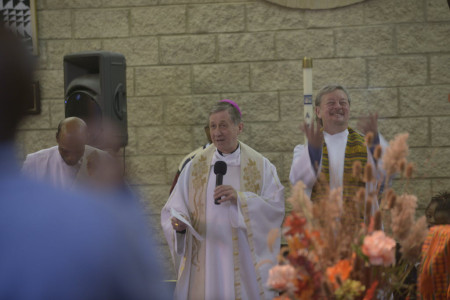 On Nov. 23, 2014, Archbishop Blase Cupich visited St. Agatha Parish, 3147 W. Douglas, to celebrate his first Sunday mass after arriving at the Archdiocese of Chicago. | Brian Jackson/ Sun-Times



The church recently opened its Winslow Redmond Community Technology Center, providing a safe community space and programs from citizen journalism to wind and string instruments. It spearheaded efforts to bring a community-run mental health facility to North Lawndale next year and has been a leader with the Cook County Circuit Court's Restorative Justice Community Court program.

Dowling, who grew up in downstate Paris and has master's degrees in math and physics, took an unconventional path to the priesthood, working as an actuary for 10 years before entering the seminary at 33. At St. Denis, he replaced another priest removed for abuse.

"When I stepped in here, it was clear that people were glad somebody said, 'Yes.' And I was really upfront. I said, 'Let's be clear. There was a breach of trust here with your priest, and I expect you to be watching me.' It was about regaining trust," Dowling said.

"Together, we've made strides. I've really grown in appreciation of the residents of this community. It is slowly coming back. There's a general sense that things are beginning to change, beginning to look up."