Archdiocese: No claims made against Cardinal McCarrick during his time in DC
By Patrick Roth
WTOP-TV
June 24, 2018

https://wtop.com/dc/2018/06/archdiocese-no-claims-made-against-cardinal-mccarrick-during-his-time-in-dc/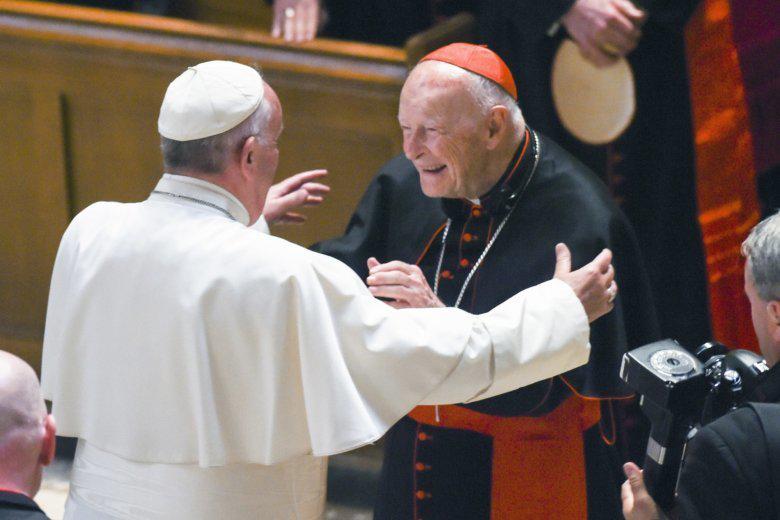 In this Sept. 23, 2015 file photo, Pope Francis reaches out to hug Cardinal Archbishop emeritus Theodore McCarrick after the Midday Prayer of the Divine with more than 300 U.S. Bishops at the Cathedral of St. Matthew the Apostle in Washington. The retired archbishop of Washington, D.C. has been removed from public ministry over allegations he sexually abused a teenager while a priest in New York more than 40 years ago.
Photo by Jonathan Newton
The Archdiocese of Washington said it found no allegations made against the former archbishop of Washington Cardinal Theodore McCarrick during his time in D.C.
McCarrick, who served as D.C.'s archbishop from 2001 to 2006, was removed from ministry after an allegation he sexually abused a teen 50 years ago when he was serving as a priest in the Archdiocese of New York.
In a letter from the Archdiocese that the Cardinal Donald Wuerl said he requested a review of all records in the Archdiocese of Washington while the Archdiocese of New York investigated the claim against McCarrick.
"Based on that review, I can report that no claim, credible or other wise, has been against Cardinal McCarrick during his time here in Washington," Wuerl wrote.
The Archdiocese of New York found the allegations against McCarrick to be "credible and substantiated," according to a statement on the Archdiocese of Washington's website.
"The Vatican Secretary of State, Cardinal Pietro Parolin, at the direction of our Holy Father, Pope Francis, has instructed Cardinal McCarrick that he is to refrain from any public ministry or activity until a definite decision is made," the statement said. "Cardinal McCarrick, while maintaining his innocence, has accepted the decision."
"The Church, even as we offer profound apologies, can never express enough our deep sorrow and contrition," Wuerl wrote on Sunday.
McCarrick is one of the highest-ranking U.S. church officials accused in a sexual abuse scandal.
He served as bishop of the Roman Catholic Diocese of Metuchen in New Jersey from 1982 to 1986 and archbishop of Archdiocese of Newark in New Jersey from 1986 until his appointment in Washington.
Statements from the Archdiocese of Newark and the Roman Catholic Diocese of Metuchen said while they had never received any accusations against McCarrick abusing a minor during his earlier assignments, both acknowledged there had been allegations that McCarrick engaged in sexual behavior with adults.
In his letter, Wuerl also encouraged survivors of sexual abuse to come forward offering help and confidential support from the Archdiocese of Washington's Office of Child and Youth Protection.