Sentence in Campus Sex Case Blasted: Did Judge Think Student Was Special?
Associated Press
June 25, 2018

https://www.mercurynews.com/2018/06/25/judge-blasted-college-student-sex-crimes-stalking/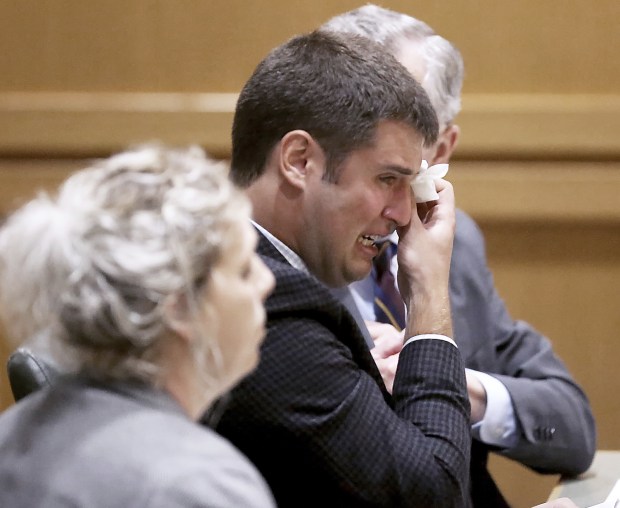 Former UW-Madison student Alec Cook reacts to comments made by Dane County Circuit Judge Stephen Ehlke during his sentencing hearing at the Dane County Courthouse in Madison, Wis., Thursday, June 21, 2018. (John Hart/Wisconsin State Journal via AP)



A state senator is taking a judge to task for sentencing a former University of Wisconsin-Madison student accused of sexual assault to three years in prison.

Alec Cook, 22, of Edina, Minnesota, pleaded guilty to sexually assaulting three female students as well as choking or stalking two others. He was initially charged with more than 20 crimes against nearly a dozen women.

Cook faced up to 40 years in prison; prosecutors wanted 19 years. Dane County Circuit Judge Stephen Ehlke gave him three years on Thursday.

Sen. Lena Taylor, a Milwaukee Democrat, said in a statement Friday that Ehlke for some reason thought Cook was special and let him off the hook. She questioned the message Ehlke sent to Cook's victims.

Ehlke said at the sentencing that he had to give Cook credit for having no criminal record, no bail violations and sparing the victims a trial. The judge said he hoped that the end of criminal proceedings against Cook would "give closure" to the victims, the Wisconsin State Journal reported.

In court, Cook tearfully apologized to the women, telling them that what happened was not their fault.

"I'm sorry. I was wrong," Cook said. "You told the truth and everyone should believe you. This is my fault. You didn't deserve this. And neither did your families. To them, too, I'm so sorry."

One victim said in her impact statement, "Part of me died in order to survive that night with him and that part of me will never grow back," WKOW-TV reported.

Cook, a former business student, pleaded guilty in February to three counts of third-degree sexual assault. He also pleaded guilty to strangulation and stalking charges. After reaching the plea deal, the remaining charges were dismissed, but the judge was allowed to consider them in sentencing Cook.

The crimes took place between September 2014 and October 2016. Cook was expelled from UW-Madison in June 2017.

The state Department of Justice handled the prosecution. Republican Attorney General Brad Schimel said in a statement that he was disappointed Cook got only three years and he deserved a much longer sentence.

"At DOJ, we hope that the fact that Alec Cook stands convicted as a felony sex offender and is on his way to prison will give survivors faith that there are people in the criminal justice system who stand ready to fight for justice for them," Schimel said.

Asked if the agency would appeal the sentence, DOJ spokesman Johnny Koremenos said only defendants can challenge their sentences.