Philadelphia Archdiocese Reaches Settlement with Family Whose Son Was Allegedly Sexually Abused by Priest
CBS
June 25, 2018

https://philadelphia.cbslocal.com/2018/06/25/philadelphia-archdiocese-reaches-settlement-sean-mcilmail-family/

The Archdiocese of Philadelphia has reached a settlement with a family who accused a priest of sexually abusing their son.

The archdiocese reached a settlement with the family of Sean McIlmail, who say that Father Robert Brennan sexually abused him for years. McIlmail, of Willow Grove, died from a drug overdose in October 2013 at the age of 26.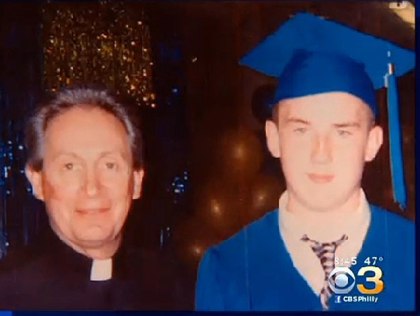 Father Robert Brennan with his late accuser, Sean McIlmail, in family photo. (credit: CBS3)



"It is our hope that with the matter resolved, there will be closure and a path forward," the archdiocese said in a statement.

The statement continues, "We are deeply sorry for any abuse that has taken place at the hands of clergy as well as the pain that survivors and their loved ones have suffered. Each survivor has their own unique story and it would not be our place to discuss it on their behalf."

Deborah McIlmail, the mother of Sean McIlmail, alleges that the abuse by Brennan lasted four years and began in 1993 when her son was 11 and attending Resurrection of Our Lord Parish school in Rhawnhurst.

"Sean appeared good on the outside, but on the inside, he didn't believe in himself. The unspeakable, disgusting horrors that had happened to Sean by Father Robert L. Brennan would haunt Sean forever," she said in November 2013.

Sean McIlmail kept quiet about what allegedly occurred until one day in 2012. Just days before he would testify against Brennan at a hearing, he died from an overdose.

Days after McIlmail's death, then Philadelphia District Attorney Seth Williams dropped the case against Brennan.

Brennan was labeled a serial sexual predator and mentioned in two grand jury reports about clergy sexual abuse in the archdiocese.

The suit also named Msgr. William Lynn, former secretary of clergy in the archdiocese, for failing to act to protect McIlmail.

Lynn is currently serving to three to six years in state prison for his conviction for covering up clergy sex abuse while serving in his management role of priests from 1992 to 2004.