Priest Versus Church: Case Should Be Tried, Public Deserves Answers | Editorial
Sun Sentinel
June 25, 2018

http://www.sun-sentinel.com/opinion/fl-op-editrial-catholic-church-priest-lawsuit-20180622-story.html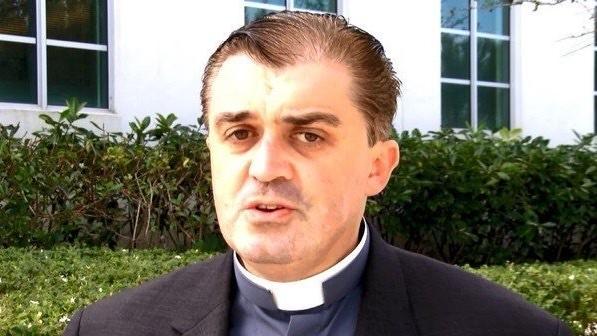 Father John Gallagher played a key role in helping investigators catch a priest who showed child porn to a teenager. He says it's affected his career. The public deserves to know if that's true. The Florida Supreme Court should hear the case. (Photo courtesy of WPEC-Channel 12)



By the time a nasty quarrel reaches the Florida Supreme Court, it's usually about more than just the people involved. If it doesn't have a broader implication for the public or for the law, the court is not likely to want to hear it. But if there is a significant public policy question, the court serves the people best when it interprets its jurisdiction liberally and agrees to take the case.

The case of Father John Gallagher vs the Diocese of Palm Beach, Inc., meets the public interest test. The priest is trying to sue the diocese for defamation, alleging that it maligned him after he accused it of trying to cover up the misconduct of another priest who showed child pornography to a teenager. The diocese claims that the lawsuit is really about Gallagher's pique at not being promoted and that it is exempt from such litigation under what's known as the ecclesiastical abstention doctrine.

After Palm Beach Circuit Judge Meenu Sasser refused to dismiss the suit, the Diocese won an order from the Fourth District Court of Appeal last month that forbade the trial court from trying the case. It's that decision that Gallagher's lawyers are asking the Florida Supreme Court to reverse. They make a good argument.

Here's the public policy question at the heart of it: At what point is a religious institution immune from secular authority? It's the same issue that vexed King Henry II of England in his 12th century feud with Archbishop Thomas Becket and led to the cleric's assassination by four knights.

These days, the courts work it out.

It's clear under a line of cases beginning at the U.S. Supreme Court in 1871 that the First Amendment prohibits courts from ruling on "theological controversy, church discipline, ecclesiastical government, or the conformity of the members of the church to the standard of morals required of them," as the court explained it. And in 2012, the high court ruled unanimously that a "ministerial exception" barred employment discrimination suits by clergy or others — a teacher in that case — acting in a ministerial capacity.

But the doctrine has had other applications. In 2016, Florida's Fourth District ruled that a widow could not sue a funeral home for burying non-Jews in the same section of a cemetery where her husband was interred because it would require a judge to decide what actually constitutes Jewish burial tradition.

Although it can appear unfair in some cases, the rule serves a fundamental public purpose: the continued separation of church and state.

However, there are important exceptions. If a case can be decided on "neutral principles," without reference to church teachings, then the courts may hear it. And, as the Florida Supreme Court ruled in two civil cases in 2002, religious institutions and clergy can be held liable for sexual assault and other crimes that have nothing to do with ecclesiastical doctrine.

As to Gallagher, Palm Beach County sheriff's records confirm that he helped persuade a fellow priest, the Rev. Jose Palimattom, to talk to detectives investigating a parent's complaint that Palimattom had shown gay child pornography on a cell phone to a 14-year-old. In April 2015, Palimattom pleaded guilty to showing obscene material to a minor, was sentenced to six months in jail and deported to India two months later.

It's what was said and done after the arrest that generated Gallagher's lawsuit. He went public in the media of Ireland, his homeland, with a complaint about not being promoted to pastor at the Holy Name of Jesus Catholic Church in West Palm Beach and having been reassigned to a church in Stuart, where he refused to go. He claimed, among other things, that it was because he had refused church orders to put Palimattom on a plane to India, rather than report him to law enforcement. (It appears from the records that the sheriff's office already knew about the crime at that point.)

For its part, the diocese retaliated by calling Gallagher a liar and a "disgruntled employee: who "needs serious professional help."

Among other things, it cited complaints from Hispanic parishioners that Gallagher slighted them because they didn't contribute enough to the collection plate. It accused him of having driven away a Cuban priest who was Palimattom's predecessor. In a highly unusual step, Bishop Gerald Barbarito had a letter read during weekend Mass that attacked Gallagher's "unfounded allegations" and denied that the diocese "tried to cover up" Palimattom's "inappropriate behavior."

This would seem to be a straightforward case of who said what and who told the truth. Church doctrine seems irrelevant to it. But the church's lawyers and three judges from the Third District Court of Appeal, sitting by special assignment in the Fourth, found an angle. Gallagher's lawsuit asked for actual damages from loss of potential income as a priest.

That, said the court, "would require the courts to delve into why Father Gallagher was not promoted to pastor and was reassigned to another parish. This would require the court to question the diocese's employment decision to hire, retain, or discipline Father Gallagher…and the reasoning behind its decision." The decision cited other cases, including one by a disgruntled rabbi in Florida, in which courts ruled that such an inquiry would violate the abstention doctrine.

Gallagher's lawyers are telling the Supreme Court that the Fourth District's opinion went too far in striking down his entire case, which also cited injury to his reputation. That, they say, could be argued without "any entanglement with church doctrine or policy."

Did the diocese violate its proclaimed zero-tolerance policy on sexual misconduct by trying to get Gallagher to go easy on Palimattom? Or did Gallagher lie about that, as the diocese claimed?

The public is entitled to answers, but without a trial there won't be any.