Ex-priest Curran pleads guilty to child sex abuse 20 years ago
Belfast Telegraph
June 25, 2018

https://www.belfasttelegraph.co.uk/news/northern-ireland/expriest-curran-pleads-guilty-to-child-sex-abuse-20-years-ago-37046371.html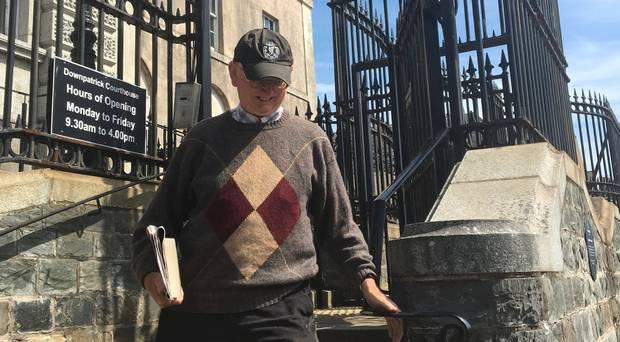 Daniel John Curran leaves Downpatrick Courthouse
A convicted paedophile priest has pleaded guilty to sexually abusing a boy in Northern Ireland more than 20 years ago.
His appearance at Downpatrick Crown Court is the sixth time 68-year-old Daniel John Curran has faced sex abuse charges.
Standing in the dock Curran, from Bryansford Avenue in Newcastle, confirmed his personal details while defence counsel Noel Dillon confirmed he had been "fully advised about the issue of credit" for pleading guilty at an early stage.
The court clerk having put the charge to him, that of indecent assault on a date unknown between 16 August 1989 and 18 August 1991, Curran said simply that he was "guilty."
In applying for bail pending sentence, Mr Dillon revealed that sentences for Curran's previous convictions resulted in jail sentences totalling 16 years "either immediate or suspended".
Having confirmed to Judge Piers Grant that Curran had a record for similar offences, he reminded the judge that he last dealt with the pervert pensioner in March 2015 when he handed him a suspended jail sentence.
Ordering a pre-sentence report and listing the sentencing hearing on September 6, Judge Grant said it was "with some hesitation" that he would free Curran but warned that his decision "should not be interpreted as any indication that a non-custodial sentence will be imposed."
Leaving court a few minutes later, Curran kept his head down as he was verbally abused by a man outside the court.