Priest Investigated by DA Identified, Had Prior Accusation of Abuse
By Jay Tokasz
Buffalo News
June 25, 2018

https://buffalonews.com/2018/06/25/priest-investigated-by-da-had-prior-accusation-of-abuse/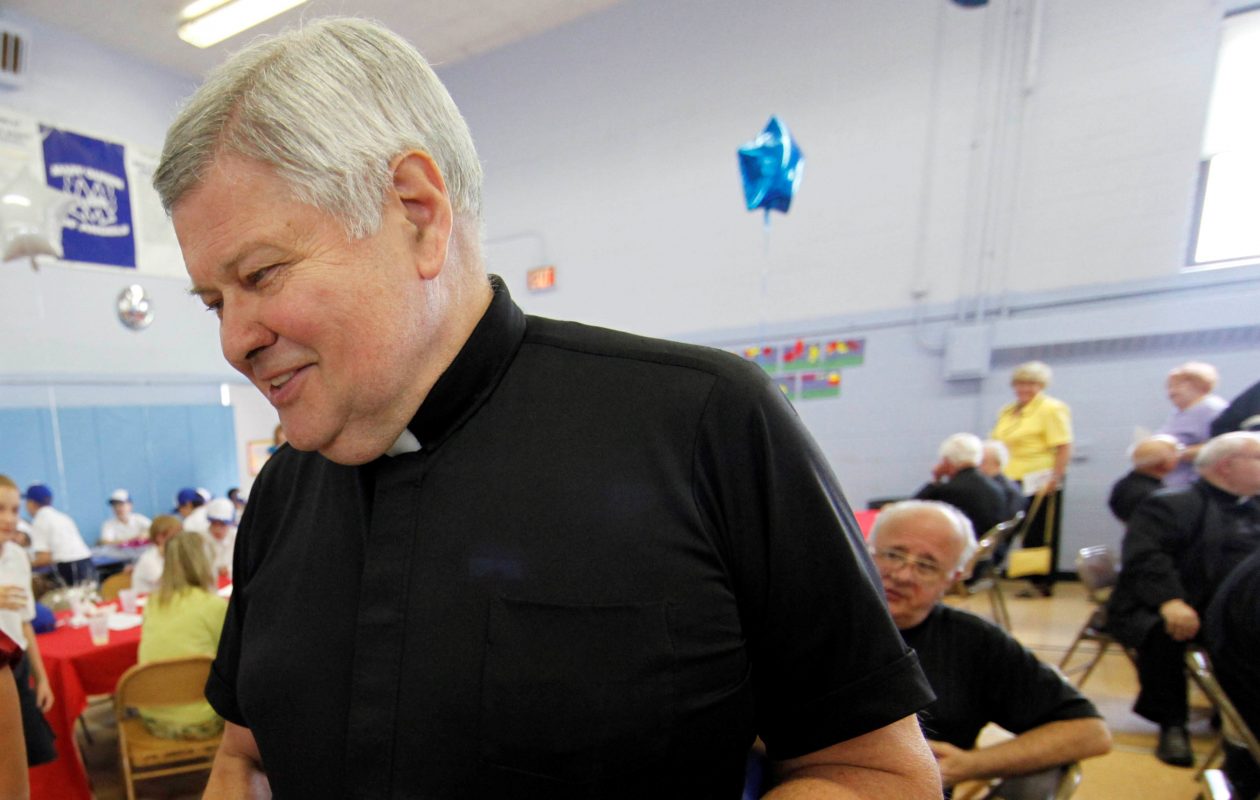 Rev. Fabian Maryanski, pictured in 2010 in the Mary Queen of Angels Regional Catholic School cafeteria. The Diocese of Buffalo assigned Maryanski to parishes for more than a decade after he was accused of having sexual contact with a teenage girl. (News file photo)



The Buffalo Diocese priest recently investigated by the Erie County District Attorney's Office due to a complaint of inappropriate touching has been identified as the Rev. Fabian J. Maryanski, who already was on administrative leave due to a previous allegation of sexual contact with a teenage girl.

Maryanski, 77, was not charged in the recent investigation, nor did he face any criminal charges from the prior accusation, which was not brought to the attention of law enforcement authorities.

A spokesman for the diocese confirmed that Maryanski was the subject of the DA's investigation.

"District Attorney Flynn notified us today that Fr. Fabian Maryanski was the subject of his investigation. Fr. Maryanski had already been placed on administrative leave as a result of our Diocesan investigation," spokesman George Richert said.

A girl told someone at her school about an incident in January with the priest, and a complaint reached the DA's office about a month ago, District Attorney John J. Flynn said last week.

Flynn said the priest did not commit a crime, but he also described the priest's conduct as "creepy" and said he would be notifying the diocese of his findings.

Flynn declined to identify the priest because of the lack of charges.

The diocese placed Maryanski on administrative leave in May after The News published a front-page story in which he was accused of having sexual contact with a teenage girl in a church rectory in the mid-1980s. Stephanie McIntyre, the woman who accused Maryanski, first alerted the diocese about the alleged abuse in 1995. Maryanski admitted to having a sexual relationship with McIntyre when she was in her 20s, but he denied having sexual contact with her when she was a teenager.

Maryanski resigned as pastor of St. Patrick Church in Barker that same year, but the diocese assigned him to a Cheektowaga parish in 2000. Five years later, he was appointed pastor of St. Andrew Church in Sloan, where he served until retiring in 2014. He continued to celebrate Masses, primarily at Nativity of the Blessed Virgin Mary Church in Clarence.

McIntyre said by email that she wept when she learned someone else complained about Maryanski.

"Thank God that little girl did not end up in the same hell that I did. Thank God it was just a creepy warning, and thank God she had the courage to say something," she said.

She said the new complaint brought to the surface again her own abuse.

"I pray that all of his other victims will have the strength and courage to come forward," she said.

St. Andrew parish named its parish hall the Fabian J. Maryanski Center in honor of Maryanski, and he continues to be listed as pastor emeritus of the parish.

A decision has not been made on whether Maryanski's name will be removed from the parish hall, said Richert.

"We want to do things in the proper order," he said.

The diocese is continuing its investigation of allegations against Maryanski, who remains on administrative leave, said Richert.

The district attorney's findings "can and will be taken under consideration as the investigation proceeds," he said.