St. Paul's School Details Programs for Alumni Who Were Sexually Abused
By Alyssa Dandrea
Concord Monitor
June 26, 2018

http://www.concordmonitor.com/St-Pauls-School-details-plans-for-victim-therapy-fund-18437363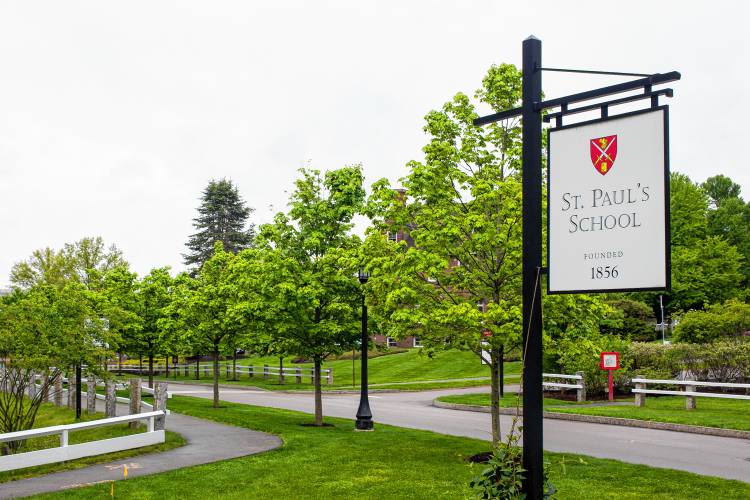 St. Paul's School in Concord is shown Monday, May 22, 2017. Elizabeth Frantz / Monitor file



A new compensation program for former St. Paul's School students who were sexually abused by faculty and staff allows victims to come forward privately, but does not prevent them from later publicly sharing their stories or from going to court if an agreement isn't reached.

The program – which allows victims to work with a neutral arbitrator and without a lawyer – is one of several new initiatives announced Tuesday by the Concord prep school and is being deemed "unique" by legal experts. While similar payout programs have been used by the Roman Catholic Church, which has grappled for years with clerical sexual abuse of children, they haven't surfaced at private schools rocked by sexual abuse allegations.

St. Paul's is following the lead of other private schools in providing financial assistance for mental health services to former students abused by adults entrusted with their care. The new victim therapy fund, also announced Tuesday, mirrors efforts taken by Choate Rosemary Hall in Connecticut and St. George's School in Rhode Island.

The Concord prep school, like Choate, is partnering with RAINN (Rape, Abuse & Incest National Network), which works with 1,000 sexual assault service providers across the country and operates the National Sexual Assault Hotline, according to a letter from St. Paul's Rector Michael Hirschfeld and Board of Trustees President Archibald Cox Jr. RAINN will have a dedicated phone line (1-855-215-2281) for St. Paul's School alumni beginning July 6.

Boston-based attorney Eric MacLeish, who has represented hundreds of sexual assault victims, worked with St. George's School on the startup of its therapy fund and has long advocated, as legal counsel for several St. Paul's victims, for a similar approach in Concord.

"There have been too few prep schools that have taken this model," said MacLeish, who is known for his work representing victims of clergy sex abuse in the 1990s. "This type of therapy program can do a world of good."

St. Paul's has not laid out specific criteria for the arbitration process, other than to say a representative of St. Paul's will not appear. Survivors will share their stories in person, by phone or video conference with retired judge Nancy Holtz, who is well-respected nationally for her mediation work and who has an extensive background in handling sexual abuse cases.

Cox said by phone Tuesday that St. Paul's is not setting a limit for how much money one victim can receive. Both the financial assistance for therapy and the compensation awarded to victims will come from the school's endowment.

"We acknowledge that abuse happened in the past, and we're trying to develop a program that will make it easier to deal with the circumstances of that ... and hopefully make it better for people who suffered," Cox told the Monitor.

In addition to partnering with RAINN, the school is arranging support services through Sandra Matheson, a New Hampshire-based independent victim advocate consultant with more than 30 years of experience working with sexual assault victims. Matheson, who has worked at the local, state and national levels, is available to provide support and information to survivors, as well as assist them with the reporting process.

Neither Matheson nor RAINN will share information about their work with the school; rather, St. Paul's says it will work with a third-party administrator for payment of therapy services to maintain a victim's confidentiality throughout the process.

"The board of trustees and the school's leadership are committed to providing support and care to those who have been negatively impacted by past wrongs with sensitivity and transparency while respecting any alumni preference for confidentiality," Hirschfeld and Cox wrote in their joint letter to alumni. "We hope that these resources will be beneficial for survivors and the larger community supporting them."

Mounting lawsuits

MacLeish is representing seven former St. Paul's students – two of whom filed a civil lawsuit against the school in Merrimack County Superior Court in May and one of whom recently settled with the school outside of court. However, MacLeish said several other victims have reached out to the Cambridge, Mass.-based law firm about representing them moving forward.

"I don't think it's any coincidence that this is coming when there have been a lot of claims filed against St. Paul's," MacLeish said of the latest initiatives announced by the school. "We hope the school is starting to recognize the catastrophic damage that takes place when you are sexually abused by someone who is there to mentor you."

Cox said the school began developing plans for a victim therapy fund roughly six weeks ago. That wasn't long after George Chester Irons – the former president of the school's alumni association and a former board of trustees member – and Keith "Biff" Mithoefer filed their lawsuit in Concord, claiming they were sexually abused by faculty in the late 1960s and early 1970s.

In their lawsuit, they accuse the school of negligence and are seeking unspecified compensatory damages, alleging St. Paul's was a "haven for sexual predators."

Irons reacted Tuesday to the latest news from St. Paul's, saying the latest initiatives are a start in the right direction, but have come decades too late.

"Dozens and dozens of students have been severely damaged for their entire lives and nobody is to blame except for the school," Irons said. "This letter should have been sent out to alumni 40 years ago when alumni first started to bring attention to these tragedies."

Irons said, he never heard a single conversation while a member of the school's board of trustees – neither in open board meetings nor in private – concerning any sexual abuse of any kind at the school.

"It was kept at the executive committee level and, sadly, that is why the school is now backpedaling as fast as they can because they never wanted to take responsibility and accept accountability for sexual abuse against students in the past," he said.

Confronting decades of abuse

An investigation commissioned by St. Paul's and carried out by Boston-based law firm Casner & Edwards in 2016 substantiated accusations of sexual misconduct and abuse by more than a dozen faculty and staff dating back to 1948. The school released an initial report on faculty abuse in May 2017, which was followed by an addendum in November that included accounts from an additional 15 victims and examined abuse as early as 2009.

The school acknowledged through the release of those reports a long-standing history of sexual misconduct at the prep school and said it has taken steps to improve student safety. However, alumni say top officials have long ignored a systemic problem and, in doing so, continued to endanger its students.

St. Paul's said Tuesday that it will continue to retain Casner & Edwards and attorney Scott Harshbarger – a former Massachusetts attorney general who is now senior counsel at the firm – to investigate and document past instances of sexual abuse.

The therapy fund and compensation program for victims will also roll out with a new initiative established by the Alumni Association called "Alumni Doorways." Members of the association will help facilitate conversations about sexual abuse, share resources and work together to help determine the best path forward for the school. Officials said more information on future gatherings will be forthcoming.

The school's latest programs do not address former St. Paul's students who were sexually abused by their peers. Cox said there are no plans at this time to expand those services.

One of the latest lawsuits against the school was filed by a former student who enrolled at St. Paul's in 2012 when she was 13. The suit, filed in mid-May, alleges that top officials knew of sexual conquest games, including the now-infamous "Senior Salute," yet turned a blind eye to reports made by students who were targeted. The former student said she was repeatedly sexually harassed and groped, and was also raped multiple times by a male student with whom she began a romantic relationship with during her first year.

The claims in Jane Doe's suit mirror many of those brought by Alex and Susan Prout on behalf of their daughter, sexual assault survivor Chessy Prout, in 2016 after Owen Labrie's conviction on statutory rape and other charges. The Prouts argued in federal court that St. Paul's had failed to "meet its most basic obligations to protect the children entrusted to its care," and that administrators knew about the "salute," in which upperclassmen would solicit intimate encounters from younger pupils, and did nothing to curtail it.

That case was settled in January in U.S. District Court through a confidential agreement.