Isle of Man Diocese to Review Alleged Abuse by Clergy
BBC News
June 27, 2018

https://www.bbc.com/news/world-europe-isle-of-man-44613898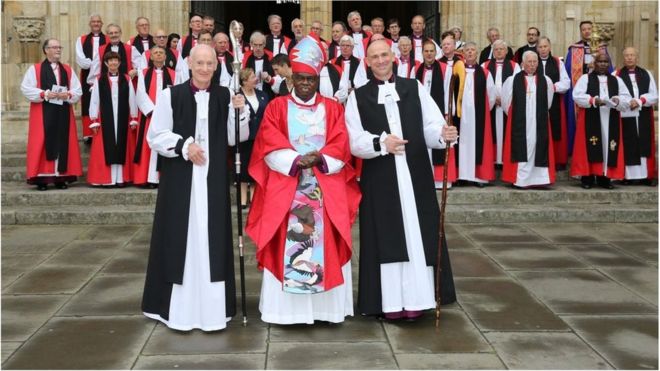 The new bishop of Sodor and Man (left) was consecrated in June 2017



Victims of alleged child abuse by Church of England (CofE) clergy have been urged to come forward after calls for a fresh inquiry on the Isle of Man.

Last week a report examining the Church's "flawed" Past Case Review (PCR) said it failed to identify at least 22 cases of possible abuse.

Sodor and Man is one of seven CofE dioceses whose efforts were deemed "inadequate".

A diocese spokesman acknowledged "shortcomings" in its record-keeping.

The investigation by Sir Roger Singleton was due to be published next month, but was released earlier following an investigation by BBC News.

He said the Church's "flawed" 2010 investigation, said it "failed to give a complete picture" of the abuse. and called for new inquiries to be held in seven of the dioceses investigated, including the Sodor of Man.

The PCR looked at some 40,000 files detailing accusations but Sir Roger was critical that some dioceses, including Sodor and Man, "did not know where the files were".

'Learn lessons'

Diocesan spokesman Rev Canon John Coldwell said: "Although a comprehensive review of past safeguarding cases was carried out in 2007-9, we acknowledge shortcomings in record-keeping then which means we need to repeat the exercise.

"This will give us an opportunity to learn any lessons, but more importantly, be as sure as we can be that positive action was taken following past safeguarding incidents."

The Bishop of Sodor and Man, The Rt Revd Peter Eagles, welcomed the review saying it was vital that victims and survivors of child abuse "received their due and proper support".

"If you have reported an incident in the past and felt it had not been dealt with properly, or there is an incident you have never felt confident enough to report, please contact us. We will take your report seriously and investigate it thoroughly."

The six other dioceses listed are Rochester, Ely, Lichfield, Salisbury, Winchester and Sheffield.

There are presently no police investigations on the Isle of Man.