The Luke Heimlich case and why one baseball team's pursuit is full of logical landmines
By Jeff Passan
Yahoo Sports
June 27, 2018

https://sports.yahoo.com/luke-heimlich-case-one-baseball-teams-pursuit-full-logical-landmines-133357057.html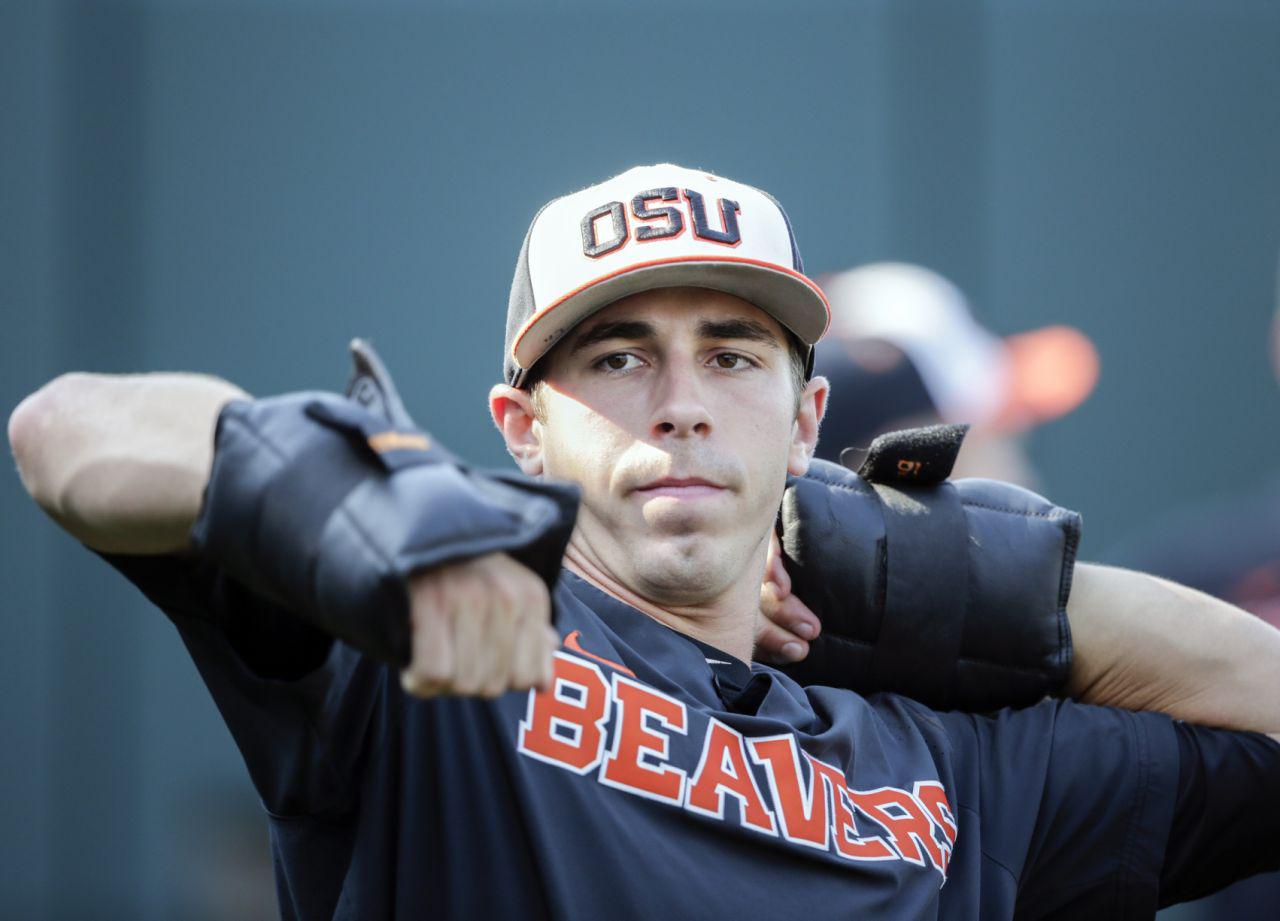 Oregon State pitcher Luke Heimlich works with weights during practice in Omaha, Neb., on June 15.
Kansas City general manager Dayton Moore is devoutly religious.
Two facts define Luke Heimlich. The first is that he pleaded guilty as a teenager to molesting his 6-year-old niece. The second is that he is one of the best pitchers in college baseball. How society reconciles personal depravity with professional excellence is a defining question of today, in politics, in Hollywood, in sports – in all public-facing jobs whose disproportionate hold on our moral leanings places an even greater onus on their role as noble actors.
It is no surprise, then, that the Kansas City Royals rendered the first – and so far only – public comment on Heimlich's suitability to play Major League Baseball. The Royals, and particularly their general manager, Dayton Moore, see MLB and the platform it provides as a conduit to a greater purpose. Moore's deep religious convictions guide the organization, and the significant consideration it's given to signing Heimlich follows the axiom of hate the sin, love the sinner.
Conversations about drafting Heimlich three weeks ago reached the level of Royals president Dan Glass, who nixed the idea, multiple sources familiar with the discussions told Yahoo Sports. For the second consecutive season, Oregon State's star pitcher went undrafted. That did not end the team's deliberation over signing Heimlich as a non-drafted free agent, a possibility that Moore first floated into the public more than a week ago during an interview with Fox Sports Kansas City.
And for more than week, it floated in the ether, mentioned by just one person on Twitter, coming to light only after The Athletic tracked it down. Between that and a column in The Kansas City Star that first broached the Royals' interest in Heimlich, the organization sent two trial balloons to gauge the potential backlash of signing the 22-year-old left-hander.
Whether they can stomach a deluge of bad headlines cannot be the point, not if moral certitude is central to the Royals' organizational philosophy. In this case, great leadership – the tenet on which Moore most prides himself – demands looking beyond his baseball club. It necessitates answering publicly and transparently the hardest questions a situation such as Heimlich's offers. Should the Royals sign Heimlich without properly addressing these concerns, they will be branded, accurately and damningly, an organization of hypocrites more concerned with its players viewing sexual acts than admitting to sexually assaulting a kindergarten-aged girl.
It starts with a frank, keen, clear-headed assessment of Heimlich's case. When Moore told Ryan Lefebvre on Fox Sports Kansas City that "it's a very complex deal," he was not exaggerating. What came before that was a rendering of the story that skewed exceedingly sympathetic to Heimlich, which is not altogether surprising considering Moore's interest, but not confidence-inspiring for the candidness that great leadership requires.
"I think teams are still trying to find out more and more information," he said. "They're trying to come to grips with this. This is something that happened in their family. Their family has dealt with this. Their family remains very close today, all parties involved."
Teams have known about this for more than a year, since The Oregonian's reporting of a profile on Heimlich led it to discovering his conviction in Washington state. The unsealing of Heimlich's record would not have happened had he reported to Oregon authorities after his 21st birthday – something he didn't need to do because he wasn't an Oregon resident. The error provided clear details to the Oregonian: Heimlich had pleaded guilty to one count of molestation as a 15-year-old but also had been cited by the victim as committing another assault two years earlier, when she was 4.
All parties involved, incidentally, are not close. The victim's mother told Sports Illustrated: "I would advise everyone to keep their little girls away from him." Heimlich does not have a substantive relationship with his brother, the girl's father, who took her to be seen by a group that provides services for child victims.