Priest on Leave Denies Alleged Sex Abuse in 1980s
By Jay Tokasz
Buffalo News
June 28, 2018

https://buffalonews.com/2018/06/28/priest-on-leave-denies-alleged-sex-abuse-in-1980s/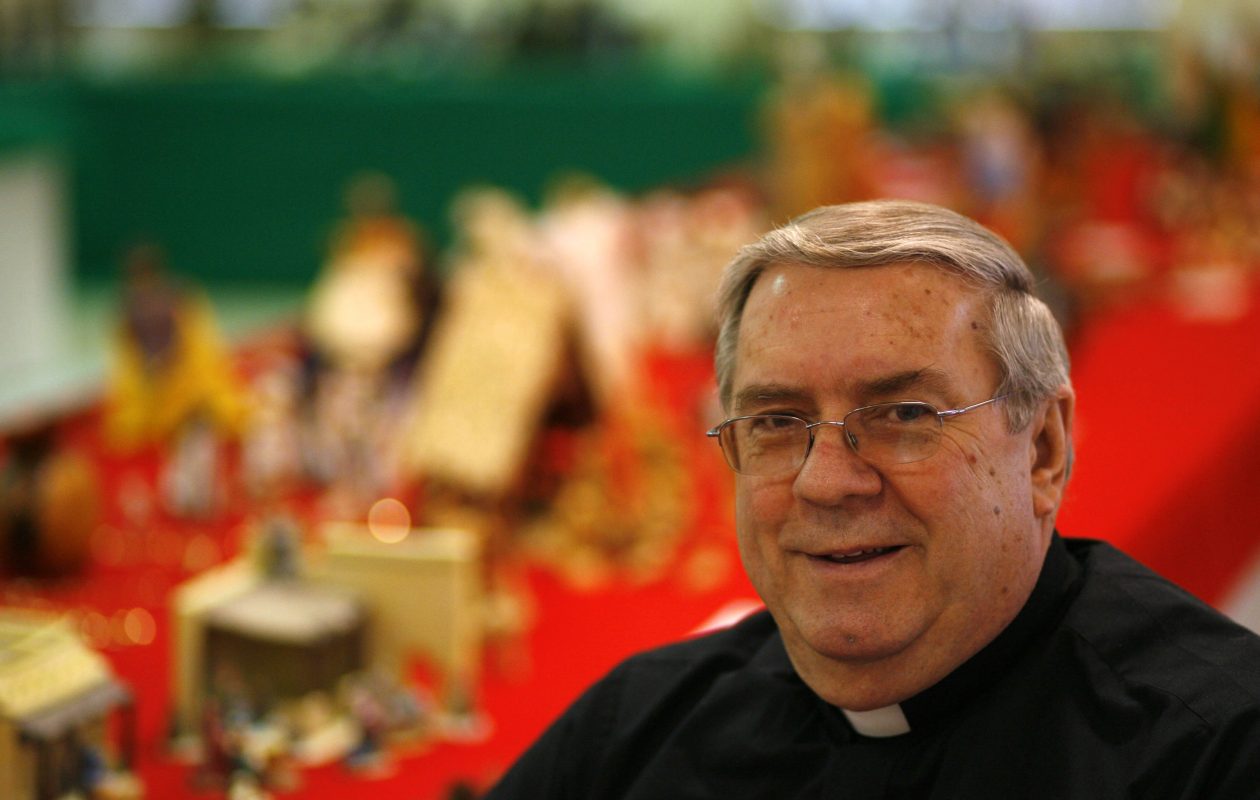 Retired Rev. Roy Herberger was recently put on administrative leave by the Diocese of Buffalo after a man accused him of molesting him as a child in the 1980s. Herberger denied the allegation in a letter sent this week to parishioners. (Derek Gee/News file photo)



A retired Buffalo priest who was recently put on administrative leave wrote a letter this week vehemently denying that he sexually assaulted a young boy in the 1980s.

The Rev. Roy Herberger, the former pastor of SS. Columba-Brigid Church, said in the letter that he contacted a lawyer after the Diocese of Buffalo put him on administrative leave due to the abuse complaint.

"I want everyone to know that I deny these claims completely – 100 percent," Herberger said in the letter. "I'm not saying that the victim is lying about being assaulted by some priest, a priest but I do emphatically deny that it was me."

Diocesan spokesman George Richert declined to comment Wednesday afternoon. Herberger, reached by email on Thursday, declined to comment on the letter or on what prompted it. It's not clear how many people received the letter, but Herberger said he sent it to relatives, friends and parishioners.

Herberger's lawyer, Kevin W. Spitler, said his client will abide by the process the diocese has in place for investigating claims of clergy sex abuse.

"There's been an allegation that's been made against Father Roy that he absolutely denies, and quite strenuously," said Spitler. " We anticipate at the conclusion of the investigation that Father Roy will be vindicated."

Herberger said in the letter that he knows the man making the claim, because he helped the man's father, who struggled with alcoholism and was homeless for stretches of time on the streets of Buffalo. Herberger said he sometimes took the man's father for treatment and returned him home. He met the man making the complaint maybe three of four times and always in the presence of his parents, Herberger said in the letter. Herberger said he never was alone with the boy.

"He claims that these sexual assaults took place while he was a student at St. Ann's Church in Buffalo – a church that I was not a part of until around 2010," said Herberger in the letter.

St. Ann parish was merged with SS. Columba-Brigid around 2008. In the 1980s, Herberger was listed in diocesan directories as being assigned to Our Lady of Lourdes Church on Main Street, which has since closed, and to St. Boniface Church, also now closed.

A well-known priest

Herberger, 75, is well known in the diocese for his outspokenness on social justice issues and commitment to urban ministry. He also amassed a large personal collection of Nativity scenes from all over the world that he displayed annually around Christmas.

Ordained in 1968, Herberger recently celebrated his 50th anniversary as a priest. He served as administrator and then as pastor of SS. Columba-Brigid Church on Hickory Street from about 1999 until his retirement in 2017, which included leading the parish through the construction of a new sanctuary following a 2004 fire that destroyed the old church building. Until he was put on leave, he continued to celebrate Masses, primarily as a weekend assistant at the University at Buffalo Newman Center.

Herberger was close friends with Sister Karen Klimczak, a peace-promoting nun who was murdered in 2006 by a resident of the halfway house she operated on Grider Street. Klimczak served alongside Herberger at SS. Columba-Brigid as pastoral associate of the parish. Herberger eulogized Klimczak at her funeral.

Herberger was not afraid to ruffle the feathers of church hierarchy. He candidly urged multiple Buffalo bishops to sell off a mansion on Oakland Place as a symbol of living simply and better adhering to Catholic social teaching. When the diocese closed a small Montessori school at SS. Columba-Brigid in 2009, Herberger criticized the move as abandoning some of the city's neediest residents.

Herberger said in his letter, dated June 26, that he was more than willing to take a lie detector test to help prove his innocence. He also declared that he has never had any sex or sexual contact with anyone.

"I am a 75 year old virgin who is proud to say that I have never broken my vow of celibacy. I will proclaim the same information on a lie detector test and with my hand on the Bible if it comes to being a court case," he said in the letter. "I have always spoken the truth on serious matters in the past – even when it caused problems for me. The truth has always been very important to me as a priest of the Lord – no matter what the consequences might be."

Herberger asked friends, relatives and parishioners for their prayers "at this very painful time in my life" and told them to feel free to share the letter.

Herberger is the sixth priest within the past three months who was put on administrative leave as the diocese investigates a complaint of childhood sexual abuse.