Accused priest returns to pulpit after diocese finds complaints 'not substantiated'
By Jay Tokasz
Buffalo News
July 1, 2018

https://buffalonews.com/2018/07/01/accused-priest-returns-to-pulpit-after-diocese-says-complaints-not-substantiated/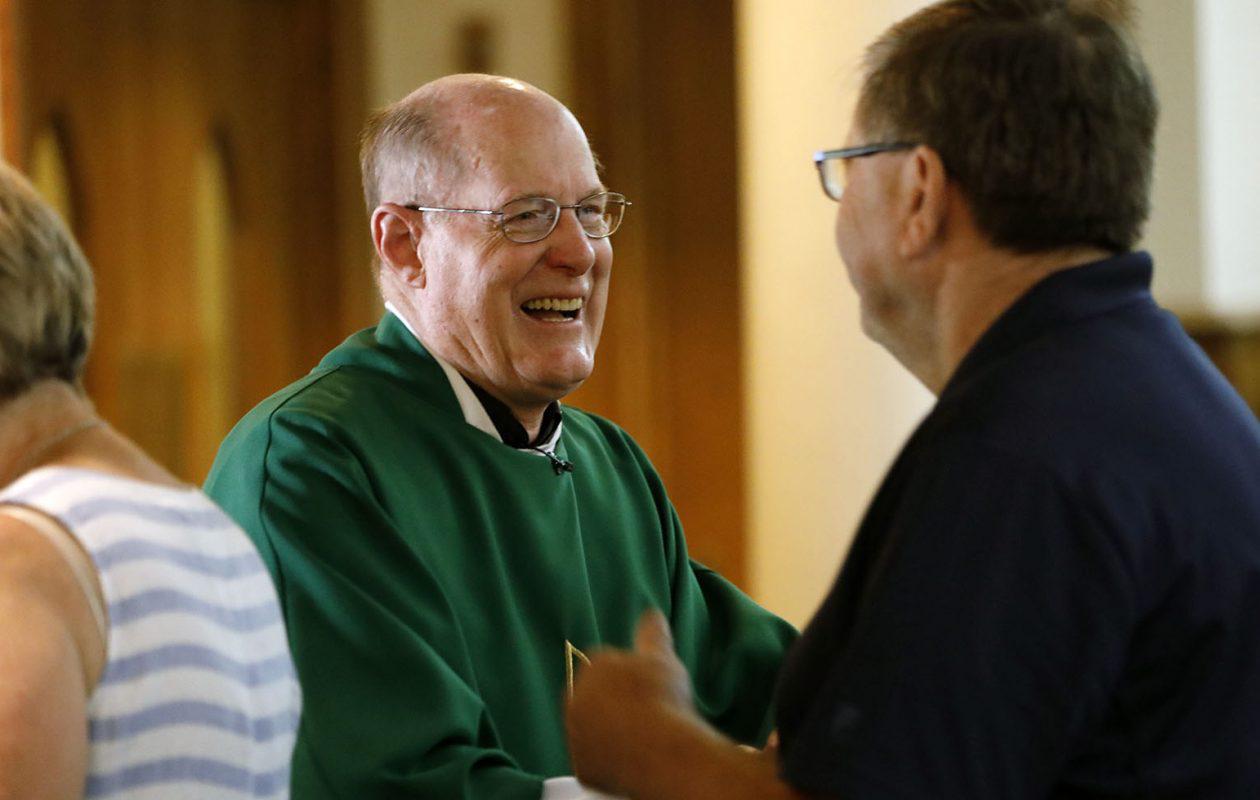 The Rev. Dennis Riter, pastor of St. Elizabeth Ann Seton Catholic Church in Dunkirk, greets parishioners following Mass on Sunday morning.
Photo by Derek Gee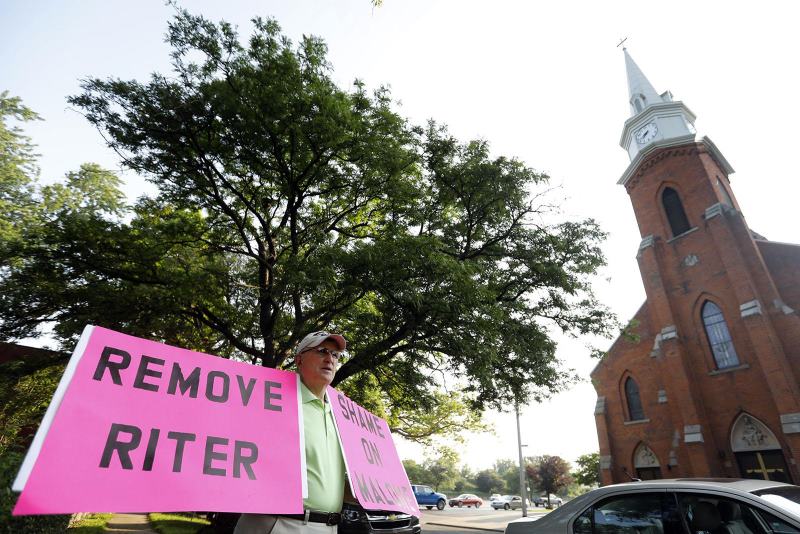 Robert Hoatson of West Orange, N.J., protests outside of St. Elizabeth Ann Seton Catholic Church.
Photo by Derek Gee
The Rev. Dennis G. Riter, in his first Mass since being suspended from ministry due to a sex abuse complaint, told parishioners he was happy to be back in the pulpit and acknowledged that "it's been a long three months."
"I am so very, very happy to be with you today," Riter said during the Saturday evening Mass in St. Elizabeth Ann Seton Church in Dunkirk. "I certainly felt your prayers and your support over the past three months."
Riter didn't specifically address the abuse claim, reported to the Diocese of Buffalo in March, that resulted in his suspension. Another priest sent to the church by Bishop Richard J. Malone told parishioners just prior to the start of the Mass that an investigation had determined the complaints against Riter "were not substantiated."
Outside the church, on a sidewalk across Washington Street, a former priest who advocates on behalf of victims criticized the bishop's move to return Riter to ministry as reckless. Robert M. Hoatson, who runs a nonprofit organization that works with victims of clergy sex abuse, held signs that read "Shame on Malone" and "Remove Riter."
"We knew some people would question this decision, but that's not a reason to keep someone out of ministry," said George Richert, diocesan spokesman.
The diocese hired Scott Riordan, a former assistant district attorney, to investigate. Riordan then met multiple times with a diocesan review board, which gave a recommendation to Malone.
"The bishop accepted the report of investigator Riordan and the recommendation of the diocesan review board, and as a result Father Riter has been returned to active ministry here at St. Elizabeth Ann Seton," said the Rev. Mark Noonan, who is vicar general for the diocese.
Matt Golden, the man who made the complaint against Riter, continues to allege that the priest abused him on multiple occasions in the late 1990s inside the rectory of Our Lady of Perpetual Help Church in South Buffalo, according to Michael Reck, Golden's attorney. Golden was between the ages of 10 and 13 at the time, said Reck.
Riordan interviewed Golden, who described his own abuse and witnessing the abuse of another boy who was a childhood friend and is now deceased, said Reck.
"From my perspective, he was very clear, very candid, extraordinarily credible," said Reck.
Reck said his client wasn't looking for money but was "resolute in the need for a response that protects children from Father Riter."
"His words to me this morning were: 'I can't morally walk away from this,' " said Reck.
Another man who alleges that Riter abused him and is represented by attorney Mitchell Garabedian wasn't interviewed by the investigator, according to Hoatson.
Noonan helped Riter celebrate the Mass and gave the homily. About 100 parishioners attended the 5 p.m. Saturday Mass, and they applauded Riter as he lined up on a side aisle for the opening hymn. As a choir sang, Riter smiled widely and proceeded toward the back of the church, quickly shaking hands with a few well-wishers in pews. He then continued to the center aisle and walked toward the altar.
After the Mass, Riter stood near the church vestibule, where parishioners individually welcomed him back and greeted him with hugs and handshakes.
Parishioner Ellen Dempsey of Forestville said she didn't know that Riter was back in the parish until she saw him at the Mass.
Dempsey said she was shocked by Riter's departure, and she wanted to know more about what was happening with him.
"We were kind of in the dark," she said.
Two of Dempsey's sons were altar servers and never had any problems with Riter, she said. And Dempsey said she'll always be grateful to Riter for tending to her ill father's spiritual needs before he died last year.
"I'm just glad he's back, and I'm glad he's exonerated or whatever," she said.
Riter was the first active priest to be put on administrative leave following Malone's announcement in March publicly identifying 42 priests as having had credible allegations of sexual abuse against them. Some of the names of the priests on that list of 42 had never before been connected publicly with an abuse allegation. Since Riter's case, the bishop has publicly identified nine additional priests as being the subject of an abuse complaint.
Investigations into complaints against three of the nine priests determined that the allegations were substantiated. Those priests – the Rev. Samuel J. Venne, the Rev. Arthur J. Smith and the Rev. Dennis A. Fronczak – will remain on administrative leave while the results of the diocesan investigation are reviewed by an office of the Vatican known as the Congregation for the Doctrine of the Faith, which will make a final determination.
Malone has not made a further determination yet on the credibility of complaints made against the remaining six priests, who are on administrative leave while their cases are investigated locally.