Three Brothers Accuse Former Priest Turned AIDS Activist of Sex Abuse
By Jay Tokasz
Buffalo News
July 25, 2018

https://buffalonews.com/2018/07/25/three-brothers-accuse-former-priest-turned-aids-activist-of-sex-abuse/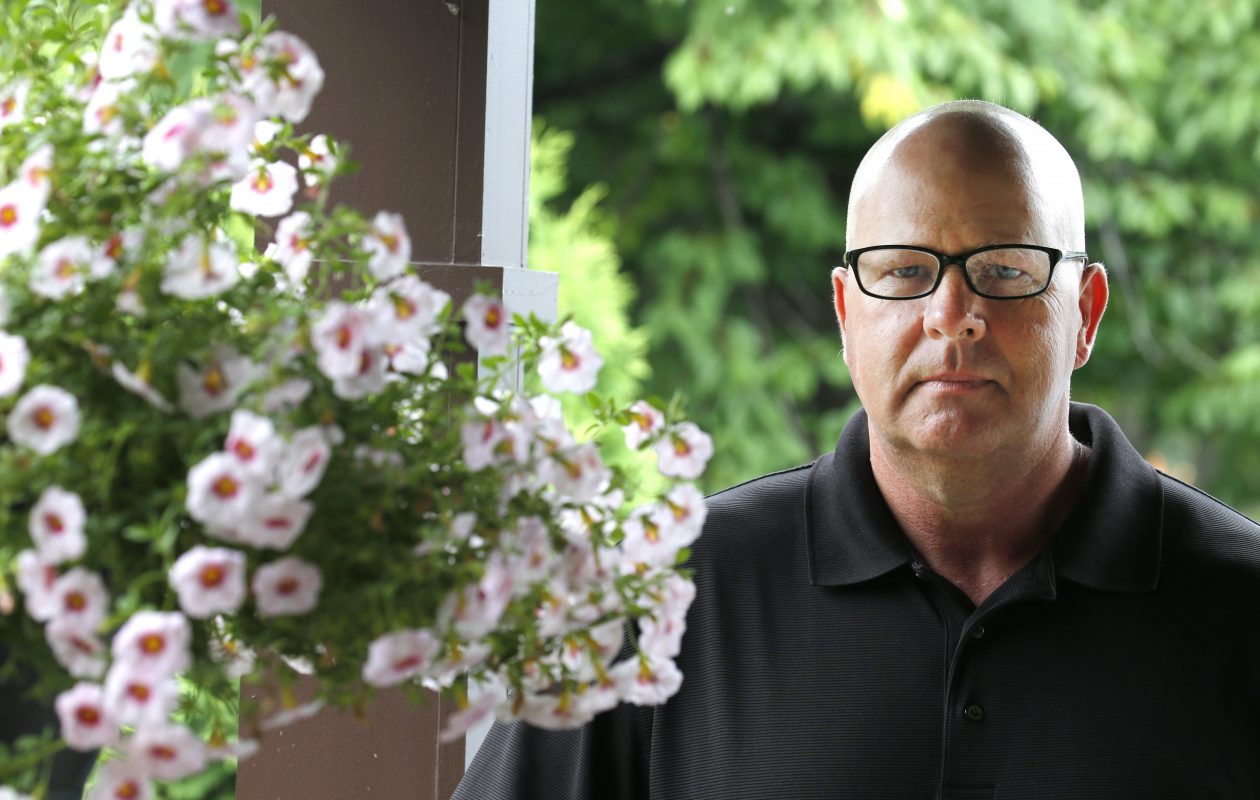 P.A. Kane of West Seneca and two of his brothers say they were abused by a former Buffalo Diocese priest, Ronald Silverio. After Silverio left the priesthood in 1980, he became executive director of the biggest AIDS services organization in Western New York. (Robert Kirkham/Buffalo News)



The former head of the Buffalo area's largest AIDS prevention organization is being accused of molesting three brothers from a South Buffalo family when he was a Catholic priest in the 1970s.

West Seneca resident and author P.A. Kane wrote a first-person essay accusing Ronald Silverio of being the young parish priest who molested him when he was a parishioner of Holy Family Church in South Buffalo.

In separate interviews with The News, Kane's siblings, Peter and a younger brother who asked not to be identified by name, said that Silverio also molested them.

P.A. Kane's vivid account of the sexual abuse was published last week in The Public, a weekly alternative newspaper.

Kane told The News that Silverio crawled into a sofa bed with him in a church rectory, pulled down his sweatpants, shined a flashlight on him and stroked his genitals. Kane was 12 at the time.

"In that bed, in those interminable minutes under the heat of his wheezing breath and that little flashlight, so alone and afraid, part of me died," Kane wrote in the essay. "Murdered by a priest who had infiltrated our family and played out his repressed sexual desires on innocent boys who thought he was their friend, who thought he treated them well because they were special, who thought he visited their house because his family was special. It was all a ruse."

The three Kane brothers have filed separate claims with a Buffalo Diocese program that was created in March to compensate victims of clergy sexual abuse. All three said they have received counseling over the years to help them cope with the abuse.

Silverio was a parish priest from 1970 until taking a leave of absence in 1980. Bishop Edward D. Head withdrew Silverio's priestly faculties in 1981, when Silverio accepted a job as executive director of Planned Parenthood of Niagara County, an agency that promoted and dispensed various forms of birth control. Official Catholic Church teaching condemns the use of artificial contraceptives to prevent pregnancies, although most Catholics in the U.S. ignore the teaching.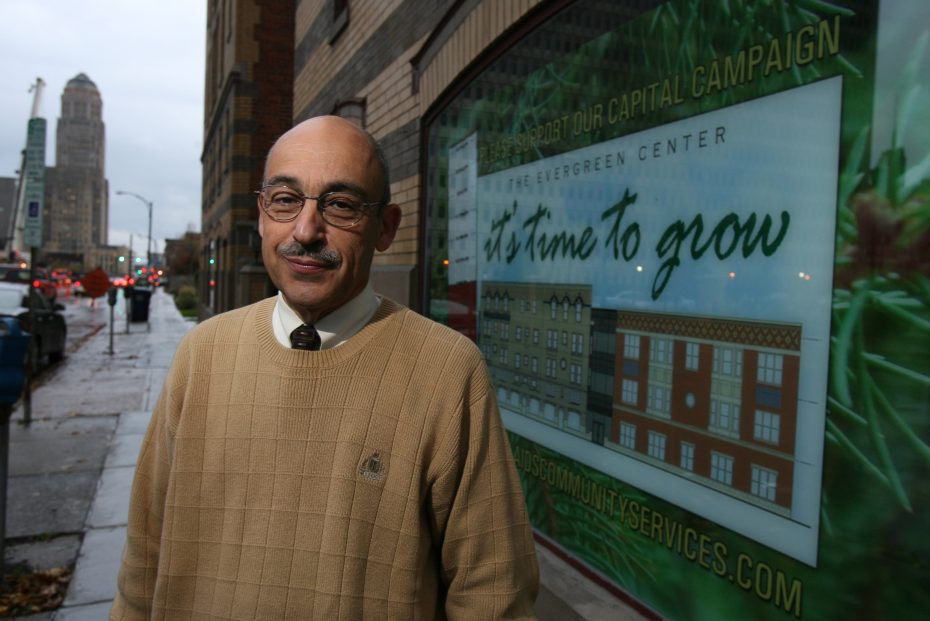 Ronald Silverio, a former Catholic priest and retired head of AIDS Community Services, in a photo from Nov. 15, 2007. Silverio has been accused of molesting three brothers from a South Buffalo family when they were children. (News file photo)



Silverio, 74, became well-known in Western New York for his advocacy on behalf of people with HIV and AIDS. He spent many years as executive director of AIDS Community Services and later as president and chief executive officer of Evergreen Association, a $43 million nonprofit organization that evolved from AIDS Community Services. He retired from Evergreen in 2017.

Evergreen paid Silverio $337,500 in salary and benefits in 2016, according to the agency's most recent tax filings.

Three voice messages left at Silverio's Amherst home were not returned. A spokesman for the Buffalo Diocese declined to comment when asked whether the diocese had received complaints about Silverio prior to Kane's published account.

"Ron Silverio went on leave in January 1980 and never returned. He has not functioned as a priest of the diocese for over 38 years," said the spokesman, George Richert.

Silverio's name was not among a list of 42 priests identified in March by Buffalo Bishop Richard J. Malone as having been removed from ministry, retired or who left ministry after allegations of sexual abuse of a minor. The list also included deceased priests with more than one allegation made against them.

More than 30 additional priests who were not on the diocese's list have been linked publicly to sex allegations.

A family of 10 kids

The Kane brothers said Silverio insinuated himself into their family of 10 children following the 1972 baptism of a younger sister. Silverio paid attention to the Kane family, and to the boys in particular, in a way that no priest before had, they said.

"Our whole world was comprised of Catholics, and I had never seen or heard of such a thing – of being friends with a priest," wrote P.A. Kane, who is 56. "That would be like being friends with the mayor. It didn't happen to people who moved in our circles."

Peter Kane, 59, remembers Silverio regularly calling his parents to ask if the boy could visit the priest in the rectory.

"He'd get you in the room and that's when he went to work. And you didn't have a chance," said Peter Kane. "He pinned me to the floor and just had his way with me."

The priest would take off his pants and rub against him, Peter Kane said. Kane said he still recoils at the memory of the priest's sweat dripping onto his face while he was pinned to the floor during their "wrestling" encounters.

Afterward, the priest would make him take a shower, he said.

"He'd say this is our secret. We're just playing. We're just messing around," he said.

The abuses started when Peter was 13 and went on for a few years, from the summer of 1972 until 1976, he said.

"I wasn't asking for it. I didn't want it. It was always about him, to get off, to exercise control," said Peter Kane. "I was just totally used the whole time."

The Kane brothers said the dynamics of being in a family of 10 children made it easy for Silverio to gain the trust of their parents and of the boys.

"You get lost in a family that size," said the younger Kane who did not want to be identified. "That kind of attention, you're easy pickings so to speak."

P.A. Kane said he was initially invited into the Holy Family church rectory to watch Buffalo Sabres hockey games and then received a standing invitation from Silverio to drop by whenever.

At some point, Silverio began lighthearted tickling and wrestling, which then turned more aggressive to the point where the priest would become stimulated while trying to grab at a boy's genitals, he said.

P.A. Kane and the younger brother both said Silverio molested them during an overnight stay at Our Lady of Mount Carmel Church in Niagara Falls, the parish where Silverio was assigned after his stint at Holy Family.

"It's hard to explain, but in that situation you kind of question yourself: Is this really going on?" said the younger Kane.

The brothers didn't talk to each other about the abuses at the time.

"We weren't really emotionally mature enough to say, 'We have to make this stop,' " said Peter Kane.

Parents were fooled

P.A. Kane and his younger brother said Silverio stopped abusing them after an older brother told their father about the priest.

P.A. Kane said Silverio acknowledged his behavior but never apologized for it. "It was an explanation of something he was going through. I got an explanation, not an apology," he said.

Peter Kane said his abuse continued even after he told his father, because Silverio also had manipulated his parents.

"He worked my father for years, emotionally, intellectually, all of that," said Peter Kane. "He would come over and they would talk politics or the Vietnam War or whatever was going on."

Peter Kane said the abuse ended when he had become old enough to reject Silverio's advances.

The younger Kane brother remembered drifting away from the church after the abuse. As a teenager, he had an argument with his father about why he hadn't gone to Mass one particular Sunday. It led to a rift that lasted years.

The brothers did not tell their father, who is now elderly, that they were going public with their abuse accounts. Their mother is deceased. All of the brothers expressed concern about how their parents would be viewed.

"They're good people and worked hard and took care of us," said the younger brother.

"They did the best they could," said Peter Kane, who moved away from Western New York in 1983 and returned about 10 months ago.

He was living in the Boston area in 2002, during the height of the Boston Archdiocese clergy abuse scandal, which dredged up all of the horrors he had endured as a child, he said.

The Boston scandal prompted P.A. Kane to go for counseling. At that time, he and his wife also told the pastor of St. Bonaventure Church in West Seneca what happened to him three decades earlier. And finally, he contacted a lawyer, Jeff Anderson, who has represented thousands of clergy sex abuse.

At the time, Anderson explained that there was little he could do because New York's statute of limitations prevented sex abuse cases from years ago from advancing in the court system.

Around 2010, while working on a book of essays, Kane wrote the piece that ultimately ran in The Public. It sat on a shelf until the scandal started unfolding in Buffalo this past February, when a priest, the Rev. Norbert Orsolits, admitted to The News that he had molested probably dozens of boys in the 1970s and 1980s. Someone from Anderson's office got back in contact with P.A. Kane when the Buffalo Diocese announced in March that it was setting up the compensation program.

Blaming the diocese

The Kane brothers said they believe the diocese enabled abuses to continue for decades and now refuses to own up to it.

"My feeling is they're closing ranks and trying to be transparent without really doing much," P.A. Kane said.

All three Kane brothers said they believe Silverio molested other boys in South Buffalo, and they hope that talking publicly will encourage other victims to come forward.

Peter Kane has little faith in the Catholic Church to reveal what it knew about Silverio.

"I hope the church maybe would do the right thing for once, just acknowledging that they were covering it up. But they would never do that," he said.

He also wishes Silverio was in jail, but he knows that won't happen, either.

P.A. Kane said he feels some compassion for Silverio, though.

"I don't want revenge. I don't have hate. I would hope he would have people around him who could help him through this. This has got to be horrible for him. But there's no other way to do it," he said. "I can't hold the church to account without telling the story."